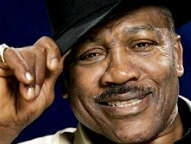 --


Looking back this month, it is hard to believe it has already been over a year. Joe Frazier or "Smokin' Joe," as he was known throughout his illustrious career, was truly one of the great heavyweight champions of the last half-century. Frazier left home in rural South Carolina in 1959, at age 15, with nothing more than a strong work ethic, incomparable toughness and dreams of a better life. Originally landing in New York, Joe would later relocate to Philadelphia where he would one day become one of the city's famous sons and put the "City of Brotherly Love" on the map as a serious fight town. After an amateur career that saw Joe gain Olympic gold in the 1964 Tokyo, Japan Olympics after going over as an alternate, he turned to the professional ranks. By the time Joe wrapped up his 11-year, 31-fight career, his résumé would boast (some multiple times) bouts against the likes of legends such as George Foreman, Jimmy Ellis, Jerry Quarry, Joe Bugner, Bob Foster, Oscar Bonavena and, of course, his legendary trio of battles with Muhammad Ali.

Joe turned pro in the summer of 1965 and his devastating left hook and crowd pleasing, brawling style immediately made him a fan favorite. Joe was 11-0 when he passed his first major test, beating Oscar Bonavena in 10 rounds in the fall of 1966. The fight took place at New York's Madison Square Garden, an arena that would host "Smokin' Joe" numerous times throughout his career. Joe would rack up a dozen more wins over the next couple of years, beating legendary tough guy George Chuvalo and Buster Mathis and winning his rematch with Oscar Bonavena. His win over Mathis was for the New York State heavyweight title, then recognized as the World Heavyweight Championship in parts of the United States. He would defend this particular title five times. After his last NYSAC title defence, beating Jerry Quarry in June of 1969, Frazier signed to kick off 1970 with a world title shot against Jimmy Ellis in February. Frazier stopped Ellis in the fifth round to win the WBA and vacant WBC World Heavyweight titles. Frazier retained the title against former light heavyweight champion Bob Foster in November of 1970. This led to the first of three epic battles with Muhammad Ali.
In January of 1971, Joe Frazier thrilled the sold-out crowd at Madison Square Garden in a give-and-take battle against Ali. In what was deemed 1971's "Fight of the Year" by The Ring magazine, often referred as the "Fight of the Century" by boxing purists, Frazier dropped Ali in the 15th round and held on to win a unanimous 15-round decision. Two wins followed in 1972 against Terry Daniels and Ron Stander before Joe started off 1973 in his 30th bout, facing hard-hitting George Foreman in the National Stadium in Kingston, Jamaica. In what was tagged 1973's "Fight of the Year" by The Ring magazine, Frazier simply couldn't stand the hammering, clubbing shots by the immensely strong Foreman and was dropped six times in two rounds, suffering his first loss as a pro via the TKO route in two rounds. Joe would rebound almost six months later with a win over Joe Bugner in London, England. This win set up the second bout against Ali. This time, however, Ali managed to beat Frazier over 12 rounds to even the score. Frazier rebounded in June of 1974 and March of 1975 with TKO wins over old foes Jerry Quarry and Jimmy Ellis. This led to October 1975, the final chapter in the hat trick of legendary wars with old nemesis Muhammad Ali.
Billed as "The Thrilla in Manila," the fight was another back-and-forth battle that saw both fighters give and take a hellacious amount of punishment. After 14 brutal rounds and with both eyes badly swollen and impairing his vision, Frazier's cornerman, Eddie Futch, waved the fight off despite protests from Frazier. After the bout, Ali said it was the closest he "had ever felt to death." The bout has gone down as one of heavyweight boxing's true classic wars and despite what the fight must have taken out of each gladiator, Frazier would fight two more times. He was again stopped by George Foreman in June of 1976 and after a five-year layoff, he came back to earn a draw with Floyd Cummings in March of 1981. But by then, it was time; the legendary run was over. Joe Frazier, one of the toughest fighters to ever step into the squared circle, retired for good.
In retirement, Frazier would stay involved in the fight game training fighters and running the famous Joe Frazier Gym" in North Philadelphia. Frazier left the ring but not the spotlight as he received numerous awards and accolades for his tremendous ring accomplishments.
"Smokin' Joe" Frazier, one of the toughest heavyweight fighters of all time, succumbed to his short battle with cancer a little over a year ago on November 7, 2011. Joe Frazier and Muhammad Ali were forever linked through their epic trio of battles and while Ali, Frazier's most famous ring foe, often mocked and used Frazier as his humorous foil, he expressed great sadness and the utmost respect for Frazier upon learning of his passing. He said, "The world has lost a great champion. I will always remember Joe with respect and admiration." Gone but never forgotten.
Please visit our Facebook fan page at www.facebook.com/MaxBoxing, where you can discuss our content with Maxboxing readers as well as chime in via our fully interactive article comments sections.