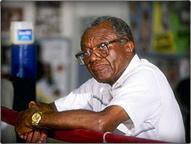 Eddie Futch


To understand boxing's great champions, you really must examine some of the trainers and coaches who helped mold and shape them. The son of a sharecropper, Eddie Futch was born in Hillsboro, MS. in 1911 and when he was eight years old, his family moved to Detroit, MI. Although active in many sports growing up, he came late to boxing. After sparring and training, Futch eventually stepped into the ring and went on to win the Detroit Athletic Association lightweight title in 1932. A year later, he won the Detroit Golden Gloves lightweight title. Coincidentally, one of the fighters Futch would spar with was a young heavyweight named Joe Louis. "The Brown Bomber" liked to spar with the lighter Futch to work on dealing with faster opponents. Louis would go on to win the heavyweight title in 1937, holding it for over 11 years. Louis is considered to be perhaps the greatest heavyweight of all time. Futch himself entertained the idea of turning to the professional ranks but a heart murmur prevented this, so he turned his attention to coaching and went on to become one of the most respected trainers in the game.

Futch immersed himself in every aspect of the sport to better understand the fight game and the boxers he was now mentoring. This would serve him well over his almost seven-decade career as he became known as a great communicator and teacher. The knowledgeable Futch was very strict in his demands with his charges but was also a very compassionate coach. The polite and soft-spoken but fiercely independent Futch would get his first taste of success as a trainer with California welterweight Don Jordan, who won the world welterweight title in 1958. Futch would go on to train an amazing 22 world champions including, among many others, Ken Norton, Larry Holmes, Joe Frazier, Bob Foster, Mike McCallum, Alexis Arguello, Michael Spinks, Marlon Starling, Montell Griffin and Riddick Bowe. He would also coach and mentor many other top fighters throughout his legendary 67-year career. While working with Joe Frazier in 1975, coaching him in the famous "Thrilla in Manila", (the third of the famous trilogy of wars with Muhammad Ali), Futch halted the proceedings after the 14th round of the brutal slugfest. He had seen enough and didn't want Frazier taking any more punishment despite his charge's protests. This difficult yet ultimately caring decision has been seen as a benchmark of compassion and concern for the well-being of a fighter throughout the history of boxing ever since. With his great knowledge of the sport and the ability to find and channel the particular strengths in his fighters, Futch became one of the game's great coaches. He is remembered as much for the respect and empathy he showed his fighters as he is for his ability to teach them the nuances of the "Sweet Science." He was once quoted as saying that boxing allowed him "to make a life out of the ghetto" and working with fighters had given him the opportunity to "help other young men make something of themselves." Futch clearly strived to help his fighters become champions in and out of the ring. One of them, a lightweight named Freddie Roach, became one of the most notable trainers in this day and age.
Among other accolades, Eddie Futch was inducted into the International Boxing Hall of Fame in 1994 and named the "Best Trainer of the Last 75 Years" by The Ring magazine in 1997. A man of principles, integrity and one of the finest trainers the game has ever seen. Eddie Futch passed away at the age of 90, on October 10, 2001 in Las Vegas, Nevada. Gone but never forgotten.
Please visit our Facebook fan page at www.facebook.com/MaxBoxing, where you can discuss our content with Maxboxing readers as well as chime in via our fully interactive article comments sections.