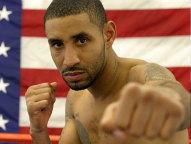 --


I forgot to do my spring cleaning so I'm doing it now. In the course of my yearly closet purge, I came across a micro-cassette I had been looking for going on 5 years. It was simply labeled "Goossen/Chico/Shaw." The day I recorded this on my then-new Radio Shack microcassette recorder was Thursday June 1, 2006; the final press conference for Diego "Chico" Corrales vs. Jose Luis Castillo 3.

It was my first time in Las Vegas and I had landed just as the press conference was getting underway. By the time my friend Charles drove me from the airport to the hotel, most of the press and all of Castillo's team had gone. Corrales' trainer at the time, Joe Goossen, was talking in the corner of the ballroom to what I assumed were reporters. I saw Gary Shaw for the first time in person. I don't recall if he was wearing a track suit. In my mind's eye he always is so we'll go with it.

This was not just my first time covering a fight in Las Vegas. This was my first time covering a fight period. I had barely begun writing opinion pieces for Doghouseboxing.com the previous month when Icheehuahua, owner and webmaster of Doghouseboxing.com and webmaster of Maxboxing.com, asked me to go cover the fight in Vegas. I was barely finding my footing as a writer, wasn't even sure I wanted to do this as a job. Naturally, I had no idea how to cover a major fight. I hadn't even interviewed anyone to this point. I was just a guy who had a strong opinion, some boxing experience and knowledge and the ability to write it down. This trip showed me signs of everything and everyone I would need to be a successful boxing writer.

Shaw could plainly see I had no idea what the hell I was doing as I mumbled about getting an interview with Diego; the world's first shy reporter. He verbally nudged me to talk to Corrales. Diego was standing in the hallway outside the ballroom talking with fans and a couple reporters who had lingered. At his side was his wife Michelle with their children, one a newborn.

I lived in Sacramento at the time and had seen Corrales at fights around town but had never met him. Here now in Vegas, two men who spent years living just a few miles apart, finally met; both living dreams of sorts.

"SACTOWN IN THE HOUSE!" Corrales smiled loudly when I told him where I was from to open our Q&A.

If you're a boxing fan, you understand the legend status that comes with Diego Corrales vs. Jose Luis Castillo 1. The sacrifice both men made in that fight for honor, fortune, and our entertainment is awe-inspiring. The see-saw battle that both men leave a piece of them in the ring is up there with HaglerHearns as the gold standard for brawls. The tenth round, Corrales down twice and rising to stop Castillo on the ropes, is arguably the best ending ever.

Just five months later, in October of 2005, that work of art would be stained by Castillo missing weight, Corrales agreeing to fight anyways and being knocked out in four rounds for his trouble. Heading into this fight, the concerns were not just in the ring but on the scale. Yet Corrales had not a care in the world outwardly.

"Yeah I am relaxed. I feel great," he laughed. "I feel great."

So much of Corrales' legacy is that of a warrior who took no quarter. He would have to be killed in order to be beaten. When you say his name, you think of that tenacity after you get done thinking of the first fight with Castillo. Heading into this rubber match, Corrales' legacy was fairly set. His war with Acelino Frietas, his first victory over Joel Casamayor and the win against Castillo the first time around may or may not assure him a place in the boxing hall of fame, but they placed him firmly in boxing fans' hearts.

At the time, Corrales felt this third fight was about securing his legacy.

"Oh yeah. This is closing the deal right now," said Corrales. "Finally. Sign it, seal it, deliver it. And we will move to things bigger and better."

Corrales seemed to imply with his prediction that fight fans had a surprise in store.

"It's going to be a stone cold shut out," Diego declared. "Shut out. From start to finish, I am pitching a shutout."

Corrales was an odd fighter in that he was as tall as a welterweight at 5'10 ½ but could make 135 pounds. However, his mentality was that of a short guy with a chip on his shoulder. Rather than use his height to his advantage, he closed distance, got inside and used a short left hook and uppercuts to take opponents out. One of the most enthusiastic infighters we've seen in the modern era, Corrales learned how to fight in the garage his stepfather/trainer Ray Woods converted into a gym in the backyard of their Oak Park, CA home.

Woods had a profound on Chico even after the two split following Corrales' epic loss to Floyd Mayweather, Jr. Against Frietas, Woods advised Corrales to 'Red Dog him;' code for walking through fire to get close and unload bombs. It was exactly what he did against Castillo the first time. Boxing safe wasn't in Corrales' DNA.

It came as a surprise to see him imply he might fight in a way no one saw coming. However, Corrales wasn't giving him game plan up so easy.

"You gotta watch, baby, aight?" he laughed. "Everybody wants to know but everybody's gotta watch Saturday. I'll tell you, it's like this: When you see it you're going to be like 'Damn. Daaamn!' Like that. That's what you're going to do. That's all I'm going to tell you."

And with that he walked away with his family, smiling and waving as he went.

Later that night with my friend Charles guiding the way, I met my first two members of press row, Steve Kim and Doug Fischer. Others joined us and I had my first taste of what covering fights in Vegas was going to be like for years come. Fight people of all kinds walked by and greeted us all. Debates, jokes and stories went on into the night (and the next few days and nights, as well).

Friday June 2, 2006, I got my first glimpse a breaking story looks like when Castillo missed weight yet again. Arguments broke out, reporters surrounded the prominent players and finally, with much deliberation and another failed attempt at making weight, a heavy-hearted Corrales called off the fight.

We never got to see what he had planned. We never got to say "Damn. Daaamn!"

The following October, Corrales would lose the rubber match with Joel Casamayor for the WBC lightweight title. Ironically, he missed weight and could not fight for his own belt and dropped a split decision in a sloppy fight. The following April, Chico brutally and bravely lost a unanimous decision at welterweight against Joshua Clottey in a non-title fight.

The next month, May 7, 2007, the anniversary of his first fight with Castillo, Corrales tragically died in a motorcycle accident. A sudden and violent end to a man who excelled at controlled chaos. He was taken far too soon but remains in the mind's eye of fight fans the world over.

A lot of things came off that weekend for me. My first Vegas trip committed me further to this new adventure. No longer were these people on a website or TV. They were right in front of me. My name had a face and thus accountability.

Relationships I started that weekend would have impact for years to come. I saw James Kirkland fight for the first time as the opening bout and was blown away. I did a profile on him the following week and it's been an insane ride ever since.

Charles, an avid boxing fan who took an interest in my writing early on, would pass me the number of Emanuel Steward that September. I released my first interview with Emanuel on October 3, 2006.

http://www.doghouseb...toya_100306.htm

That interview would open a lot doors (or make a lot more phones answer, to be accurate) and kicked off a friendship I cherish to this very moment. No words can describe the loss I feel with Emanuel's passing. He was a great friend, teacher, and ambassador for boxing. He was magic. You could not be around him and not smile. I miss him constantly. For meeting him alone, covering boxing has been worth it. I have so much to be thankful for in this sport but meeting Emanuel Steward? The rarest of gifts.

Doug and Steve became friends on the beat and Maxboxing became the bar I wanted to reach. It seemed oddly fitting that I ended up taking Doug's spot after he moved to The Ring. Yet another gift is doing this job for this site.

While I didn't get to see Corrales' game plan to believe it, I got to see so many other incredible things because I chose to go see him and Castillo fight. Some of those things have been rough to see, most of them wonderful. All of them, like a Chico fight, seem to remind me why I love this sport. It's easy to forget in the day to day of this job, any job, why you did it in the first place.

Thanks, Chico, for reminding me.