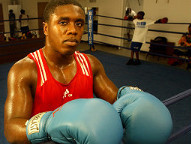 --


When former welterweight champion Andre Berto steps into the ring on July 27th on Showtime, it will be his first bout back since being beaten by Robert "The Ghost" Guerrero over 12 grueling rounds as the two battled for Guerrero's World Boxing Council (WBC) interim welterweight title last November. Berto will certainly be looking for the rebirth of a career clearly now under the spotlight - and not for all the right reasons. Berto will square off against tough Mexican Jesus Soto Karass, who is trying to stay relevant in a career that has seen him inch toward the elite of the 147-pound division on occasion.
Winter Haven, Florida's Berto, 28-2 (20), impressed early and often after turning pro at the end of 2004. Going into the summer of 2007, he was 18-0, a record that included victories over veterans like Sammy Sparkman, James Crayton and Cosme Rivera. This led to his first title shot against Chicago's tough David Estrada. He stopped Estrada in 11 rounds and picked up the North American Boxing Federation (NABF) title. Berto defended his NABF belt once before getting his first major title shot in June of 2008. He bested Miguel Angel Rodriguez in seven rounds to capture the vacant WBC title in the start of an impressive title run. Through the next two-and-a-half years, Berto made five successful defenses of the title. Despite beating Juan Urango, Luis Collazo and veteran Stevie Forbes, his next bout would certainly be his highest profile fight at that point in his career.

In the spring of 2011, Kansas native Victor Ortiz and Berto would lock horns at the Foxwoods Resort in Connecticut. After 12 rounds of battle in which both fighters saw the canvas, Ortiz passed heart and chin checks and snagged Berto's title, winning on two of the three official scorecards (the third was a draw). Ortiz, who parlayed the win into a fight with pound-for-pound king Floyd Mayweather in his next outing, had certainly impressed in the past with wins over the likes of Mike Arnaoutis, Nate Campbell and Vivian Harris. However, a stoppage loss to Marcos Maidana and a draw with Lamont Peterson on his résumé didn't afford him the "can't miss" tag many had put on Berto. So while Ortiz was a serious threat, he was not the favorite going in. Berto bounced back with a win over Jan Zaveck for the latter's IBF welterweight title five months later, which led to his last bout against Gilroy, California's Guerrero. It was test time for Berto, a tough night that didn't go his way in the end. After getting dropped in rounds one and two, he showed heart in finishing but ultimately lost over 12 rounds to "The Ghost" [Writer's note: Like Ortiz, the win earned Guerrero a shot at Mayweather and his "full" WBC welterweight title]. Berto had now engaged in some exciting wars but his jacket was somewhat damaged and there appeared to be even more questions than answers.

Fast forward to Berto's upcoming bout with Jesus Soto Karass at the end of the month at the AT&T Centre in San Antonio, Texas. Karass comes in at 27-8-3 with 17 wins by stoppage. While he has never won a world title, it would be hard to simply label him as a welterweight gatekeeper having taken the likes of Yuri Foreman, Alfonso Gomez, Vince Phillips, David Estrada and others to task. While not always coming out with the win, the always game, never-quit Los Angeles resident is looking to up his game, maintain the momentum from his last win and earn a spot in line for that elusive world title shot. After a war in the fall of 2012 with Marcos Maidana, in which he was halted in eight rounds, Karass rebounded with a win in his last bout in January of 2013, beating Selcuk Aydin over 10 rounds. Aydin's only previous loss had been to Guerrero.

While only 30, Karass does have eight losses and with another one, he will probably have a tough time shedding a reputation that, while iron tough, he is perhaps not a prime-time player and may slip into more of an opponent's role. Berto, once a darling of the division with unlimited potential, is suffering the effects of two high-profile losses in wars that also saw him take four trips to the canvas. This is perhaps more of a crossroads fight for Berto, as he may see his stock change more with a loss while a win for either puts him in an enviable position for his next fight.

As one fighter looks to gain a rebirth in his career and the other fighter looks to stay relevant as a top five player, one thing is guaranteed: with so much on the line, look for fireworks in late July in the "Lone Star State."

Questions and comments can be sent to Bill Tibbs at hwtibbs@shaw.ca.

Please visit our Facebook fan page at www.facebook.com/MaxBoxing, where you can discuss our content with Maxboxing readers as well as chime in via our fully interactive article comments sections.