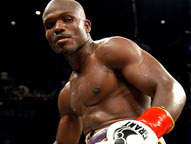 (Photo © German Villasenor)


It's been awhile since we've seen junior welterweight stalwart Tim Bradley. We last saw him defeating

Devon

Alexander in

Pontiac, Michigan

back

on January 29th. Since then, he has been embroiled in a battle with his co-promoters and kept out of the ring.

On Thursday

, however,
it was announced that Bradley had signed a new deal with Top Rank and is scheduled to appear on the Manny Pacquiao-Juan Manuel Marquez III undercard
on November 12th
in
Las Vegas
at the MGM Grand.
In addition to being elated, Bradley is also relieved to be able to resume his stalled career.
"In the beginning, I had some headaches. I'm not going to lie but with prayer and having positive people around me, I knew sooner or later after hitting rock bottom, I knew I had to start climbing up," he told Maxboxing of his ordeal. "I knew something had to happen. I sat back and trusted in my manager Cameron Dunkin and I trusted my team and look at us now. A lot of people gave me a hard time or whatever but I really don't care, man. I really don't care what people think nowadays. I learned to know about the business now. People are going to run their mouths. People are going to say whatever they want to say. It's a free country; whatever.

"But we know exactly what we were doing."
Bradley admits this whole process hardened him. He understands that more than anything, boxing at this level is a business. "It sucks for the boxing fans but there is a business side," Bradley says, "and it works both ways, even for promoters because if it don't make dollars for them, it don't make sense. But I mean, in a sense, it definitely hurts the sport but y' know what? This is what it is. This is the sport that we're in. It's the boxing game and I mean, you just gotta deal with it. Like I said, I wanna fight the best opponents out there but I wanna be promoted and that's the main reason why I signed with Bob Arum. Man, he's a veteran of this promotional stuff. He knows exactly how to promote a fighter, how to build the Bradley brand and that's what I need. I'm a three-time world champion and I'm not even known. The boxing community knows me. As a boxing fan, you know who I am but outside of that, no one knows who I am, so I think Arum will bring that to the table and definitely make my career prosper and make me a superstar."
Bradley signed with Arum to make sure the most important and biggest fights of his career aren't held at venues like the decrepit Silverdome.
"Number one, I always believed he was a terrific fighter and number two, he has a great personality and he's a lovely young man," said the veteran promoter of the 140-pound titleholder. "I think given all of that, he is very, very promotable but he has to be promoted in a way that the public becomes aware of him. In other words, his biggest fight to date was the fight with Devon Alexander and it was held in an insane place. Insane. So we would never, ever do that. So we want to expose him to the Las Vegas market- which we will- the

Los Angeles

market. I mean, he's somebody that has the ability to become a major superstar."
Just putting fighters in bouts that are deemed "big" by certain pundits and hardcore fans aren't enough to make a transcendent star. There has to be some work done beforehand to develop marketable fighters who can be attractions. It has to be much more than just getting a few network dates and securing an Indian casino to host it.
"Absolutely," said Arum. "You've got to expose these guys. Now, putting him in

Palm Springs

where he comes from, that's good. You always want to play to the base but that's only a first step. Then you've got to bring him to the big time. You gotta bring him to

the Big Apple

. You gotta bring him to Las Vegas; bring him to

L.A

. I mean, that's what you do when you promote a fighter, put him on the biggest stage possible. So now Bradley on November 12th will be on the biggest stage possible, not as the main event but on the biggest stage."
Of course, one of the main reasons Bradley inked with Top Rank is the possibility of a fight with the "Pac-Man" but right now, that fight hasn't even been discussed, according to everyone involved (and that's their story and their sticking to it).
Arum says of Pacquiao's future after the third chapter with Marquez (should the former emerge victorious), "I have absolutely no idea. Why don't I have any idea? And we made this plain to Tim, that I have never even discussed Bradley with Manny Pacquiao. So how can I even say, 'Yeah, he's being considered' - because nobody is being considered. I haven't discussed an opponent for next spring for Manny if he gets by Marquez; I really haven't. And there's no need to. All it is is a lot of angst now, for no reason. I mean, what's the hurry?"
Rest assured, the "Desert Storm" will be on the very short list to face Pacquiao next spring, which is part of the reason why Bradley's facing the ancient Joel Casamayor. Why else, other than the fact that he's southpaw and very safe at this stage of his career? Because without this component, why even face the Cuban?
"He's going to fight on the 12th [of November] and he wanted to fight a southpaw, which is good. He's got a crafty veteran in front of him. He's been off for awhile and so it'll be good for him, good work for him and then from there, we'll see what he looks like and we start really promoting him, promoting him hard for this fight, promoting him hard for future fights and see what opportunities afford themselves. We don't have any promises but I think Timmy will make his own way," said Dunkin, who's been no stranger to battles with promoters in 2011 for his high-priced clientele.
It wasn't supposed to be this way for Bradley. The pundits, HBO and his TV packager said a win against Alexander would catapult him to stardom, regardless of how many folks didn't show up to Pontiac. But stars aren't born in abandoned buildings.
"Yeah, I knew that," said Bradley, of that rather forgetful fight at the home of Billy Sims and Eric Hipple. "Even if I was to knock Devon out or demolish him, I still wouldn't have been a so-called superstar or whatever. I mean, it was at the Silverdome, great place, but dude, that was like years ago. That was years ago. The Silverdome, it was a great experience but man, c'mon."
In between all this, he turned down an opportunity to face Amir Khan in the summer but Bradley says it was a necessary step to attain the status he yearns for. "There's no regrets whatsoever. Like I said, I'm with the big sharks out there. Pacquiao is probably number one on my list. I want Manny. Definitely, it is a potential fight. Right now, I'm not sure when or where but that's who I want. Amir Khan, I can get him any given day, y' know? I don't really need Amir Khan; Amir Khan needs me. So at the end of the day, I don't think I made the wrong choice. I made the right choice."
The decision to bypass this fight brought about litigation from Gary Shaw and Thompson Boxing. This has been the most uncivil of wars between the two factions- which is still being settled by lawyers on each side.
"Horrible, absolutely horrible," said Dunkin of his ordeal. "No communication and threats and telling us, 'You gotta do this. You gotta do that or we won't do this' or 'You won't get that.' Just been a horrible, horrible relationship." (Attorney Leon Margules, who is handling the litigation for GSP and Thompson Boxing, declined to comment for this story.)
Dunkin felt the frustration of Bradley and Nonito Donaire, two of his fighters who were dormant since the early spring months due to promotional disagreements.

"They're OK for the first month or so after they fight but even when there's nothing going on, they just want to fight again," he explained. "Guys like Nonito, Brandon

Rios

, you're up in the ring with them and they say, 'When am I going again?' Or Johnny Tapia, he used to say that. Diego

Corrales

used to say that and James

Kirkland

says, 'When am I fighting again?' You don't even get back to the dressing room. So that's how they are and they're fighters- and that's what you want. You want that from a guy and Timothy Bradley is a guy who said, 'There's things I want to do, things I want to accomplish.' He's very motivated, very hard-driven. You know how hard he trains. Look at his body. He's always in shape. He always wants to fight."
The insinuations that Bradley's avoiding Khan- or anybody- rankle the manager. "I'm laughing, well, not laughing, because it shows you how stupid people are that write in, talk about [Bradley] ducking people and [being] a coward. This is a guy who went over to

England

and fought Junior Witter- and I guarantee you Khan didn't want to fight Junior Witter and he was probably ten miles apart from him. And Tim went over there and got done what he had to get done, won the title. Came home and then went up to

Canada

and fought Kendall Holt, who's a tremendous puncher and fought through that and fought Lamont Peterson who was undefeated and a number one contender, a tough guy and then [Luis] Abregu, who was 28-0, 27 knockouts at welterweight. I mean, you know and I know Tim Bradley will fight anybody, anywhere, anytime.
"He just wanted to be promoted. Now he's going to get his dream."
Bradley believes he is now in the big leagues. He could only get so far, he felt, with a television packager.
"Now I feel I'm going to be treated like the champion, the champion that I am," he stated. "I've been reigning champion for three years now and I feel like I'm going to be treated like a champion is supposed to be treated and I'm going to be on the same big cards- if not headline on some big cards- and become possibly a pay-per-view attraction. So that's the goal. That's pretty much the goal. Top Rank, Bob Arum, Todd [DuBoef], all these guys, they know how to build fights and make fighters superstars. I have the talent. I have the ability and they're just going to showcase it."

So he's not going to miss performing at the Silverdome and

Agua Caliente

?
"No, I'm not," said Bradley, laughing loudly. "Well, I'm not going to lie- I loved the Agua Caliente. That was like my home. I love my fans. I love my home fans because those guys give me so much energy, especially when I'm fighting. They make me come out and fight. They're screaming, 'Bradley! Bradley! Bradley!' It just makes me want to fight harder for them. But it's my first fight in Vegas, my first Vegas fight. I always wanted to fight in Vegas and I can tell you numerous people that have been waiting for me to fight in Vegas. And they've been saving their pennies since I was a freshman in high school. They're like, 'When are you going to fight in Vegas, champ?'
"Now this is my opportunity on a big stage, on a Manny Pacquiao undercard. I'm not the headliner but regardless, that's Manny Pacquiao. I'm on his card. I'm a televised bout so many people are going to see. Tons of people are going to see me."
Yes, contrary to popular belief, Top Rank still promotes African-American boxers. If you look back at their history, there was a time when that's basically all they promoted. Now the perception is that they are largely a company that focuses on Latin fighters.
Arum says, "With [Oscar] De la Hoya, we focused a lot of our attention to the Hispanic market which really worked out. Then with Manny, it was to

the Philippines

market but we never forgot where our strength as a company was, which was African-American fighters. All of the great fighters we've had over the years with the company, starting with [Muhammad] Ali and the certainly with [Marvin] Hagler, [Thomas] Hearns and Sugar Ray Leonard- they were predominantly black fighters."
Those close to Arum will tell you that "The Marvelous One," who when he came to Top Rank, was thought to be a tough guy to promote and wasn't always considered the most exciting fighter. Sound familiar?

"We certainly heard those things with Hagler and he had the inability to get a title shot, nobody would give him a title shot," recalled Arum, "so it was a little different. Bradley's been a three-time world champion but y' know, the problem with Bradley is that for some reason or another, in promoting him, he was minimized."
I find it all the praise heaped up Darren Barker a tad amusing. Barker certainly didn't embarrass himself in getting stopped by middleweight king Sergio Martinez this past weekend at the Boardwalk Hall in

Atlantic City, New Jersey
. Yeah, he was game and all but he never really threatened "Maravilla" all that seriously. For long stretches Barker neutralized Martinez with his length and reach but he did actually put the champion in any real peril? No.
And in another case of HBO lowering the bar in their boxing programming (or perhaps the viewing audience having lowered expectations for what they see on this network), I hear some talk of this being an entertaining fight. Really? For long periods of time, even the crowd who took advantage of a 30 percent discount on tickets or bought a pair of Everlast hand wraps at Modell's to gain entry to this fight wondered if they had wasted their money as they sat on their hands, not making much noise throughout the night. This was a good fight as far as 15-1 fights go. That's it. Nothing more, nothing less.
Perhaps Barker's stock in

Britain

goes up. To their credit, British fans are fiercely loyal to their pugilists but even they didn't seem to have much belief in him beforehand. There wasn't exactly a Hatton-like invasion of his loyalists who made the trek to the States for this fight. Now they can be proud of his effort, where the real victory was in him not getting blown out and doing better than expected.
That said, not much was expected.
I thought Steve Cunningham got the shaft in losing his IBF cruiserweight title against Yoan Pablo Hernandez this weekend..."JuanMa" Lopez took care of Mike Oliver in two rounds in his return. He looks like the same exciting, back-and-forth guy who will always be vulnerable versus solid punchers...I thought Toshiaki Nishioka pulled away in the championship rounds to retain his WBC 122-pound title against Rafael Marquez...Word is that the next fight for Nonito Donaire will not be Nishioka but WBO 122-pound beltholder Jorge

Arce

. It may be a lopsided fight for the "Filipino Flash" but it will be fun while it lasts...The scorecard turned in by "Putting on the" Fritz Werner for the bout between Ronny

Rios

and Roger Gonzalez (80-72 for Rios) is one of the worst cases of a "hometown card" I've seen recently. Most observers at the OC Hangar

on Friday night

had Gonzalez winning or Rios winning by a smidge but a shutout?...I'll ask it again; is

Clemson

this year's

Auburn

? The way they manhandled VaTech in

Blacksburg

was impressive…'Bama-LSU will be the most entertaining 10-7 game ever...So NCSt fans, who would you rather have, Russell Wilson or Tom O'Brien?...Cam

Newton

will go through some rough patches like a lot of young quarterbacks but he is already a beast...So how's that "Dream Team" stuff working out for the Eagles? Their fourth quarters are very LeBron-ish...Tony Romo, say what you will, whatever game he's in, it's never over till it's over...
I can be reached at k9kim@yahoo.com and I tweet at www.twitter.com/stevemaxboxing. We also have a Facebook fan page at www.facebook.com/MaxBoxing.