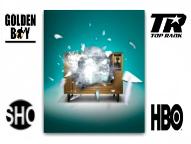 K9 - 'Cold War' (Image by icheehuahua, MaxBoxing)


As you're probably fully aware of, this weekend, there are fight cards broadcast on both Showtime and HBO. But unlike past conflicts, the starting times of the two shows are separated to a point where you almost wouldn't call them conflicting or counter-programmed versus each other. Showtime, which airs a quadruple-header, starts at 8 p.m., ET while HBO doesn't begin its broadcast till 9:45 p.m., ET.
It's funny but many other sports have multiple events that take place at the same time with no complaints from the public. But perhaps with boxing being relegated to a niche sport in this country and the fractured nature of this business, two high-profile events simply can't take place on the same evening.
I've been asked by more than one fan who lives near Brooklyn and Atlantic City - where the respective cards are taking place - which one I'd recommend them attending (and perhaps this is why followers of boxing get so frustrated when events are scheduled for the same day). I've thought about it and I have to say both have their merits. Now, if you want to accuse me of waffling…well, admittedly, maybe I am. But I have to say it really depends on personal taste and preferences. If you admire the artistry of Guillermo Rigondeaux, well, Boardwalk Hall it is. But if you want a card stacked with title bouts and a certain energy in the building, you should make your way to the borough of Brooklyn.

Hey, it's your money. How you spend it is up to you. Like they say, one man's treasure is another man's trash. I just hope whichever card you decide to attend, you have a good time. As I said, I think both cards have their strong points. The reality is boxing's "Cold War" isn't ending anytime soon and these situations are sure to come up again (in fact, they will when the rival networks/promoters kick off 2014 on January 25th).
But just for kicks, how would this scribe rank the individual fights that televised on Showtime and HBO this Saturday night? And when I rank them, it's solely on what I believe will deliver entertainment and memorable moments. As for the importance of the fights or if they're between two highly-ranked boxers, I don't care about any of that. This is all about which bouts will make us go "Oohhh…" and "Ahhh…" and provide good television when it's all said and done.
7. Matthew Macklin vs. Lamar Russ, Boardwalk Hall, Atlantic City, New Jersey (HBO/Top Rank Promotions):
OK, before Willie Nelson had to pull out of this contest with Macklin, I was really anticipating that match-up because it would have been a fight that was going to feature a lot of leather thrown and someone hitting the deck. The relatively inexperienced Russ was called in from the bullpen late and he has a great chance here to change his career with a solid outing. Macklin is coming off a third round stoppage at the hands of Gennady Golovkin. Will Macklin assert his dominance with his advantage in experience and seasoning and is Russ willing to go for broke in a fight in which he really has nothing to lose?
6. Sakio Bika vs. Anthony Dirrell, Barclays Center, Brooklyn, New York (Showtime/Golden Boy Promotions):
The battle for the WBC super middleweight title should be your typical Bika bout, fought with passion, sloppy, ugly and mauling. Dirrell is a fairly talented young veteran but has he ever been in with a fighter as awkward and pesky as Bika? Dirrell has superior skills and I think he has a chance to win this fight but Bika is one of those hardnosed pluggers who never goes gently into the night.
5- Erislandy Lara vs. Austin Trout, Barclays Center, Brooklyn, New York (Showtime/GBP):
Yeah, I know this fight looks good on paper, two of the better 154-pounders in the world but I worry anytime you have two southpaw stylists in the ring at the same time. My question is this: Who is going to lead here? When a fight is brought to Lara, he's been in some decent scraps but is that something Trout (coming off his April defeat to Saul Alvarez) is willing to do?
4. Guillermo Rigondeaux vs. Joseph Agbeko, Boardwalk Hall, Atlantic City, New Jersey (HBO/Top Rank):
Again, if you love pure boxing, "Rigo" is your guy. The only question is just how much fight does the accomplished Agbeko have left at this stage? I'm pretty sure the quicksilver southpaw wins handily. The question is: Can he be the first to stop "King Kong"? Stopping Ghanaian fighters is generally downright impossible.
3- Devon Alexander vs. Shawn Porter, Barclays Center, Brooklyn, New York (Showtime/GBP):
OK, OK, I'm sure this might raise a few eyebrows but I'm actually curious to see how Porter does against Alexander. Based on history and résumé, Alexander should run away and hide from Porter (I'm told Alexander's a six-to-one favorite) but there's a reason you fight the fights. Porter is athletic and well-trained for this fight and you wonder if Alexander will have a bit of a mental letdown after believing for most of the year that he would be facing Amir Khan on this date. I'd like to see if Porter can get inside and make things difficult for Alexander and make it a dog fight.
2. Paulie Malignaggi vs. Zab Judah, Barclays Center, Brooklyn, New York (Showtime/GBP):
Contrary to popular belief, I actually think this fight is taking place at the right time. Honestly, if they would have faced each other a few years ago when both were still in their physical primes, it could've been a bit of a snoozer. Historically, when fighters face each other as their reflexes slow down a tad and become just a bit more hittable, you get some really good tussles. Both Malignaggi and Judah were very respectable in defeats their last times out and a lot is on the line here including neighborhood bragging rights - and both Brooklyn natives are fighting to retain their professional relevancy.
1. James Kirkland vs. Glen Tapia, Boardwalk Hall, Atlantic City, New Jersey (HBO/Top Rank):
I think this will be an absolute slugfest. Kirkland is back where he belongs with trainer Ann Wolfe and tell me; just how many boring bouts has "Mandingo Warrior" ever been involved in? The answer: not many. Win, lose or draw, something usually happens when he laces them up. Tapia is a guy who's generally had things his way as he's been moved up the ladder carefully by Top Rank. But can he handle the heat of Kirkland and how will Kirkland - who's been chinny - react to the initial salvos from the strong and heavy-handed Tapia? This might be a pairing of two flawed fighters but those are oftentimes the best fights to watch.
So how did last weekend's "HBO Boxing After Dark" do ratings-wise? Well, according to Nielsen Media Research:
HBO's telecast from Quebec City featured Adonis Stevenson scoring a 6th

round TKO over Tony Bellew and attracted

1,305,000 viewers. That surpasses both of Stevenson's prior HBO bouts (11% above Stevenson vs. Cloud 1,177,000 viewers on September 28 and 27% above Stevenson vs. Dawson 1,024,000 viewers on June 8). Stevenson vs. Bellew ranks as HBO and cable TV's 5th most watched bout in 2013. Stevenson vs. Bellew peaked at 1,358,000 viewers.
-Sergey Kovalev registered a 2nd

round KO over Ismayl Sillakh to retain his light heavyweight crown. The fight attracted 1,254,000 viewers. That's 242% above Kovalev's first-ever appearance on HBO last August 17 vs. Nathan Cleverly (367,000 viewers). Kovalev vs. Sillahk ranks as cable's 8th most watched bout in 2013. Kovalev vs. Sillakh peaked at 1,327,000 viewers.
18 of the top 19 performing fights on cable TV this year have aired on HBO, the sport's leading television platform in the U.S.


It's safe to assume that the rebroadcast of Manny Pacquiao-Brandon Rios helped but these numbers are impressive nonetheless. And yes, I'm told the representatives of these fighters and Gennady Golovkin are absolutely taking note of the type of money HBO paid Andre Ward (who drew a lower rating while receiving a license fee of $3.15 million for facing Edwin Rodriguez on November 16th) regarding future fight negotiations.
And here's the link to subscribe to the Leave It in the Ring" boxing podcast on iTunes
: https://itunes.apple.com/us/podcast/leave-it-in-ring-radio-blog/id316004573?mt=2

COLD FLURRIES

Chris Mannix (@ChrisMannixSI) of Sports Illustrated tweeted on Wednesday that the Pacquiao-Rios pay-per-view garnered "somewhere between 450K and 500K"...Yeah, there's a reason why there haven't been a lot of major foreign pay-per-view cards. To put things into perspective, if you combine Tim Bradley vs. Juan Manuel Marquez and now Pacquiao vs. Rios, it still may not have equaled what Floyd Mayweather vs. Robert Guerrero did by itself...OK, be honest; who's going to watch all the college football games and then watch the fights on DVR?...I think Michigan State can upset Ohio State...I've actually been invited by Roy Englebrecht to be a featured speaker at Fight Promoter University. Yeah, I can't believe it myself...I can be reached at k9kim@yahoo.com and I tweet at www.twitter.com/stevemaxboxing. We also have a Facebook fan page at www.facebook.com/MaxBoxing, where you can discuss our content with Maxboxing readers as well as chime in via our fully interactive article comments sections.