Randy Caballero: "Whoever it is I fight for the world title, I know there will be fireworks"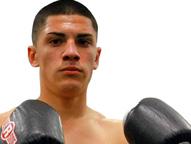 Randy Caballero


Having won nine national titles, Randy Caballero was one of America's most celebrated amateur boxers of recent years. He missed out on the 2008 Olympic berth because he was too young (Caballero was 17 during the Olympic qualifying in America) at the time leaving him with the decision to stick around another four years or make the leap into the professional game. It was an easy one for Caballero, now 21, who opted to punch for pay and has done so now for just over two years, running his record to an impressive 15-0 (8). In his fight before last in March, the southern Californian faced his toughest opponent to date, the vastly more experienced Jose Luis Araiza, then 29-5-1 (20). Though "El Matador" won a wide, 10-round decision, he didn't have things all his own way in what was sure to have been a valuable learning curve, standing him in good stead for future battles. Recently, the rising super bantamweight was showcased on the undercard of Josesito Lopez vs. Victor Ortiz at the Staples Center where he impressively took apart Jamal Parram in five rounds. Caballero is handled by former "Manager of the Year" Cameron Dunkin who glowingly says, "I followed Randy from his amateur days and always liked the way he fought and believed he would make a good pro. I've been impressed by him and how he's improved so far. A couple fights ago, when he fought that Mexican guy [Araiza], we stepped him up and he didn't have things all his own way but he was still able to get the job done, which let me know he can go a long way in this game."

Anson Wainwright - You recently fought at the Staples Center in Los Angeles on the undercard of Josesito Lopez-Victor Ortiz. What was it like appearing at such a famous venue and on a card like that?
Randy Caballero - It felt good being in a different venue on a card like that. It motivated me and I felt it means we're moving up in the sport. I am very excited to be fighting on a great card at Staple Centers being close to home so my family and friends will come to support me.
AW - You stopped Jamal Parram in five rounds. Can you tell us about the fight and how happy you were with your performance?
RC - How can I put it?...It felt great stopping him. In the beginning, I was too anxious to knock him out but I stayed patient and calm. In the fourth round, I knew I had him hurt. I came out and finished him in the fifth.
AW - The fight previous to that was a step-up bout. You won a decision over Jose Luis Araiza. Can you tell us about that fight and how much of a learning curve it was?
RC - It was a big learning experience for me. He has a lot of experience and I learned a lot in the fight.
AW - Could you tell us about your team? How did you meet and start working with them?
RC - Cameron Dunkin is my manager; my father, Marcos Caballero, is my trainer and Golden Boy is my promoter. I met Cameron before I turned pro; he contacted me when I was getting ready to turn pro. Cameron brought me to Golden Boy.
AW – Where do you regularly train and what's a typical day involve? Have you trained and sparred with any current pro, perhaps a world champion?
RC - I train at Coachella Valley boxing club. My day starts with a morning run at 5 a.m.; I go home to rest then hit the gym at 2 p.m. to train and spar, finish up at about 5 p.m. No, I haven't sparred with any active pros for this camp.
AW - Could you tell us about your younger days growing up and how you first became interested in boxing?
RC - My dad and older brother were boxers. Growing up in my house watching my older brother train and fight is what made me want to fight.
AW - You were a very good amateur. Could you tell us about your amateur career, what titles you won and what current pros you fought? What was your final record?
RC - My amateur career started at the age of eight. I won many different national titles; I went to Istanbul, Turkey for the International World Championships representing the U.S. I came home with the bronze medal. I fought Frankie Gomez and several others. My final record was 167-10.
AW - Many of your fights have taken place in your home region of Indio, California at the Fantasy Springs Casino. Could you tell us about that and what it means to you fighting in front of your friends and family?
RC - It means a lot and motivates me to work hard and put on a good performance for everybody. I love fighting in my hometown.
AW - Though you're still a prospect, what are your thoughts on your division and the current champions?
RC - I think my division is strong and filled with talented fighters. When it's my turn to fight for the world title, whoever it is I fight, I know [there] will be fireworks.
AW - What do you like to do with your time away from boxing?
RC - I like to hang out with my family and friends. I like go out and dance; right now, my favourite dance music is Bachata (a romantic style of music originated in the Dominican Republic).
AW - What are your goals in boxing?
RC - Be a world champion in as many divisions as I can get through.
AW – Finally, do you have a message for the super bantamweight division?
RC - Be ready! I'm working my way up to be the best in the world.



Subscribe to feed