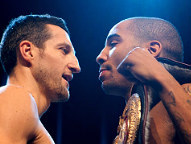 (Photo © Alexis Cuarezma / Goossen Tutor)


After all the struggles and the many times we thought we would never see this fight, Showtime's "Super Six" super middleweight tournament comes to its conclusion tonight with the ending we all hoped for: a great matchup with the winner accepted as the best 168-pounder in the world. While some may argue that Lucian Bute can make some claim to that title, let's be honest; if you want to count wins over Brian Magee and Edison Miranda as paving the road to being number one, go ahead- but I won't.
Despite the fact the Boardwalk is hardly buzzing in this weekend before Christmas, this is certainly one the premier events of the boxing year.
But one thing is clear; if Lucian Bute wants to stake his claim at the top, with the "Super Six" tourney finished, he will finally have his chance.
Maxboxing's own Managing Editor Coyote Duran hopes that will happen in the coming year, "Other than the remaining dominant super middleweight holding a title belt, it's hard to imagine two more qualified 168-pounders getting it on tonight. Amid dropouts, replacements, postponements and reschedulings, the Showtime network stayed the course and now, we finally have Andre Ward vs. Carl Froch. Froch suffered his first loss in this tournament, lost a belt and regained it while Ward defined dominance despite enjoying home court advantage in two tourney installments and a non-tourney affair (against Sakio Bika). I expect Ward to continue his winning ways tonight, measuring Froch tentatively, utilizing a beautiful, consistent jab and headhunting accordingly. Via unanimous decision, Andre Ward becomes a legitimate World Super Middleweight Champion we'll all look forward to seeing against Lucian Bute in 2012 in the ultimate unification."

Tim Starks of the Queensbury Rules blogs may have said it best when asked his prediction of the tonight's bout, "I like Andre Ward because he's so freakin' good but we've learned over the years that Carl Froch is pretty freakin' good too." And while Starks is predicting a Ward victory, he does acknowledge this will Ward's toughest fight "by a pretty long shot."
While the majority of fans are still picking Ward, they are hedging their bets, realizing that this could be a very good- and very close contest. David Greisman of BoxingScene.com, "I pick Andre Ward by decision but Carl Froch has surprised us again and again. Greisman adds, "He'll be able to outbox Froch when he wants to and he'll be able to outbrawl Froch when he wants to." The important word in Greisman's prediction is "but" and stands as credit to Showtime that they have accomplished exactly what they set out to build, a very competitive fight between the two best fighters in a given division.
Maxboxing's Steve Kim also picks Ward by decision, "I think speed kills and I give the edge to Ward in that area. In what will largely be a tactical battle, I like Ward by decision." However, earlier this week, Kim rightfully stated that Andre Ward had by far the easiest path to the finals.
This is exactly why I feel it was important for boxing that Showtime took this step to bring this tournament to its finals. For once in boxing, just as we have in nearly every other sport, we'll have a true champion in at least one division. Just as some will argue that certain teams get an easier path to the Final Four in the NCAA basketball tourney, at the end of it all, there is never any doubt as to who is the champion. And barring a controversial decision or foul play, we will enjoy that same thing in boxing. Without hesitation, I state that tonight's winner is, in fact, the best super middleweight in the world.
RingTV's Lem Satterfield agrees with the pick of Ward by decision. "I see this as being a surprisingly different fight than most people think. Ward will be the pursuer and the chaser. I think Froch will try to box but I think Ward's body attack and his intensity level will carry the fight. I believe he will win by unanimous decision."
Months ago, the nearly unanimous pick was Ward but as the fight approaches, more and more experts are realizing that this could be a very, very close fight and if not ready to pick a Froch win, will concede that it's hardly a slam dunk for Ward.
I actually will pick Froch in a decision win. His ability to not just dictate the terms of the fight but the quickness in which he throws his combinations is something Ward has yet to face in his career. I really think it is going to be much tougher for Ward to win the close rounds.
Maxboxing's Anson Wainwright added his name to those picking Ward, "I'm really looking forward to the final of the "Super Six." It's highly anticipated in both Britain and America. It's sure to be keenly contested between two fighters who, over the two years or so the 'Super Six' has taken place, have really stepped up and proved themselves taking on all comers and dealing with awkward situations. I like Ward to win. Froch is a tough guy who comes all day long and doesn't know the meaning of losing. I have a ton of respect for him but If Ward is as good as I believe he is, when it's all said and done, he'll win this one on points."
The one thing no one is picking is a knockout. Everyone I've spoken to believes this will be a close, well-fought 12-round contest. So tonight for once in our great sport, we get to see a fight in which the participants earned their way into the ring. Not because of who promotes or advises them but by beating every other worthy super middleweight who also wanted to be called the best in the world.