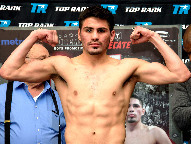 (Photo © Chris Farina / Top Rank)


This winter chill has affected many people in a multitude of ways this past week. Whether stranded on frozen highways or staying overnight in high school gyms or the nearest convenience store, the lives of millions in one way or the other have been disrupted by Mother Nature. Jose Ramirez, who fights tonight in Laredo, Texas, should count his blessings that he wasn't in Atlanta over the past few days.
On Tuesday evening, Ramirez and his team flew from Fresno to San Francisco and then into Houston. That's when the fun began.
"We were supposed to fly into Laredo last night but our plan got delayed because of the weather conditions," Ramirez told Maxboxing on Wednesday while on the road. "So we got a hotel in Houston and this afternoon we left. I'm on a drive to Laredo. It's about five-and-a-half hours."

When asked if this was a distraction, Ramirez stated, "No, it actually wasn't because we got a pretty nice hotel with a nice gym. So I got in a workout this morning before we left there. So I've been getting my rest; I've been relaxing and actually just enjoying this drive. So it hasn't been too much of a distraction; maybe it was last night. We got to the hotel a little late but I think we made a good choice to get a hotel without thinking about it twice."
Well, maybe they did think about it more than once. Ramirez's manager, Rick Mirigian said, "I'll give you a different spin of it - it's been crazy. We flew into Houston; we waited at the airport. We had to go to a customer service desk and wait in line. They couldn't find our bags. They lost Jose's bag, his Olympic bag that he always travels with. So we didn't get out of the airport till 2 a.m. We sat in a little cubicle and called 15, 20 different hotels to find out. Jose finally found one about 30 minutes out and so we took a cab over there. And then we were going to fly out over there this morning and [Top Rank Promotions publicist] Lee Samuels said there was snow in Laredo and so we didn't want to chance anything and Jose's pretty good about his training and workouts, so we waited till he did his workout."
Samuels advised Ramirez and his camp to drive and Top Rank would cover the cost of the hotel bill and the rental vehicle. Mirigian noted there was a flight leaving on Friday but Samuels made it clear that they had to be in Laredo for the Thursday press conference. "Now we're on the scenic road going through Texas right now and we've been driving for about four hours. Everything looks the same," said Mirigian on Thursday with a chuckle.
While not exactly "Planes, Trains and Automobiles," it is an inconvenience for any fighter. Perhaps to a certain degree, it's a rite of passage all boxers must go through as they move up the boxing ladder as undercard fighters.
(Although it has to be noted, even if Ramirez was headlining on, say, HBO, in this circumstance, he'd probably find himself doing exactly what he had to do a few days ago.)
Of course, you could argue that as well as he draws in the Fresno, California region (near his hometown of Avenal), why does he need to fight in Texas?
"Y' know, you might want to ask [Top Rank Founder] Mr. [Bob] Arum that or [Top Rank President] Todd duBoef or [Top Rank Event Producer] Brad Jacobs," said Mirigian, who's not just a manager but his own one-man marketing and publicity machine with visions of a huge future for Ramirez both in and out of the ring. Ramirez played to a sold-out audience in his last bout at the Golden Eagle Arena at West Hills College in Lemoore, California against Erick Perez. It was as large and lively a crowd as you will see for a "Solo Boxeo" telecast.
"Yeah, I think have made that point. That last fight made boxing history in so many ways, from having 3,500 people, selling out a show three weeks before the event, attracting Fortune 100 sponsors - four of them - I mean you couldn't dream of anything like this. So yeah, I think you're going to see a few more in California. It's definitely my goal this year to do a couple more in our home region but definitely, it's on the map. It's gonna happen. I'm probably going to be looking at stuff this summer to do and do one big one for sure with Jose in our area," explained Mirigian, who is every bit as passionate about his fighter's future as he seems.
But first things first; Ramirez, 7-0 (5), still has to develop as a boxer. There's no doubting his fighting spirit but right now, he's got more rough edges than a porcupine and at times, fights as if he's got just a few minutes left on the parking meter outside the arena. There's no doubt Ramirez fights with passion; the question is if he can fight with more precision as Top Rank slowly steps up is level of competition moving forward.
"I think this last year, I've gotten better experience. I think I developed more; I've become a more comfortable fighter, more patient fighter and I'm always working on becoming a better fighter, an elite fighter, who's strong and knows how to adjust to any style of fighter," said the 2012 U.S. Olympian. His upcoming bout is against Javier Perez, who comes in with a mark of 8-6 (5).
"The only thing that I know is that my opponent has fought eight-round fights before, so I know he has some experience, more experience than I do inside the ring. He's been a pro for over five years, so he has the will to fight a full fight," Ramirez said of his foe. "I'm sure he can take a punch. He's a strong fighter but I think my speed, my boxing should do the trick in the fight."

PPV UNDERCARD

Bob Arum raised a few eyebrows when he was quoted by Kevin Iole of Yahoo! Sports that when it came to pay-per-view undercards, "90 percent of the people don't want to see the undercard and don't care about it. But there is a point to the argument that we should give the other 10 percent something to watch that they'll enjoy, so we decided to try to put together a fun card for them."

He added in this article, http://sports.yahoo.com/blogs/boxing/bob-arum-announces-pacquiao-bradley-undercard-doubts-fans-015202446--box.html, that "People are eating, talking to each other, having a drink, having fun and they don't give a [expletive] about the undercard. Even in the arena, you're lucky to get the people in there for the semi-main."

Much of what Arum says is echoed by others in the business but I think he's right and wrong in his comments. The casual fan (who is relied upon to spur the really big pay-per-view numbers) truly doesn't pay much attention to what goes in the first two hours and 15 minutes of the broadcast before the main eventers begin their ring walks. It's really those who care enough about boxing to regularly watch stuff like "Friday Night Fights" and "Solo Boxeo," much less HBO and Showtime, who seriously give a damn about the undercard bouts.

There is a belief that the main attraction really drives pay-per-view numbers and if you have a good enough fight headlining - or a big enough name on top of the marquee - it won't matter what is attached to it. And for years, Top Rank and Arum were able to procure huge pay-per-view numbers while using the likes of Butterbean, Mia St. John, Yuri Foreman and Zou Shiming, perhaps proving his theory.

But it has to be said that across the street at Golden Boy Promotions/Showtime, they have given us undercard fare such as Abner Mares-Daniel Ponce de Leon and Danny Garcia-Lucas Matthysse in support of Floyd Mayweather. Now, who knows just how much of an effect it had on Mayweather's overall numbers (there was a huge gap between the gross from Robert Guerrero to Saul Alvarez which again, might prove Arum's point)? But it certainly didn't hurt and it certainly provided more value for the public's buck. And with pay-per-views now in the 65-to-70-dollar range on a regular basis (seriously, it wasn't all that long ago when they were 50 bones), it might be imperative to give better shows from top-to-bottom.

And this has to be mentioned: along with inflation, in 2014, it looks like there will be no less than eight pay-per-view cards. Judging by the feedback I've received on Twitter, more and more fans are deciding to pull the trigger on whether to purchase these cards based on the overall card (and again, I'm talking about your base audience who used to be counted on to purchase every show). Then there is also this dynamic that can't be overlooked - streaming. Yeah, it's out there and it's an easy and affordable (actually, free) alternative. For some fans, it makes the decision much easier to bypass the traditional ways of watching the sport's biggest events.

(Now it has to be said, when you book such fights as Mares-Ponce de Leon and Garcia-Matthysse on pay-per-view, as a Showtime/HBO subscriber, you are losing a bit of value to your subscription that you pay for every month and being forced to pay an extra 70 dollars for those same fights. The March 8th pay-per-view event basically means that as a Showtime subscriber, you won't get Saul Alvarez, Leo Santa Cruz and Omar Figueroa on your airwaves for the first half of 2014. The reality is that loaded undercards can water down what you get on premium cable - but that's another column for another day.)

Regardless, the paradigm might be shifting just a little bit and with that, boxing fans might start getting better fights on pay-per-view cards moving forward.

TNR
Latest episode of "The Next Round" with Gabriel Montoya and Yours Truly:
http://www.blogtalkradio.com/leaveitintheringradio/2014/01/28/maxboxing-live-the-next-round-episode-465

And for the iTunes link to "TNR":

https://play.google.com/store/apps/details?id=com.app_liitrboxing.layout&hl=en

SUPER BOWL FLURRIES

While devoid of any huge names, I actually think the April 12th pay-per-view undercard for Tim Bradley vs. Manny Pacquiao II will provide some steady action...Top Rank is planning a "Solo Boxeo" (UniMas) on April 19th in Orlando, Florida with Gammy Rodriguez facing Orlando Cruz with Felix Verdejo in support...Middleweight hopeful Gilberto Ramirez Sanchez takes on rugged Don Mouton in this week's main event in Laredo...I thought the IBF made the correct and easy call in mandating a rematch between Argenis Mendez and Rances Barthelemy...As a huge Rams fans growing up, honestly, I don't want them back in Los Angeles..."Nashville" has gotten me to actually like country music. Yeah, I just said that...My heart says Denver but my head says Seattle in the Super Bowl. I like the Seahawks by a touchdown

…I

can be reached at k9kim@yahoo.com and I tweet at www.twitter.com/stevemaxboxing. We also have a Facebook fan page at www.facebook.com/MaxBoxing, where you can discuss our content with Maxboxing readers as well as chime in via our fully interactive article comments sections.