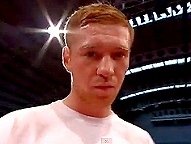 -


It turns out the Beatles weren't the only guys willing to come over from Liverpool and try to take America by storm.
Britain's undefeated John Quigley, 10-0 (2), is currently "living the American Dream" as he has said on numerous occasions since taking up residence in Southern California, relocating from his home in Liverpool, Merseyside, United Kingdom. The switch-hitting, slick, boxer-puncher Quigley is currently training at Tony Jeffries' gym, Box 'N Burn in Santa Monica, California with his trainer, former heavyweight Courage Tshabalala. Quigley has also turned some heads sparring at Freddie Roach's famed Wild Card Gym in Hollywood. After reading a tweet from Twitter friend Jeffries about some "good opportunities for unbeaten fighters over here in America," Quigley decided to take up the offer to hop across the pond and train in America to showcase his skills.
People in the know liked what they saw. Quigley also liked what he saw and he quickly sent for his wife and young son to join him. He recently signed with Sheer Sports Management and hopes to be 11-0 after his upcoming bout with Alejandro Ochoa, 3-7-2 (1), in a four-round fight Thursday at Florentine Gardens in Hollywood, California. Quigley has been described as "a white Pernell Whitaker," something the Liverpool scrapper will gladly accept anytime.

While he is often described as a southpaw, Quigley is in fact an orthodox fighter but switches back and forth at times. Quigley turned pro in March of 2011 and a year later, was 6-0 (1). However, he was frustrated by the "lack of attention and interest" he was getting on home soil and was more than happy to take a chance over in America as he has "always dreamed of going over to America to fight", he said.
"There just wasn't a lot happening for me back home. After I saw the tweet from Jeffries, I decided to test the waters out here and it has been the best move I ever made," Quigley added. He made his U.S. debut in October of 2013 stopping Jahaad Wingfield in the first round. A month later, he beat Dominic Coca over four rounds. The friendly, 130-pound slickster is excited about the team around him and the opportunities to showcase his talents in America. "[Quigley's public relations rep] Rachel [Charles], Sheer Sports Management, Courage, Lyle, Ken, they have all been great. This is a dream for me and I'm going to make the best of it. I'm sure that in time that people will know my name and so right now, I'm here to make waves. I'll let my boxing do the talking."
Please visit our Facebook fan page at
www.facebook.com/MaxBoxing
, where you can discuss our content with Maxboxing readers as well as chime in via our fully interactive article comments sections.