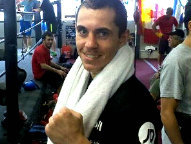 (Photo © K9 Photos)


As Scott Quigg makes his yearly pilgrimage to Southern California along with the rest of Joe Gallagher's vast stable of boxers from the U.K., there is a sense of hope and optimism that simply was absent during the first half of 2013. For much of last year, Quigg was a fighter with a bright future whose progress had stalled because of his promotional entity, Hatton Promotions' inability to secure him fights.
It turns out when Vyacheslav Senchenko stopped Ricky Hatton on November 24th, 2012 in Manchester, England, he didn't just halt one career. He caused another to come to a standstill. Quigg, who looked razor-sharp in stopping the respected Rendell Munroe in six rounds on that same card (and looked for all the world to have undeniable momentum behind him), was then shelved for eight long months.

With Hatton Promotions losing its television deal, so did it lose its ability to land bouts for Quigg, who was made to wait... and wait...and wait to advance his career.

"The start of the year was very, very frustrating," admitted Quigg this past Thursday afternoon on the ring apron of the Wild Card Boxing Club, after his day's work was finished. "People know what happened with Hatton Promotions and then once I was with Matchroom [Sport], everything took off and it's good to be fighting because that's what a fighter wants."

As Quigg mentioned, he eventually defected to Eddie Hearns' organization but he says he holds no ill will toward his former promoter. "I'm thankful for Hatton Promotions. They got me to this stage but they lost TV; they couldn't get me the fights I needed. Since I made the move, I managed to get three and it's been the best career move I've made."

Quigg made his Matchroom debut on June 29th with a third round stoppage of William Prado at the Bolton Arena. He admitted, "I was nervous but I'm nervous before every fight and that's why I train so hard and those nerves is what makes me so sharp and perform and I can control them nerves. For me, walking into the ring, it felt good to be finally walking into the ring again and when I was in there, I enjoyed it because I've been away for so long."

There is perhaps no young fighter in the sport who enjoys boxing - and just as importantly, the process of preparing for it - quite like Quigg. He once told this reporter that learning to deal with boredom (in other words, staying out of trouble or not always having a good time) is a key part of his job as a prizefighter. Getting back to fighting was like riding a bicycle because he pointed out, "Even though I wasn't in the ring, I was in the gym every day. I had three takeaways (takeout meals) in seven months but I stayed in the gym practicing and learning and improving as a fighter as well. So I didn't let that time go to waste."

But that's not to say Quigg didn't get antsy as the winter turned to spring and then summer. His trainer could sense the frustration in his charge.

"Sense it? I was feeling it in the gymnasium. The kid was frustrated. Scott Quigg is serious about his career and those seven, eight months we'll never get back again but we're trying to make up for it with time. He's a world champion now and the sky's the limit for him and he's with Matchroom now and there's talks of big fights this year, possibly over here in America," explained Gallagher.

Quigg faced the skilled Cuban, Yoandris Salinas on October 5th and after a tough start, came on strong late but had to settle for a hard-fought draw to retain his WBA super bantamweight title. He says of that fight, "We knew what [Salinas] was doing to do but I've never been in the ring with a jab where the first two or three rounds, I couldn't get out of the way. His jab was very good but we knew what it was going to be like and the plan was in the second half of the fight was to put it on him because we watched tapes on him and we know that he starts sharp and he was always putting people off in the first couple of rounds. But the first thing I wanted to do when I was getting caught in the first couple of rounds was jump on him.

"But that's what he wanted me to do, take the jab and I would've walked into a right hand. So I had to try and time him. Should I have gone a round earlier? Yeah, but I did pick it up and I do think I won it by a round or two. I thought it was level going into the 11th and 12th round and I thought I done enough to nick it."

Quigg's year ended with a three-round thrashing of Diego Silva on November 23rd. The Quigg train is now back on the track.

"It was brilliant," said Gallagher of their late push in 2013. "You seen that at the end of last year. Three contests as soon as we started with Matchroom. They got him out at the end of June, got Salinas and then a good run at the end of the year. Three fights in five months. I think you saw his last fight - that's Scott Quigg. Scott Quigg needs to be a busy fighter; a busy fighter's a good fighter. And that was so much the case with Scott last year when he sat stewing there for seven, eight months with inactivity. That's not good for nobody."

There were reports that Hatton Promotions did indeed attempt to get Quigg fights by farming him out on other cards but those offers were rebuffed by Quigg and Gallagher (who also manages Quigg), who explained, "Well, as far as the opportunities to come over here, anybody can offer somebody something. But it's got to be a good offer. Scott knows himself the finer details of what was offered and what wasn't offered. But it wasn't right for Scott Quigg at that time. I mean, one of the offers was to fight Salinas in Miami. Now, that's a no-brainer [to reject], a Cuban in Miami. So I think that's what they're talking about and that was never going to be the case. We're supposed to be a Hatton fighter, not a Cuban/Miami fighter, a sacrificial lamb.

"Scott Quigg deserved better than that."

The fight constituents yearn for is a showdown between Quigg and Carl Frampton. You get the sense it can be the British version of Marco Antonio Barrera vs. Erik Morales. But thus far with all the posturing and inability to make this match-up, it's more like a smaller version of Floyd Mayweather vs. Manny Pacquiao.

"Y' know what? You're not far off with that. Then you have [David] Haye vs. [Tyson] Fury as well," said Gallagher with a chuckle. "No, listen; Carl Frampton, he made us an offer for a fight but we had the world title fight with Salinas at the time. We said to him, 'Listen, soon as we win the world title, we'll give you an opportunity.' We win the world title and offered Carl Frampton an amount of money to take the fight and Barry McGuigan has rejected it, decided to take Carl another way and we found out today that Carl turned down a final eliminator against Chris Avalos, which I'm really surprised at because that would make him a mandatory for Kiko Martinez. So I don't know what they're doing.

"But I'm not in the business of Carl Frampton; I'm in the Scott Quigg business and with Scott Quigg, we're looking at Kiko Martinez, [Leo] Santa Cruz, Nonito Donaire. That's what we're looking for this year."

(According to the IBF, they had ordered an eliminator between Frampton, ranked number two, and Nonito Donaire, who was ranked third. Donaire informed them he was now a full-fledged featherweight. So then after a few other fights were turned down by ranked challengers, Avalos and Rey Vargas will now fight for the top spot in the IBF 122-pound ratings.)

Regardless, Quigg is ready to move forward with his career. He plans to return on April the 12th or the 19th.

"We're trying to get Kiko Martinez (who now holds the IBF title) but I've got a voluntary defense and then after that, we want the big fights, the names like Leo Santa Cruz. You want to see how good you are and I believe I'm up there and I believe I can beat any of them," said the 25-year-old from Bury, Lancashire, U.K., who has a professional mark of 27-0-2 (25).

But what about Frampton? It just wouldn't seem right if they didn't square off while they are both in the thick of their physical primes.

"I'm not afraid of Carl Frampton, he's not scared of me," he says. "It's about the fight being made. We can't do anymore than offer him. The money he's not going to get fighting anyone else."

When you ask Quigg if think he will eventually face his rival, he unequivocally states, "Yeah, without a doubt. I want that fight but that fight's been offered to [Frampton] and he's got nowhere to go. Now I'm offering the fight again, when I'm ready, when I want it. He had the chance. He didn't want to take it. Now I want to face Kiko Martinez. I want to get two world titles, be in those big fights."

WEEKEND FLURRIES

In a surprising move, it was announced that Keith Kizer was stepping down as the Executive Director of the Nevada State Athletic Commission on Friday...Several outlets are reporting that a rematch between Marcos Maidana and Adrien Broner will take place in April (http://ringtv.craveonline.com/news/311433-marcos-maidana-adrien-broner-ii-on-tap) although Maidana doesn't seem to be fully on board...Saw "A Football Life" on the Barber brothers; will Giants fans ever forgive and forget with Tiki?…Ican be reached at k9kim@yahoo.com and I tweet at www.twitter.com/stevemaxboxing. We also have a Facebook fan page at www.facebook.com/MaxBoxing, where you can discuss our content with Maxboxing readers as well as chime in via our fully interactive article comments sections.