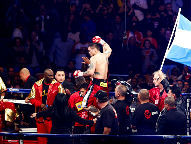 (Photo © Esther Lin / SHOWTIME)


By nature, Adrien Broner, who came into the weekend as the undefeated WBA welterweight beltholder, is a brash and cocky sort. To his fans, he's a fun and colorful personality with transcendent talent. His detractors believe he is a minstrel show dressed up in boxing trunks and gloves, a parody of himself. Broner is among the most polarizing figures in boxing. You either love or loathe him. And up until his fight with Marcos Maidana at the Alamodome in San Antonio, Texas, he largely had things his way in the squared circle. But there he was late on Saturday night, running out of the ring, bruised and battered from the heavy-handed Argentinean.
Scampering away like a thief in the night, shielded by his handlers but unable to escape this stark reality, "The Problem" had been solved (and seemingly, an endless array of internet memes would be created within hours by a joyous public who had longed for this moment).
More than just taking a defeat – Broner's first as a pro - he was righteously beaten by Maidana, a man who speaks softly and carries a big stick.

It was a brutal comeuppance, one that hasn't been as enjoyed by the masses since perhaps Prince Naseem Hamed's cloak of invincibility was divested by another strong and silent type, Marco Antonio Barrera.
All the flash and finesse of Broner were quickly overrun and trampled by the aggression and persistence of Maidana, who set the tone in the first round with a barrage of looping right hands and left hooks. Broner laid down an early foundation of body punches that allowed Maidana to consistently touch him and set up an attack upstairs. For all his recent success, Broner, like many other Al Haymon clients has been kept away from punchers for the most part. But he quickly found out that that's precisely what he was facing on this fateful night. A booming left hook - that Broner believed was a jab to the midsection at the onset - sent Broner to his seat and forever altered the tenor of this bout.
This was no one-man concert or performance for the leader of the BandCamp record label but a real fight against a hard man who simply would not be denied. Maidana was overlooked and most believed he was just another small bump in Broner's road to greatness. Nobody told Maidana and time and time again, he just banged away at Broner, who had his cage numerously rattled throughout the fight.
"I trained hard to get to this point. My plan was to win with heart and I just kept going forward. Every time I landed a punch, I felt I was hurting him. He had a hard punch and I had to be cautious," said a victorious Maidana, who wasn't afraid to get chippy with Broner, who regularly employs an arm-bar and was excessively clinching when in trouble. More than a few body shots on Broner strayed south of the border and Maidana wasn't afraid to execute a payback "dry hump" in the late rounds. "This fight was dirty, so I had to play dirty too," he stated.
Broner began to work his way back into the fight in the middle rounds when another left hook sent him twisting to the canvas. From there, Broner clutched Maidana with both arms to a point where "El Chino" felt compelled to thrust his head right beneath Broner's jaw. If this were the NFL, Maidana would've been flagged for leading with his head and fined. Broner's reaction was to writhe on the floor for a short spell and get as much of a respite from the ensuing onslaught coming his way. For his refusal to play by the Queensbury Rules, Maidana was docked a point by referee Laurence Cole, who, at times, had difficulty policing the action.
To his credit, Broner actually fought well into the late rounds but as the bell sounded to signal the end of the 12th, it was clear who the winner was. And the scores 117-109, 115-110 and 115-109 reflected what took place during this fight. Broner didn't give any comments to the media but his trainer, Mike Stafford commented, "I thought it was a little closer than they had it but I just don't think he was on tonight."
With his big victory, Maidana is now in line for more lucrative paydays and match-ups with the marquee names in the welterweight division. And after a victory over "Faux Mayweather," Floyd Mayweather is a possibility. "It could be. Certainly that fight makes a great case for Maidana that he deserves the fight," said the head of Showtime Sports, Stephen Espinoza, on Saturday night. Richard Schaefer, CEO of Golden Boy Promotions, told Maxboxing, "You definitely have a name which will be in the mix but we'll have to see. I'll talk to Floyd and his team. But this was an amazing performance against a very game Adrien Broner, who didn't give up even though he was hurt early on and so it just shows you Marcos Maidana is special. We all want to see the guy."
According to Schaefer, there is no rematch clause for this fight, although he did add, "I think it's a fight I would like to do a rematch and so, why not? But there are other great fights and opportunities out there for Broner and for Maidana and who knows? Maybe Broner may want to move back down in weight."
It's not clear if Broner wants to go through that harrowing experience ever again. As for Maidana, well, he simply says, "I have no problems with a rematch."
Much was made about the goings-on in Maidana's corner after the 11th round after Broner hit him with a hard left hook after the bell. Judging by this video, which is among many things posted on social media platforms detailing what took place (http://instagram.com/p/h7hoPEBaVQ/#), it is certainly something the commission in Texas should examine.
What exactly was in that piece of gauze put over the nose of Maidana, who was certainly buzzed by that tardy punch from Broner?
(3) The use of an unapproved substance may result in disciplinary action.
(4) Only water and electrolytes shall be permitted for hydration of a contestant between rounds. Honey, glucose, or sugar, or any other substance may not be mixed with the water.

Now, looking at the footage, nothing was consumed orally but instead inhaled by Maidana. But it has to be stated; the use of smelling salts or ammonia caps in the corner has been banned for years in boxing. Back in 2004, trainer Stacy McKinley was disciplined by the state of California for utilizing them during the fight between Tito Mendoza and Librado Andrade (http://www.thesweetscience.com/article-archives/640-the-half-year-awards-in-boxing).
And in response to these allegations, Ariza spoke to Michael Woods of The SweetScience.com:
http://www.thesweetscience.com/news/articles/17751-alex-ariza-responds-to-allegation-that-he-slipped-energizer-into-mouth-of-maidana


Don't be naïve; this stuff goes on. I've talked to more than one boxing veteran who tells me the use of smelling salts or other stimulants has gone on for years in the corner. They will sometimes put the substance onto the towels they will use before the fights and when needed, break them out and wipe them over the fighters' faces. One even told me they had certain signals in the corner for when they were to be utilized. Others have told me they will put the capsules in the towel they use between rounds and do some hocus-pocus with their hands to make sure they're hidden from the ringside inspectors as they use them to re-energize their boxers.

Where there is a will, there is a way.

It will be interesting to see how Texas deals with this - if at all.

GOLDEN YEAR

Looking ahead, Schaefer said with a chuckle after Broner-Maidana, "By the way, it almost sickens me to think about that: Maidana against Keith Thurman. O

h, but I can't do that." Well, actually given that they are both under the promotional banner of Golden Boy, he absolutely can (if both boxers are willing).





Regardless, it was a very strong year for Golden Boy, who was jettisoned from HBO early in the year and dealt with Showtime extensively in 2013. While the sheer viewing numbers may not reflect it (HBO still plays to bigger audiences), the paradigm has absolutely begun to shift. The gap is closing between HBO and Showtime and Golden Boy plays a key role in this.





"It's crazy how many great options we have," said Schaefer. "The bad news is that it's the end of the best year in recent history for boxing but the good news is another great year is on the horizon."





FINAL FLURRIES



Keith Thurman continues his strong development as he stopped Jesus Soto Karass in impressive fashion this weekend. "One Time" is becoming a real pro...Leo Santa Cruz got a tougher-than-expected time from Cesar Seda. There's still a chance he could return to the ring on February 15th at the Staples Center...Anyone else not particularly excited about the possibility of Bernard Hopkins against Beibut Shumenov?...I thought Paulie Malignaggi had a very good night breaking down Saturday night's main event...Vodka lemonade was my drink of choice in San Antonio and I was impressed. Club Kim was the place to be. Thanks to everyone who dropped by...Word is Golden Boy prefers for Saul Alvarez to face Alfredo Angulo on March 8th. They believe it's a favorable style and more saleable than Carlos Molina...Here are the ticket numbers for Andre Ward's fight against Edwin Rodriguez on November 16th in Ontario, CA:

tickets sold: 2,491, gross receipts: $188,699, comped tickets: 958...How did the Packers beat the Cowboys?...Regardless of anything else, Jameis Winston was the rightful winner of the Heisman Trophy...How can I get a BandCamp letterman jacket? I want one for Christmas...(*Webmaster's Intrusive Note: Long Live Brian Griffin!) I can be reached at k9kim@yahoo.com and I tweet at www.twitter.com/stevemaxboxing. We also have a Facebook fan page at www.facebook.com/MaxBoxing, where you can discuss our content with Maxboxing readers as well as chime in via our fully interactive article comments sections.