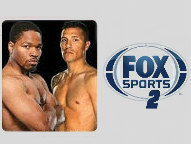 (Image poster by icheehuahua, MaxBoxing)


When undefeated welterweight prospect Shawn Porter steps in the ring on September 12th (Fox Sports 2 Network) he will be looking to avenge the 1 career blemish on his undefeated record, that being a 10 round draw with Coachella, California's Julio Diaz from their December 2012 bout. That being said, Porter's task may be a lot easier said than done. A quick glance at Diaz's last 4 fights sees him at 2-1-1, but many boxing pundits believe he could easily be 4-0. While only 33 years old, former world champion Diaz has a wealth of experience against world class opposition. He knows a win against Porter, famous for his role as a chief sparring partner for mega-star Manny Pacquio, leads to bigger and better things. Porter, 23-0-1 (14 KO's), also knows a win against a former world champion who, along with former world titlist Alfonso Gomez, is by far the biggest name on his resume, could lead to a world title shot. A loss for Diaz would certainly have the former International Boxing Federation (IBF) lightweight title holder thinking about his future in the ring. And, a loss for Porter would be a big setback towards his title aspirations. For both boxers, it is an important fight, at an important time in their careers.

Akron, Ohio super welterweight Porter turned pro in 2008 and until he drew with Diaz in 2012, had passed all tests with flying colors. In his 13th bout, in February of 2010, he picked up the World Boxing Organization (WBO)/North American Boxing Organization (NABO) light middleweight title. Then, 4 fights later he added the North American Boxing Federation (NABF) welterweight title to his collection. Then, 3 fights later, at 18-0, he beat former world champion Alfonso Gomez for the biggest name check on his resume. He also picked up the WBO/NABO welterweight title with the win. In his next bout, in a close, competitive fight, Porter and Diaz fought to a 10 round draw at the Los Angeles Sports Arena in December of 2012. Porter returned 5 months later with a nice win over undefeated Canadian Phil Le Greco over 10 rounds at the Boardwalk Hall in Atlantic City to springboard him back into his rematch with Diaz.

Julio Diaz, comes from a true boxing family as the younger brother of former world title challenger Antonio Diaz, and trained by world championship trainer, brother Joel. Diaz will be entering the squared circle for the 50th time as a professional that has seen him face some of the best of the lightweight through welterweight divisions in his 14 year career. Diaz turned pro in the winter of 1999 and remained undefeated through his first 23 bouts. He lost in his 24th bout in the fall of 2001, losing a close, split decision to world title challenger Angel Manfredy. He would record 7 wins going into the spring of 2004 where he would defeat Javier Juaregui over 12 rounds to claim the International Boxing Federation (IBF) lightweight world title. In his next fight, Diaz would be stopped in 10 frames by Jose Louis Castillo in a bid for the World Boxing Council (WBC) lightweight title. Just 3 fights later in the summer of 2006, Diaz would win the interim IBF lightweight title beating veteran Ricky Quiles over 12 rounds. In his next fight in February of 2007, he would defend the title for the 1st time stopping former world champion Jesus Chavez in 3 rounds.
In his 2nd bout of 2007, he would be stopped in 9 rounds by Texan Juan Diaz as they battled for the World Boxing Association (WBA), WBO and IBF super lightweight titles. From the summer of2008, through the fall of 2012, Diaz would post a 6-3 record over 9 fights. Diaz would close out 2012 with a back and forth battle with Porter that ended in a draw, that many people felt Diaz had won. In a post-fight interview Diaz, while not bitter, seemed a bit frustrated with the outcome. "I have nothing to prove as I know I won, if it was really a draw, they'd have given it to Porter because he's the prospect", he said. The great effort against Porter launched Diaz into a fight against British star Amir Khan in the spring of 2013. Diaz travelled to Sheffield, England to battle the former world champion in his backyard but came up short in a very close fight losing over 12 rounds in a bout that saw Diaz drop Khan in the 4th round.

The rematch: A win for either puts them in a strong position for a title shot in the not too distant future. As both fighters head into their September rematch at the MGM in Las Vegas, (beyond bragging rights in regards to their first meeting), both realize much is on the line at this time in their careers….one looking to show he belongs, and one looking to prove he still belongs. We have the ingredients for a great sequel here!
Please visit our Facebook fan page at www.facebook.com/MaxBoxing, where you can discuss our content with Maxboxing readers as well as chime in via our fully interactive article comments sections.