Porter, Malignaggi and the Trouble with Testing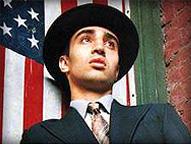 Malignaggi


Thus conscience does make cowards of us all,
And thus the native hue of resolution
Is sicklied o'er with the pale cast of thought,
And enterprises of great pith and moment
With this regard their currents turn awry,
And lose the name of action.
Hamlet
Act III Scene 1
Early on, 2014 looked like it could be a banner year for the combat sports causes of anti-doping testing and fighters' health and safety. It has certainly started off with great potential. In early January, Nevada's athletic commission accepted the resignation of its now-former Executive Director Keith Kizer. Mr. Kizer had been a part of the proliferation of therapeutic usage exemptions for synthetic testosterone for MMA fighters in recent years. He was also a defender of Nevada's out-dated 6:1 T/E ratio. The World Anti-Doping Agency standard is 50 lower at 4:1.
It was announced earlier on Friday that Kizer's replacement will be former FBI Supervisory Special Agent, U.S. Marine Corps Captain and boxing judge Robert Bennett.
Perhaps not coincidentally, later in January, the Association of Ringside Physicians called for the "
general elimination of therapeutic use exemptions (TUE) for testosterone replacement therapy."
Last week in Texas, long-time incumbent Dickie Cole retired from the Texas Department of Licensing. While this doesn't guarantee change in Texas, which barely began anti-doping testing a couple years ago, it can't hurt the situation. Greg Alvarez, a 13-year employee of Texas' commission, will take Cole's place.
California's commission head is Andy Foster, new on the job but perhaps not long for it as his recent bid for the Nevada gig potentially leaves him on shaky political ground.
Still clinging to life just outside that landscape, hoping to be used as an addendum to the commissions and an educational tool for combatants, is the Voluntary Anti-Doping Agency. VADA is an independent testing agency dependent on fighters volunteering to be rigorously tested either year-round or during training camp leading up to a fight. Two fighters, Nonito Donaire and Edwin Rodriguez, are in the VADA year-round program. Other than them, VADA has currently does not appear to have any volunteers lined up. Former WBO welterweight champion Timothy Bradley has been tested by VADA for his last three fights against Ruslan Provodnikov, Juan Manuel Marquez and Manny Pacquiao. Only Provodnikov agreed to be tested by VADA with Bradley.

As for Marquez and Pacquiao, both men have opted to go with testing paid for by promoter Bob Arum, presumably designed by someone at the Nevada State Athletic Commission who is knowledgeable about such things. What specific tests have been conducted remains a mystery. A release of documents pertaining to Bradley-Marquez testing only revealed that the Sports Medicine Research and Testing Laboratory in Utah, a WADA-certified lab, conducted testing on both fighters. On some tests, the "full WADA panel" was conducted. On others, it was not. It remains uncertain what "full WADA panel" actually means. The SMRTL did not respond to inquiries.
What we do know is the WADA Code is not a testing menu. For example, in it is not a declaration that "all urine samples will undergo Carbon Isotope Ratio testing and EPO testing." The WADA Code is a list of guidelines and standards but each athletic commission and governing body, particularly in combat sports, set their own standards. Most don't even follow the WADA Code, such as in the case of Nevada, New York and Tennessee's 6:1 T/E ratio or the rampant use of IV bags to rehydrate athletes after weigh-in. That's a strict violation of WADA's "no needle policy." WADA also did not conduct the testing for Bradley-Marquez (http://www.maxboxing.com/news/max-boxing-news/wada-not-responsible-for-bradley-pacquiao-ii-testing) as some suggested.
This buffet-style standard of testing rules and regulations so transparent in combat sports is why a group such as VADA was created, an impartial third party with a high standard that would be about actually catching drug users in the world's most dangerous sport. They have done so three times and have been widely criticized for doing so and are sniped at in the press by promoters and fighters alike with no educated defense put up by a media suffering from lack of identity.
The problem with covering or reforming anti-doping policy in boxing is that it takes unpopular and tedious work. It takes a knowledgeable leader to set a policy more in line with world sports' standards. Someone who will look at track-and-field and cycling and learn from their mistakes as well as their triumphs. It takes an informed media who relentlessly researches and treats no one like a legend or a celebrity but rather as subjects the media are – and should be - bound by honor code to vet as often and deeply as possible. Just because a commission and Bob Arum declare that the "enhanced testing" it's conducting is beyond reproach and up to VADA's high standards does not mean that's the case. It needs investigating. Manny Pacquiao needs relentless questioning as to why he needed VADA testing versus Brandon Rios but opted out of it for the Bradley fight. Media who had access to him, Arum and Bradley on a regular basis for that fight failed to get those answers or keep at it until they did. They let the sport and Tim Bradley down in the process.
But this is par for the course in boxing. That which is important can get you kicked out of gyms and press conferences, credentials ripped away as well as any future of regaining or even getting them in the first place. This is all an endless cycle of regulators too afraid to regulate, an unregulated media business that is more content with getting into the party than reporting any egregious offenses committed inside. After all, this is a party that never ends.
This leads us to WBO welterweight titleholder Shawn Porter vs. Paulie Malignaggi tonight live on Showtime from the D.C. Armory in our nation's capital. Porter is sponsored by SNAC System, a supplement company owned by former Tower of Power bassist and BALCO founder Victor Conte. The presence of Conte in boxing over the past few years has had some pundits up in arms. "How can the BALCO guy come into boxing and preach anti-doping while serving up his fighters into the mix?" they cry. Paraphrasing. In spite of that ignorant outrage, besides Conte, only Golden Boy Promotions may have more fighters who have been voluntarily tested beyond what the commissions offer. That fact as well as knowing that Porter is not doing testing beyond what D.C. puts him through are just left to the wayside. Too hard to cover or too pointless. Who knows?
Paulie Malignaggi is the king of selective outrage. When it comes to the subject of PEDs or boxing reform in general, Malignaggi is Hamlet: He talks a ton but there is little action. What action that exists is a bit misguided. By his own admission, Malignaggi has been very vocal on the PED subject "for five years." But in those five years, as Floyd Mayweather Jr. continues to have his fights tested by the United States Anti-doping Agency and VADA was created, Malignaggi has thrown a lot of shade in Pacquiao's direction, even stating that if Pacquiao was VADA-tested, he would pick Bradley in the rematch. If not, he would pick Pacquiao.
Since initially bringing up the subject of PEDs and Pacquiao in the media, Malignaggi has begun training at the Wild Card Boxing Club (where Pacquiao trains), moved up to welterweight, scored his first TKOs since 2003 and won a belt at welterweight. Also in that time, Pacquiao underwent VADA testing and NSAC's "enhanced testing." Malignaggi has yet to put words to action and undergo anything beyond standard commission testing. By the same token, Malignaggi's empty words make for copy and/or video hits.
This is not all to throw shade on Malignaggi, Porter or Conte. Contrary to naysaying belief, I am not a witch hunter or a McCarthy-esque, yellow journalist. I find it hard to believe that Conte would go back to the PED well. Malignaggi, by all accounts, is a stand-up guy who wouldn't deign to cheat with PEDs. Porter and his father, Ken seem like honest people as well. Pitchforks and public shaming is not the point here. The problem is that neither is actually doing testing. Both are allowed to say they would be for it by a media which has trained itself to smile and nod. No one endeavors to find out if either side even broached the subject or not. Or if one side is more to blame for the breakdown or not. No one questions, not even to those they previously had a problem with. It's as if the media is afraid it might have a bigger, longer, harder story on their hands than simply, "These two guys are fighting on Saturday."
This is the same media who has written countless articles this week about how 49-year-old Bernard Hopkins is a marvel of discipline and a credit to the "Sweet Science." No one bothers to ask why Mr. Hopkins wouldn't add doing year-round enhanced testing as a true example to the next generation of fighters, proving that hard work and dedication to craft are what its truly all about. No one wants to ask Mr. Hopkins if he is doing or thinking about doing testing because it's rude. It's "throwing shade." It's "haterism" or some other such nonsense.
In a climate such as boxing in 2014, in which anti-doping testing is the number one reason given for why the richest fight in our history never happened, "Are you doing anti-doping tests above and beyond state commission testing's low standards for this fight?" should be standard equipment. It should be standard operating procedure anymore to ask tough questions about a subject we are all too willing to discuss if it's about Pacquiao. If that is a problem for you, well perhaps this is not the job for you.
The true bottom line is that this is all one, big many-headed monster. The commission needs to find a way to get this paid for so it is not at the behest of anyone connected with the fight. It should not be up to the fighters to have to volunteer for high standards; it should be up to the commissions. But up to this point, the commissions and their politically-appointed heads have failed the sport and the fighters. And so it is up to the fighters to go to a group like VADA, which, in a perfect world with real regulators intent on actually having high standards and protecting fighters, wouldn't need to exist. But they need to because at this very moment, the regulators have failed.
In Shakespeare's Hamlet, the protagonist wonders aloud, "To be or not to be?" It is been interpreted that he is deciding whether to live or die. In a sense he is. Hamlet is deciding to be king or not to be, to quietly sit and take whatever folly he is fated to or get up and actually take action and, in doing so, emerge victorious.
Nevada is in its "To be or not to be" moment and thus we in boxing all are as well. Nevada is the beacon by which all other U.S. commissions align their standards. Whomever gets that job is in a position to set the bar high for all. We in the media should hold him to the high standard set by VADA and the ARP. If Mr. Bennett ends up being a puppet for the promoters and the standards stay low, it is on the media to say so. From New York to Texas to Nevada all the way through to California, there is a opportunity for positive change. We should not have to fight the anti-doping battle individually with each match. Here's hoping that the question surrounding this weekend's card, at least for me (Why isn't this fight equipped with strict random anti-doping tests all through camp?), becomes an issue for all the new heads of state commissions. Here is hoping they choose to be better than their predecessors.
Please visit our Facebook fan page at
www.facebook.com/MaxBoxing
, where you can discuss our content with Maxboxing readers as well as chime in via our fully interactive article comments sections.



Subscribe to feed