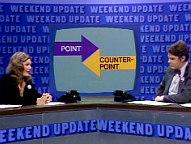 (SNL - Weekend Update's Point/Counterpoint featuring Jane Curtin & Dan Aykroyd)


A lot has been written and said about the giving away and discounting of tickets to last weekend's card in Brooklyn by Golden Boy Promotions and the Barclays Center. Nobody I've talked to in the industry believes this is a positive development. I mean, all you're doing is alienating those who actually purchase tickets early on at face value and, worse than that, you are now conditioning your core fan-base to expect freebies and slashed prices. Not exactly the best way to cultivate a market.

But I got this email from a G. Link (who, if you've paid close attention to in the past, has graced these pages) who put a different spin on this practice. Mr. Link is a sharp guy who supports the business and should be heard. He raises some interesting points...

Hey Steve,
I have to come to the defense of Golden Boy and the

Barclay

s Center with regards to discounted tickets.
Like many people, I was a very poor college student once. When I wanted new clothes I had to plan ahead. This meant buying summer clothes in the fall and winter clothes in the spring. But after out of season shopping, by far the biggest bang for my buck was about 3 weeks after New Year's. This was when stores were trying to unload their holiday excess. A jacket that sold for $90 only a month earlier could be had for $15.
I would imagine anybody who had bought the jacket back in the fall would feel cheated by the deal I got, but I would argue that I merely took advantage of supply and demand. They made their purchase is a seller's market and while they paid full price, they also assured themselves getting the jacket. Had they waited like I did, there's a chance the jacket would be gone or due to it's popularity, even more expensive.
This is precisely what happened in Brooklyn. People who bought their tickets early, assured themselves a spot at the show. They made a calculated assumption, which was that the show would sell and if they waited all the good seats would be gone and their only option would be from scalpers at a premium. They were wrong. This meant fans who either waited or were priced out of good seats reaped the benefit. That's the dynamics of any marketplace.
If Golden Boy and Barclays can be faulted, it is in their initial pricing model. The fact that it's a new arena in a new market does excuse them to a degree. They thought the show would draw at the prices they set, but they were wrong. So they decided to essentially paper the arena for appearances sake. Where they can be criticized moving forward is how they price future shows. If the prices were a reflection of what Barclays needs to just break even for operating expenses, then the future of boxing at that venue does not look good. Either that or Barclays will need a more marketable draw in order to make sense as a venue.
Either way, I just don't believe the fans who paid full price

on Saturday

have any real argument that they were screwed. Much like Golden Boy/Barclays, they misread supply and demand.


Plenty of good points here and, yeah, you look in my closet and much of my wardrobe is from sales and layaway (remember layaway? Do they still

do that? [Editor's note: Yep.]) but

I

wasn't completely

sure this

wasn't

like comparing apples to oranges. I mean, we all expect clearance sales at

retail stores but not so much by promoters and the venue, as it relates to a fight card.

And if pay-per-view sales were lagging going into an event, do HBO Pay-Per-View and the cable operators suddenly lower their asking prices?

So I asked the lawyer who alerted me to some of the stuff that took place

at the Barclays Center (http://www.maxboxing.com/news/sub-lead/barclays-random-thoughts) - a

practicing attorney who

has dabbled in more than a few

class-action lawsuits

-

if the comparison Mr. Link made

was

analogous.

Here was his response:

His argument is somewhat logical but I disagree with him completely. First, his logical error is that the jacket buyer had extra use of the jacket in November and December that the late buyer didn't have. That extra use justifies the cost differential more. Here, the "jacket" could be worn on one day only (Oct. 20). The better analogy would be if he went to a restaurant and paid $200 for a lobster dinner and the guy at the table next to him got the exact same dinner for $25. Would he feel good about having "assured himself" of getting a lobster for 8 times the price? I guess its possible he would feel that way, but I don't think very many people would agree with him.
Basically, he expects boxing fans to be experts at gauging the demand for tickets, and if they jump too soon at buying tickets, tough luck on them. I don't like that way of doing business, it cannibalizes the market by making the loyal ticket buyer less likely to go in the future. Do we really want to tell boxing fans they should investigate and before buying the tickets, make a determination whether Paul Malignaggi, Danny Jacobs and Peter Quillin are real ticket sellers, how many Mexican fans live in NY that will pay to see Erik Morales, etc? I say no.
This guy was happy to risk going without a new jacket, but do we want fans to stay home if the ticket prices never come down?
Keep in mind, while they were selling $25

front row tickets

to some people, others were still being asked to pay full price (Ticketmaster). I am not even sure if this is legal, but it certainly is discriminatory and a lousy way to treat your customers.
Its hard enough to get people to pay for boxing when everything is on TV. In the old days, two fights would be on TV and if you wanted to see the third best and fourth best fights, you went to the arena. How many fights did Showtime air from Brooklyn? Six? Seven? I could've stayed home and watched all six or seven, not have to ride the subway home at 2 AM, and could have had beer a hell of a lot cheaper than eight bucks a glass.
I enjoyed the fights in Brooklyn (for free) but look at it this way, the main event was a mismatch, every fight any reasonable fan wanted to see was on TV, add in the additional costs of travel, food and drinks, parking, and on top of that you are going to make the most loyal fans feel like suckers for paying seven or eight times more than the late purchasers?
OK, I spent way too much time on this answer…
No, no, thanks for giving such a detailed explanation of things. It's why you're an attorney and I'm a boxing scribe.

This was very helpful in many ways. I don't think this issue is just black-and-white;

I think there is a vast

grey area where the consumer has to employ some common sense

and the promoters need to have better customer service. Just think about it; what they are doing is actually treating their most loyal fans the worst. I mean, if anyone should

get

a discount (and perhaps a chance to purchase the best seats early on in the process), it's those who consistently support the product time and time again.

Buying tickets is always a bit of a problem for fans, at least

when it comes to marquee events. The reality is that for the bigger fights (involving the likes of Manny Pacquiao and Floyd Mayweather),

a good number of seats are never really made available to the public and go straight to the brokers, who

then mark

them up. Yeah, it's a game of prospecting to a certain degree regarding what you will pay for admission

to the fights (

m

y friend, Bakari

"Sooperstar" Lee, who got 80

bucks off his tickets on Friday in Brooklyn, called what Golden Boy and Barclays Center was employing his

"personal stimulus

plan." Hey, he gamed the system.

The week before, he flew from his home in Jersey to be

at the Brandon Rios vs. Mike Alvarado fight in Carson, California and regularly travels the country to see prizefights).

Yes, I know that, in

other sports, if you log on to the internet, tickets for the NBA and MLB can be purchased for sometimes pennies on the dollar (Atlanta Hawks tickets can be had for 10 bucks or less on numerous occasions throughout the season. What a bargain to see Al Horford!). The difference is that these are leagues. The NBA has a full 82-game schedule; baseball has a 162-game slate. I think

right there is a huge difference in this dynamic - that

and the

fact those tickets are

usually being sold by a secondary party.

But moving forward, the mantra should be "Buyer beware" and keep in

mind the history and precedent set by certain companies and their

events.

I can see why those involved in this last Showtime-televised event employed these practices. It would've been embarrassing to have just a couple of thousand in the building. The crowd looked great on TV and enhanced the event but on the flipside, I hope they understand how they have

corrupted this market and angered those who bought tickets to this fight card to a point where they

will think long and hard about ever

investing in this product again.

But gentlemen, thanks for the input. This "Point/Counterpoint" couldn't have been done any better than Dan Aykroyd and Jane Curtin (and yes, I know I'm dating myself a bit

with that old-school "Saturday Night Live" reference. I'm just glad nobody called anyone an "ignorant slut").

TIX INFO

Here's the 411 on some upcoming shows and how to purchase tickets (and don't expect mass discounts

or

a flooding of freebies here, unless of course the Brett Yormark Foundation comes through

again). First, the November 17th card at the L.A. Sports Arena, which is hosting the flyweight title unification bout between Brian Viloria and Hernan

"Tyson"

Marquez

and also features WBA junior flyweight dynamo Roman Gonzalez:


Tickets are now available through

www.ticketmaster.com

and at

www.ticketon.com

with prices ranging from $37.40 to $141.25 with fees and taxes included. General Admission tickets are set at $37.40 while

Arena are at $64.50 with Floor priced at $95.20 and ringside at $141.25.
The Los Angeles Sports Arena is located at

3939 South Figueroa St., Los Angeles, CA, 90037

.

The arena has a capacity for sixteen thousand patrons with ample sections for the handicapped and a parking lot for 5,295 vehicles with a set price of $7.00.

For more information please contact 213.748.6131.


Then there is the NBC-televised rematch between heavyweights Tomasz Adamek and Steve

Cunningham on Dec. 22nd from the Sands in Bethlehem, Pennsylvania:
Tickets are priced $ 50, $75, $105 and suites at $130 and are available at the Sands Bethlehem Event Center box office 610-297-7414, Main Events 973-200-7050 and Peltz Boxing 215-765-0922 and through Ticketmaster,

http://www.ticketmaster.com/NBC-Fight-NightBoxing-tickets/artist/1794277,
Ticketmaster Sales:during regular hours 800-745-3000,

Ticketmaster Express:

automated phone line for self-service ticket sales, even after hours, 866-448-7849.

WORLD SERIES FLURRIES

The IBF has ordered negotiations to begin between their new welterweight champion, Devon Alexander and their top-ranked challenger, Kell Brook...I'll say this about the IBF, as it relates to enforcing their mandatories, they actually follow their own rules...Bob Arum mentioned that a Super Bowl-eve show in Puerto Rico on HBO with Juan Manuel Lopez facing Wilfredo Vazquez II and Orlando Salido taking on Mikey Garcia is being worked on...I like the Sooners big this weekend at home versus Notre Dame...Can USC hold Oregon under 40?...Seriously, aren't movie theater floors too sticky to be slithering around on? (http://news.yahoo.com/blogs/lookout/slithering-theater-thief-convicted-faces-serious-jail-time-192450316.html)...I think "Treme" has been very good this season on HBO...It doesn't matter that the Lakers have a weak bench, right? Michael Cooper ain't walking through that door. Mychal Thompson ain't walking through that door. In fact, Mike McGee ain't even walking through that door...I can be reached at k9kim@yahoo.com and I tweet at www.twitter.com/stevemaxboxing. We also have a Facebook fan page at www.facebook.com/MaxBoxing, where you can discuss our content with Maxboxing readers as well as chime in via our fully interactive article comments sections.