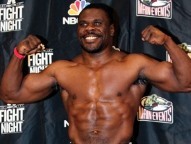 Photo © Daryl Bughman/Main Events


At separate press conferences in Philly last week Garrett "Ultimate Warrior" Wilson, 13-7 (7) talked about his upcoming NABF cruiserweight title fight with champion South Africa's Thabiso Mchunu, 16-1 (11), at Foxwoods Resort in Mashantucket, CT, over NBC Sports Network on Saturday afternoon.

"I like a challenge and want to fight someone who can advance me in the ratings. I will fight anyone and my list of opponents proves it," said Wilson. His trainer Rodney Rice assisted by "Cornbread" Ramsey had Wilson go thru his workout at the Marion Anderson Recreation Center in South Philly Wednesday.

In February of 2013 Wilson had his 7 bout (including a draw) streak broken by Alexander Alekseev, 23-2-1, of Uzbekistan, in Romania, with the latter losing in an IBF title fight in his next fight to Yoan Hernandez. Then in a short notice fight Wilson lost to Ukraine's Vyacheslav Glazkov, 15-0-1, in New York. Wilson was impressive with his heart and aggression. He suffered a serious injury but is back and ready for his upcoming main event. Mchunu defeated Philly's Eddie Chambers in August of 2013 and in January of 2014 won the NABF title. This will be his first defense. "I've been a tune-up for several fighters and they got tuned up," said Wilson.

On the undercard Philly's Karl "Dynamite" Dargan, 16-0 (8), takes on Angino Perez, 17-5 (15), of Miami, FL, for the NABF lightweight title. "I fought a lot more now since I am with Main Events. I started boxing when I was 8 with Bernard Hopkins in the gym," said Dargan. Dargan was a Pan Am champion in the amateurs. "He's easy to work with and quite mature. He needs 22 or 23 fights and will fight for the world title. He never makes excuses. This kid has that special in him to make him a champion," said Naziim Richardson (trainer). Dargan knows with Mickey Bey winning a title Saturday and Hank Lundy from Philly on the verge of a title fight he has what it takes to also be a champion.
---
Please send all questions and comments to Ken Hissner at: Kenhissner@gmail.com