Peterson retains IBF title, Garcia knocks out Salka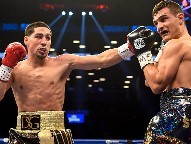 Photo © Rich Kane / Hogan Photos


IBF junior welterweight champion Lamont Peterson (33-2-1, 17 KOs) successfully defended his title for the third time by stopping overmatched Edgar Santana (29-6, 20 KOs) at the Barclays Center in Brooklyn, New York.

Peterson found Santana with his jab throughout the opening stanza. Santana clipped Peterson with a right, but the Washington, DC. didn't blink. Peterson exploited his much quicker hands and feet in the next few rounds.

Santana walked after Peterson, but wasn't throwing punches. Timing the faster champion was a problem. Peterson went to the body in rounds three and four. Santana finally landed a crisp left hook that surprised Peterson. A few seconds later, it was Peterson connecting with a strong left--and digging three hooks to the body.

Peterson went right back to the midsection in round five. A big left hook, followed by a combination staggered Santana.

Santana, 35, tried to fight back, but his punches were slow and lacked power.

He was looking everything like a 25-1 underdog.

Santana tried to mount a little rally in round six, but was soon on the receiving end of a four-punch combination. Peterson, 30, coasted in rounds seven and eight. He used angles and touched Santana whenever he wanted too. The fight had turned into a glorified sparring session.

All Santana could do was survive. His ability might have been lacking, but not his heart.

In round 10, Peterson unloaded numerous punches. Santana, virtually defenseless, wobbled. Finally the referee, on the advice of the ringside physician, waved off the match.

The time was 2:48.

"I was able to show some dimensions of my game," said Peterson in the ring. "I thought I did okay."    

Danny Garcia KO 2 Rod Salka  

For the first time in his career, junior welterweight champion Danny Garcia felt the sting of criticism. Garcia didn't like it, but fighting little known Rod Salka, a 34-1 underdog, made the criticism warranted.

Garcia (29-0, 17 KOs) knocked out Salka (19-4, 3 KOs) in round two of a nontitle affair at the Barclays Center in Brooklyn, NY. Saturday night.

Salka, 31, used the ring in the opening round, but Garcia found him with hooks to the body and head. Salka tried to jab, but was reluctant to get close to Garcia.

In round two, a huge right hand floored Salka.

Confused and shaken, he barely beat the count of 10. A few seconds later a barrage of punches put him down for the second time.

Salka, who recently became a father for the first time, met the larger Garcia in the middle of the ring. To his credit, he motioned to Garcia to bring it. Garcia obliged by winging thudding shots. A right hand to the body, followed by his signature punch, the left hook, sent Salka crashing to the canvas.

The referee immediately waved off the contest.

The time was 2:31 of round two.

Garcia, 26, warmly embraced Salka after the massacre.

"I came here and did what I was supposed to do," said Garcia in the ring. "No fight is easy in boxing unless you put the hard work in."

The bouts were televised on Showtime Championship Boxing.  

Check back with maxboxing.com and doghouseboxing.com for more articles on these fights and many more.



Subscribe to feed