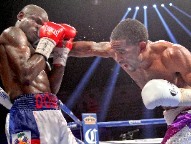 (Photo © Tom Casino / SHOWTIME)


Golden Boy Promotions and Showtime collaborated to bring fans the January 25 return of IBF light welterweight champion Lamont Peterson. The card took place at the D.C. Armory in Washington, District of Columbia, USA. Peterson met the number one ranked Dierry Jean in his first appearance since his devastating third round knockout loss to Lucas Matthysse in May 2013. In the main supporting bout, rising prospect Jermell Charlo met the crowd-pleasing Gabriel Rosado in a ten-round junior middleweight bout. After the dust settled, both favored fighters turned in dominant performances to advanced their careers to greater heights.

In the main event, Lamont Peterson took command of his second title defense early by fighting long behind a stiff jab to set up his right hand. Throwing mostly one-twos as he felt out his Haitian challenger, Peterson used his feet effectively to control the distance of the fight. Jean fought patiently trying to establish his own jab, but activity kept him at bay. Round two saw the champion remaining first with his punches and using his legs defensively to avoid Jean's shots. At times, both men missed wildly as they tried to load up with a single power shot, usually a hook. The third round was one of the best of the year so far as both men fully worked out any hesitation with their punches. Jean began setting up his right with a stiff jab that began to find its mark with greater frequency. Peterson began shifting more of punches south to attack the body of his emboldened challenger. The round ended with a nice left hook by Peterson, which was punctuated with two in return from the challenger. After three, Peterson led 30-28 on my SecondsOut scorecard or 2-0-1 in rounds.

Jean's effort to break through continued in the fourth, but Peterson kept a high guard to sully much of the Haitian's attack. Both fighters increased their punch output again, but it was the cleaner right hands from Jean and the body work from Peterson which highlighted the round. Peterson reclaimed the lead shots by getting off first with left hooks and uppercuts. By the fifth, Peterson started using more physical strength to back Jean up along with his crisper punching. He resumed his assault on the challenger's body to create the greatest disparity between the effectiveness of the two fighters of the night. Peterson carried that momentum into the sixth, but Jean greeted it with some of his own bodywork. Peterson returned fire with a right hook to the torso and a powerful left hook to the chin to rattle Jean for the first time in the fight. The champion advanced his lead to 5-0-1 on my SecondsOut card.

The champion asserted to his trainer, Barry Hunter, that he would be pursuing the knockout in the seventh once he forced his challenger's back to the ropes. The champion succeeded in backing his man up, but Jean countered well in this round, particularly with the left hand. Peterson remained in control, but Jean fought harder to keep himself in the contest. The added aggression actually hurt Peterson as his punches landed with less accuracy. He returned for the eighth with greater patience as he went back to work pumping his jab. Jean backed up more and was tagged with a huge left hook that put a brief stumble in his step. The champion's pressure now had Jean throwing more wildly as his shots grew wider as the round progressed. Jean needed a between rounds pep-talk to get him more than just in the fight, but at an advantage. The challenger started the eighth quickly with a barrage of shot to Peterson's mid-section. Peterson tried to keep his plan on course, but was outworked by Jean for much of the three minutes. Jean actually began to use his legs more to back up and draw Peterson into his punches. The surge did not last though, as Jean's output fell back down in the ninth allowing the champion to jab and hammer his body at will. My SecondsOut card rewarded Jean with the eighth round, but the challenger still trailed 89-83.

Peterson began the tenth with a nice right hand to turn the head of his challenger. He followed it up with to uppercuts to the body of Jean. Peterson slipped punches well and remained elusive. Jean's best opportunities came to the body, but he seemed to be settling into defeat. Round eleven saw much of the same with an additional drop in punches from Jean. Peterson finished the fight like a champion and came forward for much of the final frame behind his jab and continued body work. He danced his way through the final seconds as the capable challenger accepted his fate giving Peterson his second successful title defense.

Peterson, 30, won a unanimous decision by scores of 118-111, 116-112, and 115-113. SecondsOut saw the bout 119-110. The champion raised his record to 32-2-1 (16) and expressed interest in meeting Danny Garcia in a unification match. Jean, 31, tasted defeat for the first time and fell to 25-1 (17).

In the main supporting bout, Jermell Charlo stepped up to the challenge of Gabriel Rosado in an important crossroads match. Rosado began the first round walking down the favored prospect. Charlo patiently set up his shots by working his jab. A solid left hook by Charlo landed to counter a shot to the body from Rosado. Round two saw continued Rosado pressure, but better use of his combination punching. Charlo moved effectively, but allowed Rosado to assert his offense. His left hook connected well. In the third, Rosado began setting up his right hand better with use of his jab. However, Charlo took advantage of the greater opportunities to counter with his left hook. Rosado's ability to cut off the ring waned as he could no longer crowd Charlo. Somewhere in the third an abrasion appeared over the left eye of Rosado and the first trickles of blood emerged from the injury. After three frames, Charlo led the contest 2-1 on my SecondsOut scorecard.

In the fourth round, Charlo's bobbing and weaving provided a complicated defensive block for Rosado, who threw in volume, but could not land. Charlo reduced Rosado's stalking to following. A fast one-two broke Rosado's guard, but the Philly fighter responded in kind with right hand and a right hook to the young prospect. Charlo finished the round with a left uppercut to the body and a straight left. By round five, the left hook to the body became one of Charlo's leading punches. Rosado's accuracy dropped and his punches seemed to slow. An accidental clash of heads turned Rosado's scratch to a full-blown cut. Charlo zeroed in on the left eye with overhand rights and straight shots as the round progressed. Charlo remained elusive in the sixth and calculated with his punches. He wasted nothing while Rosado threw frequently while out of position. The left jab continued to work and set up right hands for Charlo and Rosado's ability to adjust never surfaced. After six, Rosado trailed 5-1 on my SecondsOut scorecard.

Charlo upped his attack in the seventh and began placing solid jabs on Rosado's mug. He moved his attack downstairs with increased attention as well. Rosado appeared to be buckled by a right hand, but it did not stop him from landing a nice left hook during the exchange. Charlo worked some nice one-twos to start the eighth. His sharper shots snapped Rosado's head back. Rosado responded with a clean right to the jaw, but Charlo took it well. It was Rosado's best work of the fight, but it was still greatly surpassed by what Charlo was producing himself. A small nick appeared under the right eye of Rosado, but it never appeared a factor in the outcome of the bout. Rosado stayed the more physical fighter in round nine, but Charlo still landed the cleaner shots by far. Rosado showed his frustration in the final round by shouting loudly after getting tagged. He could not work himself up into the type of frenzy it would take to salvage a victory and Charlo out-landed him effortlessly.

Charlo, 23, earned the unanimous decision without question. He prevailed by official scores of 100-90, 99-91, and 97-93. SecondsOut favored Charlo's work 99-91. He lifted his ledger to 23-0 (11). Rosado, 28, fought his fourth straight bout without a win. He fell to 21-8 (13).

For more boxing discussion, contact Derek DBO Bonnett on Facebook or at dbo@boxinghideout.com.