Pascal Betters Bute, Takam Draws against Perez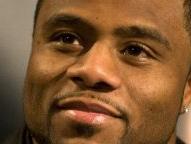 -Jean Pascal-


Jean Pascal and Lucian Bute finally made it into the ring with one another after the evenly matched light heavyweights endured a lengthy postponement of their scheduled May 25 bout after a hand operation sidelined Bute, a Canadian-based Romanian. The Canadian-based Haitian, Pascal, kept busy making easy work of George Blades in September. Bute has fought only once since his crushing defeat at the hands of Carl Froch and that was a disputed win over Denis Grachev. The experts were split leading up to this bout in its first promotion and even still the second time around. The January 18 HBO main event unfolded at Bell Centre, Montreal, Quebec, Canada over twelve rounds to fill the vacant NABF light heavyweight championship. The two adopted hometown rivals matched well on paper and found themselves in position to maneuver themselves back into the upper echelon of the 175-pound weight class. In the main supporting bout, rising heavyweight contender Mike Perez, an Irish-based Cuban, took on Carlos Takam, a French-based Cameroonian in a scheduled ten-rounder. Perez entered this bout riding high off his brutal ten-round win over Magomed Abdusalamov also on HBO.

Canada's two biggest draws in the sport of boxing failed to produce the type of fight fans expected to unfold. From start to finish, Jean Pascal mostly rendered Lucian Bute an impotent challenger. Pascal threw wide and wildly as most would have anticipated and over the first three minutes. Bute controlled the distance, but punched at a low rate. His shots seemed the more effective, but the round could have gone either way as both men fought tensely. Pascal came alive in the second with some good body work. Bute landed a few clean shots, but Pascal set the tone for the next ten rounds. After a slow opening two minutes, which saw neither man asserting himself over the other, Pascal opened up with a barrage of punches to close the round. His shots were wild, but they were hard. Unlike Bute, these shots were landing from time to time. Bute started mixing in some more straight shots in the third, but Bute looked wobbled and fought timidly whenever Pascal jumped on him. After three rounds, the SecondsOut card was 1-1-1.

Pascal took over in the fourth even though he was still missing a high volume of his punches. Bute tried a lead right hand to the body, but never persisted with it. Instead he allowed Pascal to keep him moving passively with opposing aggression. Pascal landed a hard body blow in the fifth, but he was "one and done". His herky-jerkiness was still enough to keep Bute confused and lacking in confidence. Bute attempted his once feared uppercut, but after missing a couple he stopped using it as part of his repertoire. Pascal's windmill style kept Bute quiet throughout the sixth round and the Haitian fighter moved back to the body finding it too tempting of a target. Pascal swept these three round on the SecondsOut card to go up 4-1-1.

Round seven through eleven were the status quo. Bute moved forward, but failed to get his punches off even when Pascal did not throw. Pascal's brawn was enough to keep the Romanian former super middleweight champion in second place as each round ticked by. His hooks stayed wild, but his punch connects continued to outnumber Bute's. That was until the final round. Bute finally broke through and rocked Pascal along the ropes. Pascal would later claim her was playing possum, but he looked on the verge of being stopped or, at the very least, hitting the canvas. Pascal rebounded mid-round as Bute tired and he shifted positions to put Bute on the ropes. Bute managed to gain the momentum again and finished the round strong, winning his first three minutes on the SecondsOut scorecard since the first.

Pascal, 31, earned the decision 119-111 on my unofficial scorecard and 117-110, 117-111, and 116-112 on the official tallies. He lifted his dossier to 29-2-1 (17). Bute, 33, fell to 31-2 (24).

Any momentum Perez generated from his bruising win over Abdusalamov was stalled early on in his follow-up bout with Takam. Perez boxed patiently as we have become accustomed to seeing him do early on. Takam elected to box off his back foot against the more technical boxer, but experienced little success over the first three minutes. Perez' jab remained slow throughout the second round, but it was still more effective than anything Takam sent his way. Perez had his man moving backward as he looked for the right hand off the jab. An accidental head butt in the third round changed the tempo of this fight greatly. Perez walked away with a nasty gash over his right eye and he fought sparingly over the rest of the round. Takam did not do much, but a few good body shots brought him back into the fight. Perez lead two round to one on SecondsOut's scorecard after three.

Perez started the round in better spirit as the blood flow was greatly abated by trainer and cut man Abel Sanchez. The Cuban got back to work with his jab, but Takam upped his work-rate and landed two big right hands near the end of the fourth. Takam started the fifth breathing heavily and began this frame working his jab more than he had previously. Perez matched his pace in what seemed to be an even round. Takam's aggression escalated again in the sixth. His focus on Perez' mid-section won him the round and kept the shift in momentum in his favor. After six, Perez only led by a slim margin of 58-57 on the SecondsOut tally.

Takam controlled the pace and abandoned his back foot strategy completely. Perez jabbed casually with limited intent. Takam punished the body of his Cuban foe. A left hand buckled Perez, but returned the favor moments later with a left hand of his own. Takam's confidence had surpassed Perez' by the seventh and the Cameroonian fighter mixed in some right hand hook to put Perez on his guard. Perez' punch output dropped and when he threw, he did so sluggishly. Takam turned the bout into more of a fight in the ninth by keeping his punch-rate high. Perez leaned in showing signs of failing stamina as Takam moved his hooks to the body and head. Takam's corner prompted him to score a knockdown in the last stanza. He certainly tried as he opened the round with heavy shots to the head of his opponent. Both men tried for success with the uppercut, but neither could break with the intentions they sought.

Takam, 33, won the bout 97-94 on SecondsOut's unofficial scorecard. However, the official judges rendered the bout a draw with margins of 96-94 and 95-95 twice. Takam's record moved to 29-1-1 (23). Perez, 28, now stands at 20-0-1 (12).

Other results:

light heavyweight Eleider Alvarez w pts 10 Andrew Gardiner
bantamweight Sebastien Gauthier drew 8 Javier Franco
welterweight Mikael Zewski w tko 7 Krzysztof Szot
heavyweight Oscar Rivas w tko 3 Shawn Cox
light heavyweight Artur Beterbiev w tko 4 Gabriel Lecrosnier
light welterweight Yves Ulysse Jr w tko 4 Vango Tsirimokos

For further boxing discourse, contact Derek DBO Bonnett on Facebook or at dbo@boxinghideout.com.




Subscribe to feed