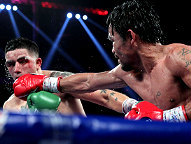 (Photo © Chris Farina / Top Rank)


At 1:00 p.m. or so, Macao, China time, the bell sounded the return of Congressman Manny "Pac-Man" Pacquiao, 55-5-2 (38). His opponent, Brandon Rios, 31-2-1 (23), of Oxnard, CA was making his 147-pound debut. The site was the Venetian Resort in Macao, a new venue Top Rank Promotions' Bob Arum has cultivated for years. The bout was a pay-per-view both in the States and abroad. The question was how well Manny Pacquiao would take a shot after getting knocked out stone-cold by rival Juan Manuel Marquez last December. Despite coming off a loss back in March against Mike Alvarado, Rios was thought to be a possible threat if Manny Pacquiao was not himself.
"This is time beating a stone," Larry Merchant said on the international feed. "If Rios is facing a shot fighter, he has a shot."
Unluckily for Rios, Pacquiao, sans Alex Ariza (his former conditioning coach and the leg cramps that plagued many of their fights together) now tuned up by Sports Science Lab's Gavin MacMillan and a training camp going back to August, was in vintage form. A little slower, certainly much more patient Pacquiao started the fight looking almost bone dry and slightly apprehensive. He ended it up looking fluid, fleet of foot and dangerously efficient, a jazz melody puncher dancing around a steady bassline - and punching it again and again.

The two men met at center ring and paused, looking for an opening. Months of build-up erupting in a melee at a shared hotel gym this past week led up to this. Neither Pacquiao nor Rios were involved in "The Scuffle." Now they'd be the avatars they were trained as by Freddie Roach and Robert Garcia, respectively.
Pacquiao started slowly, twisting around Rios after peppering with the jab then firing in with some steak. Pacquiao used light footwork to move about the ring, always just out of harm's way. Lead left hands were the main course with an appetizer of feints, right-hand jab/hook combos and tight defense. Sure, Pacquiao took a piece of Rios' leather now and again, particularly early on with a body attack in the second round, but overall, it was a masterful performance over a game but overmatched opponent.
"I'm very careful. I learned that in the last fight, if the knockout comes, it comes," said Pacquiao to Merchant afterward, "but I was very careful in throwing counterpunches and combinations. That's what I did in this fight."
The critics will crow but this was a fast and loose Pacquiao unloading some vicious punches for 12 fast-paced rounds. Rios never stopped wanting to win but as his face swelled up and began to cut around the eyes, he took fewer chances, complained to Pacquiao to fight him more and smiled less and less when he got hit. The domination was thorough from a technical standpoint but credit to Rios that he never gave up.
"He is one of the toughest opponents in my career. He took the left hands and was still standing," said Pacquiao.
Pacquiao dedicated this fight to the victims of the recent typhoon back in his home country.
"It's really important to bring this honor to my country, especially the people affected in the Philippines. They are so happy right now because I won. Thank you so much. Thanks to God for the strength He gave me tonight," he said. "To all the people and families affected by the typhoon, I will see you there. I love you all in Jesus' name."
What does this fight prove? Pacquiao took some time to warm up but when he did, he showed he can still execute a focused, disciplined and violently efficient game plan. While he says, "You have to ask my promoter," as to who is up next, Pacquiao spoke to what this fight showed the masses.
"I can still fight," said Pacquiao. "I do not consider Rios as an easy opponent. He was a very tough boxer [though] a little bit slower. I'm faster than him but I can still fight a faster opponent."
When asked by Merchant if he would fight in the U.S. again, Pacquiao responded, "That's what I want. I missed fighting in Las Vegas."
The official ringside judges' scores were 120-108. 119-109 and 118-110.
Please visit our Facebook fan page at www.facebook.com/MaxBoxing, where you can discuss our content with Maxboxing readers as well as chime in via our fully interactive article comments sections.