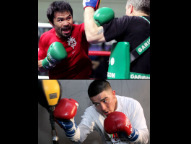 (Photo © Chris Farina / Top Rank)


When Manny "Pac-Man" Pacquiao and Brandon "Bam Bam" Rios lock horns on Saturday at the Cotai Arena at the Venetian Resort in Macao, China, it is hard to imagine this bout being anything but "Bombs Away" in an all-action slugfest. Pacquiao enters the "Clash at Cotai" coming off a serious ("Ya coulda counted to 50"), sixth round KO loss at the hands of Juan Manuel Marquez last December and Rios himself has engaged in a series of punishing wars. Based on these variables, you know both trainers, Freddie Roach (Pacquiao) and Robert Garcia (Rios) will encourage some smart, defensive strategy to encompass the offensive approach. However, once the bell rings and one of them lands that bomb, the general feeling is it's going to turn into a serious shootout pretty quickly.

Bukidnon, Philippines-born Pacquiao brings a résumé into the ring that is second to none in his era. His ledger is a virtual who's who of opponents in his weight class since moving to bantamweight and beyond after turning to the paid ranks as a flyweight. After turning pro 18 years and 61 fights ago, he has built himself up into a strong, power-punching, multi-title winning welterweight but has fought as high as junior middleweight. His résumé boasts wins over Marco Antonio Barrera, Juan Manuel Marquez, Erik Morales, Oscar De la Hoya, Ricky Hatton, Miguel Cotto, Antonio Margarito and Shane Mosley among others.

Pacquiao's trophy cabinet is currently crammed with the Ocean Pacific Boxing Federation (OPBF) flyweight title, World Boxing Council (WBC) flyweight title, WBC International super bantamweight title, International Boxing Federation (IBF) super bantamweight title, World Boxing Organization (WBO) super bantamweight title, IBF featherweight title, World Boxing Association (WBA) "super world" featherweight title, WBC international super featherweight title, WBC super featherweight title, WBC lightweight title, International Boxing Organization (IBO) light welterweight title, WBO welterweight title and the WBC light middleweight title. For this bout, "Pac-Man" and Rios will be contesting for the vacant WBO International welterweight title. However, heading into this fight, Pacquiao, 54-5-2 (38), is also coming off two losses. One loss was a controversial, 12round, split decision loss in June of 2012 at the hands of WBO welterweight champion Timothy Bradley. The other, a brutal, highlight reel, sixth round KO at the hands of four-time foe, Mexican great Juan Manuel Marquez last December.

Lubbock, Texas-born but Kansas City-raised Brandon Rios brings his 31-1-1 (23) record into the ring on Saturday looking to add a true legend to his résumé's win column. While he may lack Pacquiao's speed, which should be a factor in the fight, he's more than on par with him in the strength and heart departments. And while he'll never be described as a defensive specialist, Rios can currently be described as one of boxing's truly exciting fighters. Rios turned pro in 2004 and has developed into an all-action world champion under the guidance of Oxnard, California-based trainer Robert Garcia. In Rios' 25th fight, he captured the North American Boxing Federation (NABF) lightweight title. Three fights later, in February of 2011, he captured the World Boxing Association (WBA) lightweight title, stopping Miguel Acosta in 10 rounds. He defended the title twice that year in exciting, slugfest knockout wins over tough Mexican Urbano Antillon and England's John Murray. In April of 2012, Rios beat Richar Abril via split decision but came back in October to remind his fan base what he's made of by stopping "Mile High" Mike Alvarado of Denver in seven rounds in a give-and-take war. Alvarado reversed the decision in March of this year, boxing smartly and picking up a 12-round unanimous decision.

Heading into their clash, this Saturday, it is hard to imagine this not turning into a serious pier-sixer at some point. "Bam Bam", who has no problem walking through punches to land his own, will seemingly get his wish as Pacquiao will look to work off his almost hyper-like, in-and-out movement and fast southpaw combinations. Rios will absorb some damage but will look to time and counter with a game-changing shot and test Pacquiao's still recovering whiskers. The strategist sees Roach and Garcia stressing smart boxing while avoiding unnecessary damage.

But what fun is that?

Somehow, with these two, I don't see that playing out for 12 rounds. I think both fighters will head in there with the best of intentions but at some point, we're obviously gonna have fireworks. Bob Arum, 81 years young, and his promotional firm, Top Rank Promotions are aggressively expanding their portfolio into the overseas market in China. They package cards around China's amateur superstar, Top Rank-promoted Zou Shiming while using the events to showcase the company's other mega-talent. They have gone about putting together a dandy of a scrap here as Rios has earned a trip to the big stage and Pacquiao has seemingly never left it.

Does Manny look hot enough to earn Tussle Number Five with Marquez (should the Mexican great continue fighting)? Does he look good enough get Floyd Mayweather vs. Pacquiao chatter started again? Does Rios use the gargantuan HBO Pay-Per-View stage to emerge as a legitimate star? Look for some questions to be answered amid bombs going off in Macao Saturday night!

EXCLUSIVE VIDEO COVERAGE:
Please make sure and check out our YouTube videos (linked below this paragraph) for exclusive Pacquiao vs. Rios preview footage courtesy of our own roving reporter Radio Rahim - PLUS THE FULL MELEE caught on video between Freddie Roach and Alex Ariza.

Video Links:

Alex Ariza Kicks Freddie Roach - Video Exclusive - Watch now: Entire Fight Melee
AND

Q&A & Special Announcement - Pac vs. Rios - Radio Rahim


Please visit our Facebook fan page at www.facebook.com/MaxBoxing, where you can discuss our content with Maxboxing readers as well as chime in via our fully interactive article comments sections.