Oscar De la Hoya Reflects on His Past, Present and Future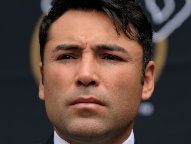 --


This week, all eyes have been on Oscar De la Hoya for reasons beyond the main. Depending on who you talk to, his company, Golden Boy Promotions, named for his ring moniker, on the verge of falling apart, healing the promotional "Cold War" or was ransacked from within by newly-resigned CEO Dick Schaefer and adviser/manager Al Haymon. De la Hoya addressed the passing Schaefer storm in a brief statement today.
"
Golden Boy Promotions is moving ahead on all fronts. We look forward to continuing and expanding our key position in the boxing world and to providing the public with the very best the sport has to offer," it read.

However, about 15 minutes before the news broke, De la Hoya and I spoke at length about his future, his present and his storied ring past, which has taken him from a relative's garage in East L.A. to heights no champion before or since has seen.
De la Hoya has done it all as a fighter. A gold medal at the Olympic Games, 10 world titles from 130 to 160 pounds, millions of dollars earned, millions of dollars actually saved. The adulation of millions due to a crossover appeal that brought women to the sport in droves and polarized Mexicans and Mexican-Americans alike while drawing in the casual fan like few fighters ever have. Oscar did it all. For years, he carried the sport on his back but quietly - and later not so quietly - Oscar De la Hoya was a man conflicted. He seemed to be living someone else's dreams.
Now at age 41, refreshed and smiling for himself instead of the cameras, with an inner light glowing through the phone, De la Hoya sounded more confident, relaxed and focused than ever.
"
Are you more complete as a man than you have ever been?" I opened.
"
I love your analogy of my state of mind right now," De la Hoya answered Monday morning. "I am feeling at peace with myself right now. And I haven't felt at peace with myself. Probably the last time I felt that was when I was five years old; you know? I feel at peace with myself and everything. I feel great considering what's going on with my personal life, with business. But everything is great. So when you say I am smiling, I am smiling because I am really, really happy. And its genuine because I feel it. I'm in a good place right now, in a place where, emotionally, people can feel that and see it and that's when good things start happening with me, from a personal perspective but also for business. That's when good things start happening: when I am good."
All great careers start with the same question: How did you first walk into boxing and why?
"I first walked into a boxing gym when I was five years old," recalled De la Hoya. "Not because I wanted to but at four-and-a-half years old, I got into a garage fight with a cousin. We used to stage these fights with family in a relative's garage. A couple of uncles would go and duke it out just for fun! We had cousins who would duke it out. You know; we loved boxing. We loved boxing."
De la Hoya grew up in East Los Angeles, CA, a rough part of L.A. where no one grows up easy.
"
And so one day my father, [Joel Sr.] said, 'Let's get little Oscar in there. He can fight.' And so they put me up against my older cousin, who is three years older than me. So he punches me in the nose and I go crying to my father. And he tells everyone there in the garage, 'You give me a couple of years and we'll come back. We want the rematch. And he'll be a different person, a different fighter. And that's how I started."
Almost every fighter I have ever asked that question says they took to fighting like it was their nature. De la Hoya, the biggest star of them all, with a resume full of the very best of his generation, turned out to be a reluctant warrior. A natural left-hander, De la Hoya had lined up as a southpaw in that first garage fight. It was his natural way of fighting. But when it came time to get a trainer and begin learning the sport, he was switched around to be a right-handed fighter, putting his stronger, more coordinated left hand up front as his primary weapon. A fighter who didn't want to fight now didn't get to be the fighter he was born to be.
"
I did. Absolutely. I was a southpaw," De la Hoya said when I asked if he'd lined up a lefty that first time. "The first day that I stepped into the gym. I remember my first trainer, Joe Mijares, and I stood as a southpaw and his first reaction was a look of confusion because he just didn't know how to train a southpaw. So he said, 'Let's try something different. Why don't you switch over to a right-handed fighter and I will train you this way?' That's how the left jab and the left hook were born."
There is a school of thought that says putting the strong hand up front will enable the rear hand to get stronger through the torque of technique. The right hand became a weapon for De la Hoya much later on. But right away, his hard left jab and brutal left hook to the head and body, not to mention unusual speed, set him apart as something special.
"
My very first amateur fight, I stopped a kid in the second round with a left hook to the body," De la Hoya recalled. "My first amateur organized fight was at six years old. I fought at the Pico Rivera Sports Arena. They had set up a ring right up in the horse stables there and I have pictures of it. I hit the kid with a left hook; he fell down; the referee counted him out and that was my first victory."
I asked if he remembered that first stoppage clearly.
"
I do remember it clearly. I had an older brother who was also fighting. I remember I had no boxing boots, no trunks. I had no shirt. I actually wasn't supposed to fight. I was just there to just go cheer my brother on," said De la Hoya. "So my dad decided to enter me in the tournament. I ended up wearing my brother's shoes, which were three sizes bigger. I ended up wearing my brother's shorts, which were down to my knees. I ended up wearing my brother's shirt. It was a t-shirt but it looked like a long-sleeved shirt. The gloves were bigger than my head. And here I am trying to knock this kid out. I have pictures where I can see my eyes, my face with this anger, wanting to knock him out. Yeah. That's how it all started."
From his 1992 Olympic Gold medal win in Barcelona to the time he retired, De la Hoya fought everyone. And yet despite beating so many fighters and winning so many titles, he was always somehow thought to be coddled or not a real champ. Much of that perception, wrong or right, went out the window in September 2002 when he stopped bitter rival Fernando Vargas. Vargas trashed him endlessly and De la Hoya stayed the poised, confident veteran. Oscar stayed that way through a rough few first rounds and through the middle of the fight when he warmed up. He stayed cold and professional as he freelanced off his new trainer Floyd Mayweather Sr.'s style and got back to left hook basics in the 10th, dropping Vargas hard. From there it was clean-up duty and sweet vengeance in the 11th.
"
As a professional? As a professional, I would have to say probably fighting Fernando Vargas [was my most satisfying win]. "That fight there was satisfying because not only inside the ring but outside the ring. A lot of fans didn't believe I had it in me to fight, to really dig down deep inside and fight. And that fight there proved a lot. It proved that I was no pushover. It proved that I not only had the skills and the boxing ability but that I had heart. It proved that I had that fire that it takes to win fights," said De la Hoya.
Despite tough wins over the likes of John John Molina and Ike Quartey, it wasn't until he stood up to Vargas and stopped him in a tough one that fight fans universally accepted a man who been fighting for all but five of his years on Earth, tough enough to be respected.
"
I think the fact that a lot of people were saying, 'Look at this 'Golden Boy'...they call him 'Golden Boy.' He has a gold medal.' People don't realize...people forgot where I am came from, how I grew up, where I grew up. Because winning the gold medal, being named the 'Golden Boy,' people thought that I literally grew up with a silver spoon in my mouth. And that was never, ever the case. If I had a silver spoon in my mouth, it had rust; let me tell you. That's for sure."
We can pontificate and prognosticate but no one can ever know what it is to have to win, to have to fight from the age of five on.
"
No, I sacrificed a lot. I literally sacrificed my life to train, to win fights. I had to sacrifice a lot. Family. Friends. Everything. It's like when I would go into these fights and knock people out, some people just didn't believe it. Some people weren't convinced. It took the John John Molina fight. It took the Ike Quartey fight. It took fights where I had to dig deep inside and to convince people that, 'Hey, maybe he is the real deal," he said.
We all know the story of De la Hoya winning the gold medal. His mother had passed from cancer the previous October and the media ran with the story. What we can't possibly know is the pressure. Not only losing his solace, his mother, but the pressure to live up to her memory. One gets the sense that in one way or another, for his entire career, Oscar was always somehow fighting that older cousin he couldn't beat and internally, fighting the urge to run away from it all.
I asked Oscar about two fights, Quartey and Bernard Hopkins, in which he talked about the possibility of defeat quite a bit and what his state of mind was at the time.
"
Yeah. And I think it all starts with the success I had in the Olympic Games. I was only 17 years old when I came back from Barcelona and they're opening the gate at the airport and I see all these people. Literally thousands of people were waiting for me. My life changed. Completely. Everything changed. And so I didn't have this handbook. They didn't give me a book to teach me how to live this life of celebrity and now with money and this or that. Nobody told me how to live that, so I lived a lot of years with a lot of confusion, a lot of years living fast, thinking I am on top of the world and invincible and that I am unstoppable. And so you start believing that," De la Hoya explained. "I remember I was fed up with it. The first time was when I faced Ike Quartey. It was a moment of reality kind of hitting me. I am living all these years the 'Golden Boy' and I can do nothing wrong, no consequences. But yet I don't have friends around me that I deserve to have. I don't have relationships. Family is getting distant at the time, so I am feeling lonely. I am feeling a void, so that's when I started to feel and think, 'You know what? What if I just lose? Will all this be over? Will all this be over so I can go back and be that kid that would walk the streets of East L.A. and nobody would bother and nobody would pay attention to? So that's what was crossing my mind.
"
And it crossed my mind also when I fought Bernard Hopkins. 'I want this to end. It's overwhelming'" he admitted emphatically. "My thinking was, 'You know what? If I lose, maybe this will all be over.' Not that I am tired of the fans or tired of the whole the lights or the ring. No, I was just empty. I was forgetting about myself. Here I am, pleasing everybody. See? I am a people-pleaser. Even my style inside the ring, I want to fight hard. That's why I fought everyone there is to fight because I want to please the fans. What about me? What about me all these years?"
His place in history secure, it's now time to look to the future. His company is now firmly in his hands for the first time in years. As was the case with his career, its success and failure ride on the choices De la Hoya makes from here on out. Is he ready to fulfill the early promise he made to boxing to help clean up the sport?
"
Well, let's just put it this way: I haven't even scratched the surface," he answered. "I have all these dreams and goals for the sport. Boxing is my life. Boxing is my passion. This is what I breathe. I go to sleep thinking boxing and I wake up thinking boxing. This is my life. I am a young guy and, yes, this is the sport that I dearly love. And I am going to do whatever it takes to help because it needs to do anything differently."
In this time of reflection on a career well spent and a life to be led, does De la Hoya have any regrets? Would he have rematched Felix Trinidad or went for the finish when he had the chance?
"
Well, obviously, now that I look back at it, I definitely would have fought 'Tito' differently," De la Hoya answered. The two met in "The Fight of the Millennium" back in 1999. Until De la Hoya fought Floyd Mayweather Jr. in 2007, it stood as the highest grossing, non-heavyweight pay-per-view ever. It also stood out as a winnable fight that De la Hoya gave away by sticking and moving to a fault in the final rounds of the fight. He lost a close decision to Trinidad and the two could never agree to terms again. Many felt De la Hoya had "Tito" right where he wanted him and then stepped off the gas. Others feel De la Hoya gassed and he couldn't finish if wanted to. We'll never know because no real sustained action ever broke out. Such is life.
"
I would have gone against my corner and tried to knock him out because it was right there for the taking. I would have definitely loved to have a rematch, a trilogy maybe. I would have loved to fight him again. It would have been like a dream come true for me. It was there. That should have been a trilogy. But would've, should've, could've, you know? But its all history now. Its all in the record book now," he said, sounding very much at peace with how it all went down.
When it's all said and done, Oscar De la Hoya gets to enter the pantheon of great fighters on Sunday for all time.
"
I am just proud to have accomplished what I accomplished inside the ring. And to be recognized for it is really a sweet moment. It's really like winning the gold medal again; you know? It's a validation. For me, winning the gold medal was a validation that I was an OK fighter as an amateur. I was the top of the top. And to be inducted into the Hall of Fame, it's a validation for everything that I have accomplished inside the ring," he said.
De La Hoya fought for his father. He fought for his mother. He fought for the fans and the media expectations. He fought to save his company in more ways than one. Now, coming into his own as a man with a Golden past and a present uncertain, he is no longer a boy in search of how to pull off the challenge. He is a man with a vision, a career and a life he can finally call his own.
"
I finally feel like life is on my terms now," De la Hoya said. "I'm not doing this for anybody anymore. I am doing this for myself. And as long as I can do it for myself, everything will be OK."
Here are the latest episodes of "The Next Round" and "Leave It In the Ring Radio":



Subscribe to feed