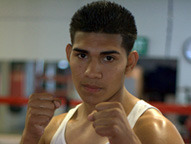 H1_Orozco.jpg


Junior welterweight hopeful Antonio Orozco makes his second outing of 2014 this weekend at the StubHub Center in Carson, California against veteran Martin Honorio (as part of the Showtime Extreme broadcast). Back in January, he halted Miguel Huerta in much more than your garden variety, second-round stoppage. This fight was as explosive as it was short. Orozco was staggered severely in the first and then scored a dramatic knockout in the very next round.
"Last year, we weren't very busy but I mean, I think we started off the year with... what you can say? A dramatic statement," Orozco said last week at the House of Boxing Gym in San Diego. "A dramatic statement is what we received and a dramatic statement is what we ended up [with]."

What he is referring to is a Huerta left hook that seemingly came out of nowhere to daze Orozco significantly in the first. Orozco was out on his feet for a split second and then his own volley halted Huerta in the very next round.
"It was mixed emotions just in that window of 10 to 15 seconds. I mean, I think I saw my career go by," he recalled with a laugh. "I have to give it to Miguel Huerta. He came in; he was determined to pull off an upset and I think that the preparation that we had in that camp pulled us through. My corner kept it composed. I think that was one of the big points in which I was able to do my work - that the corner was composed. It calmed me down and we just had to go to work. What else could we have done?"
Orozco admits he had never been hit quite so hard.
"I've had my fair share of punches here and there but I think that specific left hook that came from below the knees, which I didn't see whatsoever, that was the hardest punch I have been with thus far and I didn't feel," said Orozco, who ran his mark to 19-0 (15) on that eventful night. "He gave me a heart attack," said his manager, Frank Espinoza, laughing. "But honestly, it was a great learning experience for him. It's something that every one fighter needs to go through because this game isn't always easy. Huerta was a guy who I once represented and I knew he could still punch a bit and he proved it. Antonio showed us something that night."
Before that night, Orozco's trainer, Carlos Barragan saw an interview on the NFL Network featuring Seattle Seahawks quarterback Russell Wilson, who talked about overcoming an early fumble against the 49ers in the NFC Championship Game. The message conveyed was that no matter what happens - good or bad - you have to keep your composure and keep plugging away, as Wilson and the Seahawks did to win a berth in the Super Bowl.
"So when I saw it happen to us in the first round, Antonio took the step back and what was interesting in that situation is we finished the round aggressive enough to hit Huerta with a good, solid right hand. Sent him back kinda wobbly himself. When Orozco sat down in our corner, that interview came to my mind and I wanted Orozco to feel reassured that everything was fine. There was no bowing in the corner; it was a sense of calmness. Miguel Diaz, my father and I just explained to him, 'Forget about it; let's go on to the next round' and there it is. You see what happened, [Huerta] hit him with that vicious left hook," said Barragan, who believes this is something that will benefit his fighter - and the team - in the long run.
"This is great; my father and I discussed that with Antonio. It's better to happen right now, battle-test him and he showed that he kept his composure and us as coaches, us as trainers, it battle-tested us as well as a group and as a team," said Barragan. "It's better we learn from it; we learn that with adversity, we still kept our heads screwed on straight. We didn't lose our composure as coaches; we didn't lose our composure as fighters and with that, Antonio finished him off with a certain calmness."
Winning in the manner he did brought about mixed emotions for Orozco.
"After the stoppage, I was relieved; I was very grateful. I couldn't explain to you the feeling, the emotion that I had after that. To come back from such an intense round, the final 40 seconds of the fight and to finish the fight like that, it was relieving. It was the best," says the 26-year-old, who seems mature beyond his years.
"Y'know, as managers, we try our best to develop our guys a certain way and there are certain things you can't find out about them till they get into situations like Antonio was in back in January," said Espinoza, who has developed a number of champions, "and as much as that scared me, it also let me know that this kid has some special qualities."
Orozco is a fan-friendly fighter, one who isn't afraid to sit in the pocket and grind away. His specialty is coming forward and pressuring but even then, he must still mind his Ps and Qs. He got hit with that big shot from Huerta because of a defensive lapse when he simply didn't have his right hand high enough to deflect the oncoming punch. But that could've been a by-product of inactivity in which he simply didn't face enough live bullets in 2013.
But the grounded young man who originally hails from Garden City, Kansas (best known for producing Victor Ortiz and Brandon Rios) states, "We're not going to put up no excuses due to ring rust. Like they always say, 'That's the ones and twos of defense' - always putting your hands up. I guess I got a little bit too confident in there. I was a little bit too comfortable. He timed me well, got me with my hands down."
He says now, "After that happened, I walk in here to the gym with my right [hand] next to my cheek."
TNR
Here's the latest episode of "The Next Round" with Gabe Montoya and Yours Truly:
LEAVE IT IN THE RING