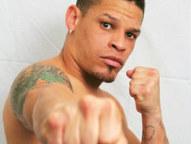 Orlando Cruz


In all of his eloquence in speaking about boxing on his brilliant HBO studio show, "The Fight Game," Jim Lampley says that the very sport of boxing is "the most fundamental of confrontations"- that life in some ways is a "fight". He is right and there isn't an emotional trial we can't superimpose with boxing metaphor because the things we struggle with often make us feel as lonely as a half-naked man in a ring. And yet, by its violent ultra-masculine nature, boxing is inherently about denial: denial of pain, denial of deficient skill level and, ultimately, denial of time. Boxers often show us they can be authentic in ways we can't imagine and within five years, stun us by just how little grasp they have on mortality. To win, to overwhelm a man of similar stature and dedication, you'd better be in touch with yourself as a human being or you will be exposed. Many talented men have been sidetracked in that "truth machine" of a ring and many we could generally foresee (failure) based on how they carried themselves. Julio Cesar Chavez Jr. oozed "entitled" and "lack of focus" just as Oscar De la Hoya, from the outside, looked like a guy who was woefully "caught up" and distracted and time proved perception to be reality. But what if you're competing in the "most emotionally accessible" of games with the burden of having to obscure or hide your sexual orientation? Featherweight contender Orlando Cruz faced the burden this week and announced to the world that he is a "proud gay man" thus making it emotionally easier to do the hardest thing in sports.

The young man may have started a fight that (hopefully) he cannot finish but (like most battles for equality) the next generation of boxers will be the ones to get their hands raised. Sports is (let's face it) the last bastion of homophobia, the last environment where intolerance is culturally acceptable, so for an active fighter to pick this fight is truly remarkable. Boxers incredibly merit conscience, which is why each fight usually ends with a cathartic, emotional embrace and spoken respect. If you step in there and swap leather with a man, the respect gained is organic, which is why a lot of fighters already "knew" of Cruz's orientation and respected his privacy. Now that it is known, there will be a complex response, as complex as landing a consistent jab on Floyd Mayweather because our game isn't politically bound by corporate interests. Many of our combatants wouldn't be allowed to compete if boxing were tied to long-term TV deals and companies who must keep political issues like gay marriage off of their radar. Boxing was never corporate neutral; it has always been decidedly jingoistic, macho, sensationalist and politically incorrect. Will Cruz's courage now open the door for further dialogue and inspection from powerful gay rights organizations? Whatever the fallout, I am proud of him and "us" for overcoming ourselves enough that the featherweight would even dare punch above the 126 pound limit. We have plenty of fighters who shatter stereotypes and just maybe Cruz's announcement will shed some light on this reality.
Did Emile Griffith Land the Blow that Left Cruz an Opening?
The former 1960s welterweight kingpin may be verbally predisposed at this time but his boxing legacy may rest in the 2005 "Ring of Fire" documentary. I never watched it with the expectation that a man of his time would sit and speak candidly about the complexity of his alleged orientation and the sport that brought him to the tragic ending of Benny "Kid" Paret's life. Even in my own life, we grew up in locker rooms calling one another the "F" word because that is what boys "did." Only with education did I realize the atrocities that at one time or another people used to just "do." Griffith did not "come out" but honestly did he have to in order for the viewer to see his humanity? That what a person "does" isn't exactly who he is "being"; in other words, you are not your job. So the ambiguity of "Ring of Fire" may have led to Oscar De la Hoya speaking candidly about his substance abuse and related behavior and certainly Sugar Ray Leonard's admission of being a victim of child molestation. Maybe it spawned HBO's "24/7" and the emphasis of "knowing" a fighter as a person in order to sell a "story" that concludes in a pay-per-view bout. The mid-2000s introduced us to reality shows backed by both Leonard and De La Hoya based on the premise that emotional accessibility is the key ingredient to building a transcendent boxer. How much more accessible can a person be than coming clean about who it is they love? Don't we all feel a little bit closer to coworkers when we meet their spouses? Boxing is made for that connection, which is why you tend to get misty every time Sylvester Stallone calls out for Adrian; you know the protagonist and you want to see him triumph. I read the message boards and I believe no fan base in sports is more "into" their favorites than us, which is why most of the feedback I've seen on Orlando Cruz is supportive - and this is a forum that can be routinely intolerant.
We Should See Cruz's Coming Out as a Great Day for Boxing…
We (boxing) are mostly only heard about in the mainstream when something goes wrong, which is why the surefire Nonito Donaire vs. Toshiaki Nishioka/ Brandon Rios vs. Mike Alvarado twin bill will go unacknowledged by the mainstream. We are portrayed as a reference point for all that is wrong in sports and are only talked about at length when someone says or does something stupid. When the mainstream sports leagues that are forced to be progressive actually do something "progressive," they pat themselves on the back. When Boxing is archaic, they echo "Same old boxing." Orlando Cruz is 31 yrs. old, 18-2-1 (9) and will be fighting Jorge Pazos for the WBO Latino featherweight championship. He isn't retired like the team sports players who come out and he won't receive the benefit of a built-in corporate support system. You know; like the one that barbecued Toronto Blue Jays shortstop Yunel Escobar for his homophobic eyeblack. It was long ago theorized that coming out after your playing days is of limited impact to people in need of role models; like any fighter, Cruz knew that the time to be brave was when the bell rings - everything else is self-preservation. Sometimes a "full-blooded man" is defined by the conviction of his words and the courage to live a life of truth to himself and those who love him. Whatever Cruz says next week on Telemundo's "Al Rojo Vivo" can either be swept under the rug or viewed in enlightening terms, proof that boxing, unlike any other sport, is a true reflection of the human spirit - and when boxing is "right," there's no better place to find the microcosm of society's own "collective" spirit.
Please visit our Facebook fan page at www.facebook.com/MaxBoxing, where you can discuss our content with Maxboxing readers as well as chime in via our fully interactive article comments sections.