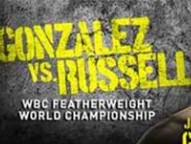 --


The boxer versus the slugger. It's a cliché, but in this case it's accurate.

Jhonny Gonzalez (the slugger) defends his WBC world featherweight title against Gary Russell Jr. (the boxer) this Saturday night at the Palms Casino Resort in Las Vegas, Nevada.

The styles of the two fighters is potentially the most interesting aspect of their bout.

Russell Jr., 26, is all about speed. He's loaded with it, but as he found out against Vasyl Lomachenko, speed can take you only so far. Russell Jr. was baffled by Lomachenko's ability to outwork him.

Still, Russell Jr. (21-1, 14 KOs) is a talented fighter. Before the Lomachenko bout, he'd shown great promise. He returned to the ring last December against Christopher Martin in what was nothing more than a glorified sparring session. Russell Jr., who looked fatigued at times against Lomachenko, boxed with energy and execution against Martin.

Russell Jr., a southpaw, feels that Gonzalez has never faced a fighter with his quickness.

"I don't think that he's going to be able to deal with, once again, my speed," said Russell Jr. during a media conference call a few days ago. "I think we'll be able to do it with my speed. He's always been slow in the speed. Even though he's been a puncher, a lot of punchers have to really sit to actually apply these punches efficiently."

Gonzalez (57-8, 48 KOs) agrees that Russell Jr. presents a difficult challenge.

"At this point in my career, he [Russell] is the fastest opponent I have ever faced," Gonzalez said. "He has very fast hands and puts together good combinations."

The 33-year-old Gonzalez carries a hammer in his left hand. He's won 17 of his last 18 fights, highlighted by his stunning first round knockout of Abner Mares two years ago. Last year he fought twice, defeating Clive Atwell and brutalizing a faded Jorge Arce.

"Ever since beating Mares, I feel like I am finally getting the respect and support from the fans and media that I deserve. " Gonzalez said. "I get recognized all of the time now. The recognition motivates me to work harder than ever before and not let my fans down."

Gonzalez will bring an edge in power and experience against Russell Jr. The question is whether he'll be able to utilize those advantages. A major component could be his history of struggling against southpaws.

Russell Jr. should have no problem getting off his shots first against the much slower Gonzalez. He'll shoot his jab and back away. Gonzalez punches can be wide, so Russell Jr. could find success with counter hooks.

Gonzalez will be in full stalk mode. All he needs is a split second to land one of his brain rattling punches. Going to the body could slow Russell Jr. down just enough for this to happen.

A new champion could very well be crowned on Saturday night. But don't be too quick to count out Gonzalez.


---