Old Games, New Schemes, Same Difference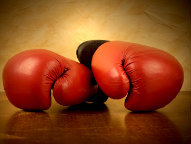 --


Growing up, I didn't care about the business of boxing. Fights got made or they didn't. More often than not, they got made as far as I was concerned. I think I went from childhood to teenage fan, only upset that 1) Aaron Pryor and Sugar Ray Leonard didn't fight each other; 2) Mike Tyson and Evander Holyfield weren't fully in their primes when they fought and 3a) Leonard and Marvelous Marvin Hagler fought too late and 3b) only once. Other than the aforementioned example (and the premature death of Salvador Sanchez, who could have been an even greater fighter), that boxing period for me was all good.
For the most part, my 20s saw the fights I wanted to see. I never got to see a rematch between Oscar De la Hoya and Felix Trinidad. And I didn't get Ike Quartey or Shane Mosley vs. Trinidad but as a "Tito" fan I'm pretty satisfied with the career the business allowed him to have. Back then, it seemed just like my childhood. All in all, if you were a card-carrying badass and did solid numbers, your fans saw you face who they wanted to see you face.

De la Hoya and Trinidad were the Floyd Mayweather and Manny Pacquiao of their day with one caveat: De la Hoya vs. Trinidad actually happened when it was supposed to. Both men had fought to this point to earn this kind of payday and mega-event. Trinidad racked 14 defenses of the IBF junior middleweight title. Oscar did major pay-per-view numbers and sold out arenas without fail. The fight was a natural and it was made despite the two being dangerous rivals and promoted by Bob Arum and Don King, respectively. As a fan, I could not be happier the fight came off. I honestly didn't know all the machinations that went into making the fight and I didn't care.
In my 30s, I became a boxing writer. As I learned my craft, I slowly began to get to know the business. At I got to know the business, it began to rapidly change. The world rapidly changed as did the Internet and with it, Facebook, Twitter, Instagram, online chat rooms, online call-outs, videos of training, interviews, etc. The world connected electronically and the sport's business model began to change as well. Old-school was out. Cutting-edge was in.
In this business of boxing, the development of talent is a key factor. "What are you building?" and "How fast do you want to build it?" are solid questions. To me, an outfit like Top Rank Promotions, which is more old-school despite recognizing the global and technological possibilities within the sport, develops talent a little slower (with recent exceptions made for Zou Shiming and Vasyl Lomachenko). Its core of draws won't be done for a couple years but when they are, they will likely be locally-known fighters with solid skills, respectable résumés and a cable following. In my opinion, Top Rank tends to develop individuals and markets them individually once they are honed through savvy matchmaking and marketing.
In the early-2000s, Floyd Mayweather became a revolutionary free agent. In boxing and other sports like football and baseball, a free agent can alter the course of a team's season. Rarely if ever does a free agent do what Mayweather did and alter a sport by declaring he was no longer working promotionally with Top Rank. He would align with Golden Boy Promotions but call his own shots through manager/adviser Al Haymon.
Since Mayweather declared independence, the sport has quickly changed. In recent years, Golden Boy has left HBO and set up shop at rival Showtime. When Haymon brought Mayweather to Showtime, HBO turned its back on the promotional outfit entirely. Thus the "Cold War" between Top Rank and Golden Boy, in which neither side wishes to do business with the other while, via the press, encouraging fighters from each stable to jump ship, went hot. Now Showtime and HBO have chosen sides and while HBO is looking too thaw things with GBP, the damage done to the sport is immeasurable (including but not limited to significant fights we are missing out on as fans and observers).
Unlike Top Rank, Golden Boy is developing an overall personality. Like the UFC, it is not about individual fighters but rather the most exciting fight possible; career or timing be damned. It makes for fun fights but short careers. Ask Victor Ortiz or Vicente Escobedo.
2014 boxing doesn't resemble what it looked like five years ago much less what it looked like when I was growing up. Sure, there were multiple belts then too but just the same, there was also a fight between networks in which Showtime and HBO counterprogrammed each other, vying for talent to develop into the stars of tomorrow - or at the very least a decent fight next week. Golden Boy appears to be signing up every last bit of talent from Adrian Broner (who was supposed to be the Floyd Mayweather incarnate of the new generation) to, most recently, John Molina Jr. a slugger out of Covina, California (who punched his ticket by punching out a Floyd Mayweather fighter in Mickey Bey in the final moments of their battle). Bob Arum and Top Rank are still riding the Manny Pacquiao train but it's been losing steam since that single punch from Juan Manuel Marquez landed in December of 2012. Now Top Rank and Arum hope to develop Macao, China and its Venetian Hotel Casino as a viable destination for people wanting to gamble big and watch fights between games of chance.
More boxing is always a good thing. More networks showing broadcasting it is too. Hopefully, more viewers in different markets will be viewing. Even more hopeful would be local fans and venues around the country getting the opportunity to see and host their favorite fighters up close and personal through these companies aggressively trying to outdo each other. But where does this leave the smaller promoters with one or two good fighters or champions? Do they have to wait around until they are breaking down to get a PPV fight with a star? Or will they be frozen out until they play ball and sign over their fighters with option-laden contracts?
This "Cold War" between Top Rank/HBO and Golden Boy/Showtime feels more like a hot war with more at stake than the future of each company. Golden Boy appears to want to build a monopoly, signing all the talent from BNC Scientific to young prospects straight out of the Olympics from the amateurs, in doing so, controlling divisions in the market. That's an old game in boxing. But at the same time you wonder what the overall product. When I was a kid, we developed fighters like Sugar Ray Leonard. All Golden Boy appears to be doing is developing a brand, "Golden Boy Boxing" and all-action outfits in which fighters get recycled and pitted against each other in careers consisting of runs of successive wins and then, quick fade-outs.
Top Rank is still looking to develop draws and long-term careers and do it in reasonable time frames but I really wonder if in this fast-forwarded economy (the manner in which Golden Boy seems to be so aggressive in the market), Top Rank's slower approach can survive. I also wonder what the sport would be like under a Golden Boy monopoly.
When the UFC hit its initial popularity peak a few years back, the masses were more than pleased to say it killed boxing. I'm not so sure about that. I think in many ways, the UFC learned from boxing, inventoried all our mistakes and made a better model. It looks as if on some level, Golden Boy is attempting to do the very same while Top Rank looks to take a slow boat to China as its young talent develops. We are but a few years into these tectonic shifts. The settling should be interesting.
You can email Gabriel at maxgmontoya@gmail.com, follow him on Twitter at www.twitter.com/gabriel_montoya
and catch him every Monday on "The Next Round" with Steve Kim, now at its new home, www.blogtalkradio.com/thenextround
or via iTunes subscription at https://itunes.apple.com/us/podcast/leave-it-in-ring-radio-blog/id316004573?mt=2. You can also tune in to hear him and co-host David Duenez live on the BlogTalk radio show www.Leave-It-In-The-Ring.com, Thursdays at 5-8 p.m., PT.
Please visit our Facebook fan page at
www.facebook.com/MaxBoxing, where you can discuss our content with Maxboxing readers as well as chime in via our fully interactive article comments sections.



Subscribe to feed