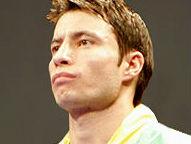 --

By John J. Raspanti, Doghouse Boxing

A little over a month ago, Billy Dib waltzed into the Foxwoods Resort in Mashantucket , Connecticut to fight unheralded Russian Evegeny Gradovich on ESPN'S Friday Night Fights.

Dib was the appointed star of the show. His promoter was rapper 50 Cent, while his record showed one loss in thirty-six pro fights. Dib's fight with Gradovich was all about displaying his skills. According to the plan, Dib would easily defeat Gradovich – which would lead to bigger (financial) fights in the future.

Gradovich went along the plan in the early stages of the fight. Dib was winning, but the relentless pressure applied by Gradovich was exhausting. In what many called an upset, Gradovich won the bout by decision.

Tonight at the Chumash Resort Casino in Santa Ynez , California , and again on ESPN'S Friday Night Fight series, unbeaten Peruvian celebrity Jonathan "Inca Peruano" Maicelo was the featured fighter. His opponent, Rustam "The Mongoose" Nugaev hadn't fought in 21 months. His record showed six losses.

In the opening two rounds, Maicelo, 29, used angles to beat the slower Nugaev to the punch. His left hook to the body and right hand to the head rarely missed. He peppered Nugaev, 30, with swift combinations. The tough Russian upped his determination in the next few rounds. He was eating punches, but he ignored them as you would an annoying moth. A snappy right clipped the chin of Maicelo.

Nugaev (23-6, 13 KOs) was determined to keep Maicelo (19-1, 10 KOs ) in the trenches. His plan was working. Maicelo had to work every round. His punches were still coming from different angles, but they were looping and his hands were getting lower. A right hand in round four hurt Maicelo. In rounds five and six, Nugaev, with a height and reach advantage of three inches, tagged Maicelo with combinations.

Maicelo tried to use his legs, but Nugaev keep applying pressure. Maicelo caught Nugaev with a good right hand. His boxing skills gave him a slight if temporary edge. Nugaev pressed forward and punched. His focus was the body. In round eight, his shots moved to the head. Maicelo was slowing down noticeably.

Near the two-minute mark of round eight, Nugaev avoided a looping left and stepped inside with a perfect right hand. The punch sent Maicelo crumbling to the mat. He rolled over on his back and attempted to rise.

Referee Jack Rees waved off the contest.

The time was 2:03 of round eight.
__
Follow and visit John on Twitter: twitter.com/#!/johnboxing1