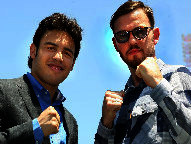 (Photo © Chris Farina / Top Rank)


On Tuesday afternoon, Top Rank arranged for a press conference at the Sun Bowl in El Paso, Texas to officially announce the fight between WBC middleweight champion

Julio Cesar Chavez Jr

. and Andy Lee, which was to have taken place at the same venue that once hosted Oscar De La Hoya's bout versus Patrick Charpentier back in 1998. Top Rank had made a deal with UTEP to stage the fight at this location on June 16th.
Everything was in place till the higher-ups in Texas got involved.
"We were informed by the University of Texas El Paso that the University of Texas and the chancellor- not from UTEP- announced the cancelation of the event at the Sun Bowl and felt that the UTEP campus was not the appropriate venue for this event. We were told subsequently about 'heightened security issues,'" explained Carl Moretti, V.P. of Boxing Operations for Top Rank, who flew in for this media junket (which was open to the public and went forth as planned despite the late snafu). Moretti says the news was given to them "an hour before the start of the press conference."

So just what exactly are "heightened security issues"?
"We can only guess what they mean but we are a mile-and-a-half from Juarez [Mexico]," pointed out Moretti, in regard to the notorious Mexican border town which is rife with violence and ruled by drug cartels. "Who knows? I don't want to subject ourselves to anything but if it's 'heightened security issues,' what exactly does that mean? I guess you're a mile from the border and I guess the campus of the University of Texas is worried about it- UTEP had no idea. They set up a press conference for us and it was great, the whole event. We were ready to go on sale with tickets at the box-office. So it came as much of a surprise to them as it did to us."
Maybe "H.S.I." is just coded phrase for "too many Mexicans at one sitting"?
"Perhaps they anticipate 30,000 nationals crossing the border on June the 16th and the response we got today and everything else, maybe that was a possibility. I just don't know," said Moretti.
Local response has been swift and angry over the decision made by UT System Chancellor Francisco Gonzalez Cigarroa. In a story posted by

kfoxtv.com

, William Blaziek, G.M. of the El Paso Convention and Visitors Bureau, was quoted:
The decision by the University of Texas System Chancellor to cancel the Julio Cesar Chavez Jr. vs. Andy Lee fight on June 16 citing concerns of safety and that the UTEP campus is not the appropriate venue for this event came as a shock to the Convention and Visitors Bureau.
Implying that border violence is reason for cancellation is inflammatory and damaging to the image and reputation of El Paso and is not based in fact. El Paso has consistently been named the safest city in the United States. Additionally Sun Bowl Stadium is more than just a campus venue – it is a community venue hosting the nationally significant Sun Bowl Football Bowl game and community events such as Monster Jam, the Rolling Stones, and soccer match-ups. We call upon the UT System to reconsider its decision.
A decision by the University of Texas System to cancel a boxing match in UT-El Paso's Sun Bowl stadium irked Sen.

Jose Rodriguez,

D-El Paso, especially since security concerns were cited because of border violence.
Rodriguez has spoken out against

what he believes are inflated reports of border violence, which have not affected metropolitan areas, such as El Paso. A boxing match between

Julio César Chávez Jr

. and

Andy Lee

scheduled for June 16 has been cancelled because of security reasons, according to an El Paso Times

story

.
"I strongly oppose the decision by the UT System to cancel this fight, especially without consulting local officials regarding any potential threat. This is just one more example of what happens when our state leaders disregard the facts by falsely calling border communities 'war zones' without any evidence to support their claims," Rodriguez said.
Rodriguez concludes his statement, "Decisions such as these hurt our local economy and tarnish the image of border communities. El Paso is not only one of the safest communities in Texas; it is one of the safest in the nation.
"There have been several events such as this in El Paso — including a boxing match at UTEP last weekend — with no incidents. The decision to cancel this fight due to the fears of border violence only reinforces to the negative perception of El Paso and will have a lasting impact on the community for years to come.
"If decisions are going to be made without solid evidence of actual threats of violence at events such as this, then border communities from El Paso to Brownsville will be irreparably harmed."
EL PASO, Texas --
El Paso Mayor John Cook is fighting mad with the University of Texas System Chancellor after the decision was made to pull the June 16 boxing match between Julio Cesar Chavez Jr. and Andy Lee from the Sun Bowl.
"That's a bunch of BS," Cook said. "What, are they going to cancel the Sun Bowl on New Year's Eve now?" Cook said Chancellor Francisco G. Cigarroa told him it was their risk assessment team that concluded the event was too risky for the Sun Bowl.



Cook said City Council will be voting on a resolution Tuesday "condemning the chancellor." "Let's see if he likes me after we word that resolution," Cook said. Cook also said that he thought the chancellor would be educated and not ignorant in these matters. ABC-7 called Cigarroa's office for a comment on the cancellation and his role in it. His employee said they would get back to ABC-7."
Bob Arum, head of Top Rank, which recently did a highly successful event in San Antonio with Chavez Jr. back in February, says they will try and salvage this event in this West Texas border city. "Well, you owe it to the people there at UTEP. The president [Diana Natalicio] was very supportive of us and the people were wonderful. So we'll take a crack at keeping it there for the next day or so but we have the Toyota Center in Houston and the Alamodome [in San Antonio] on hold."
The timing of this edict was peculiar, given that UTEP just hosted a nationally televised (by Showtime) boxing event last weekend at the Don Haskins Center. "Well, we made a deal with UTEP and they, of course, knew about it. This came from the University of Texas, the head of the system in Austin and he might have not known. I don't know but it's highly suspicious when you can't do it because there's a high security risk. What the f**k is he talking about?! Mexicans coming over the border?" an incredulous Arum asked, rhetorically.
Well, yeah, it seems that way. The term "heightened security risk" doesn't seem to come up when it comes to their yearly bowl game and soccer friendlies that draw sizable crowds to this stadium.
"Everyone in the Texas government is going nuts about this, the people in El Paso, largely Mexican-Americans, are going crazy," said Arum, who believes this is a story that far transcends sports. One of the hot-button issues in America is immigration and border security. Chavez-Lee may have just become a political football. "Probably, yes," agreed Arum, who added, "In other words, this is going to be on the news and everything. This has nothing to do with the sport of boxing."
Arum said about UTEP, "They couldn't have been nicer, couldn't have been fairer, couldn't have been better." Moretti added, "We feel awful for El Paso and UTEP. This is a revenue-generating event that could've bought great exposure. You're talking about a lot of people in the Sun Bowl on a great Saturday night, broadcast live by HBO and after seeing the response today at the press conference and the media coverage, I don't think 40,000 was an unrealistic number."
I received this email from Matt Swider-Man on Tuesday morning, regarding the ticket market for the two big upcoming pay-per-view events in May and June:
Mayweather-Cotto

http://www.tiqiq.com/Tiqiq/SingleEvent.aspx?BrandID=TiqiqHomePage&EventID=3970353583&PublihserID=51113

Pac-Bradley

http://www.tiqiq.com/Tiqiq/SingleEvent.aspx?BrandID=TiqiqHomePage&EventID=4045884909&PublihserID=51113

Both fights have primary market tickets avail on ticketmaster, as well.

And on the secondary market, both fights have over 3,000 up for sale, many going for below face.

The lack of ticket demand for Mayweather is typical. But those prices and quantities for June 9 are alarming. For JMM 3, at this point (~6 weeks out), there were less than 900 available on the secondary market and everything was going for atleast twice the face value.

Granted, esp for May 5, I have lukewarm interest personally, but I don't feel any buzz for the PPV buys either.


The proof is in the pudding, as they say, and I think it's at that tipping point where Mayweather and Pacquiao fights are losing their appeal as it becomes more and more apparent that these two may never step into the ring with each other. Yes, they will still far outdistance everyone else when it comes to gate receipts and pay-per-view numbers but I think there will be some pushback from the general consumer. I think both entities have large bases they can always rely on for support. I just wonder if they have lost the interest of the casual fan.

I think the May 5th event will do significantly better numbers on pay-per-view, given that Mayweather is facing a known commodity in Miguel Cotto, while Pacquiao is facing the relatively unknown Tim Bradley. But it's clear; there is clearly a bit of a pushback from the general public regarding these two upcoming promotions.

BORDER FLURRIES

Let's be honest; there was more of heightened security risk for most Raiders games at the Coliseum in the '90s...Hey, Andre Ward will fight eventually in 2012, right?...Can anyone disagree with the seven-game suspension given to Metta World War Artest?...Is it just me or has Deion Sanders' divorce gotten a bit too public? Yeah, maybe it's just me

...

I can be reached at k9kim@yahoo.com and I tweet at www.twitter.com/stevemaxboxing. We also have a Facebook fan page at www.facebook.com/MaxBoxing.