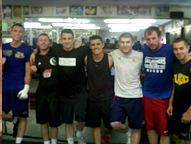 (Photo © Steve Kim)


During the second half of August, noted trainer Joe Gallagher and his crew of hardnosed boxers from jolly ol' England were in Hollywood, California. But they weren't here to see the "Walk of Fame," the iconic "Hollywood" sign or do any other sightseeing. This was purely a business trip – and their business is boxing. And for a couple of weeks, they set up shop at the world famous Wild Card Boxing Club, best known as the home of Freddie Roach and Manny Pacquiao.
They essentially picked up all their boxing gear and moved to another gym (which Gallagher and his boys are no stranger to doing). Only this time, it was halfway around the world.

"I was over here two years ago with Matthew Macklin," explained Gallagher last month, as he prepared for another busy day at the gym located on the corner of Sunset and Vine. "He was getting ready for the Darren Barker fight and I just seen what was going on here at the Wild Card and I've got a lot of kids this year that we're breaking into championship class and I wanted to know before we went to 'war' as I call it, what they were like out of the comfort zone. Because I've got a lot of good six, eight-round fighters now that will become 10, 12 [round] fighters and by coming to the Wild Card, I'll take them out of the comfort zone in sparring good fighters.
"Scott Cardle sparred Ray Beltran yesterday. Liam Smith sparred [Wale] 'Lucky Boy' [Omotoso], who's 23-0. Liam's only had 11 fights. They handled themselves very well. It gives them the confidence when they go back to know, 'We don't need to be intimidated.'"
In many respects, what Gallagher did with his team (and like the old, vintage Kronk led by Emanuel Steward, they believe in being a tight, close-knit unit, also believing in a certain kind of unity in what is the ultimate individual sport) is very similar to what many NFL teams do in scrimmaging with other squads for a few days during training camp. Liam "Beefy" Smith, a 10-0-1 junior middleweight with five knockouts to his credit, remarked to Maxboxing, "It's exactly what we come for, the sparring at the gym. They're all top kids, Peter Quillin, Paulie Malignaggi; you got Shane Mosley in here. It's what you can't get back home. I'd love to come again."
Smith, who was scheduled to fight this Friday night back home in the United Kingdom, admitted there was a different energy being at a foreign gym that is star-studded. "When I first walked in here, I said to Joe, 'I feel the nerves when I walk into the venue as a fighter. When we box at home, we have someone going into the changing rooms and like, 'Liam, you got like eight minutes; you've got five minutes,' and when Freddie came over and said to me, 'You're doing three more [rounds],' it just felt exactly the same."
Scott Cardle, a light welterweight with a mark of 4-0 (1), said of this experience, "I'm loving it; I'm just learning every day really. It's been a target for me to come over to Los Angeles, see what kind of training they do over here. So as soon as I get here the first day, I just loved it, the atmosphere, everything about it."
Back in the U.K., they are situated at Amir Khan's gym in Bolton. Gallagher decided it was time for he and his lads to hit the road and expand their horizons. Boxing is boxing. In many ways, it's the same across the world - but also very different at the same time. Every gym has a unique personality and culture, not to mention the caliber of prizefighters who inhabit it. "Boxing is a global sport but it's a village; everybody knows everybody and that's the thing with the personalities I'm developing with some of my fighters. You've got to understand; my fighters, I see them when they come into the gym, three, four hours a day. But having to live with them for two weeks, I'm learning more about them and the mental aspects and how things poke them and how things don't poke them. It's given me a great insight into them as people, themselves."
For the first few days in Hollywood, this crew was lodged next door at the Vagabond Inn but eventually they rented a house in Woodland Hills.
Gallagher makes it clear, "These kids and myself, we paid for this out of our own pocket. There's been no sponsors; this is all self-funded, just for them to better themselves and better myself." He says when he made plans for this extended stay in So Cal that, "Definitely, there's one or two that wanted to stay home; there's one or two that had just had children. But listen, they were all for it. It's the Wild Card; we all watch [HBO's] '24/7.' Paul Smith was obviously on 'The Contender'; Scott Quigg's been over here before. But for the rest of them like Anthony Crolla, who's British champion and he fought [Juan Montiel] on the [Floyd] Mayweather [vs. Victor Ortiz] undercard last time out, it's the first time he's been over here. So he'll get to pull his teeth with the big boys."
Smith, who trained in the past in Vero Beach, Florida at the gym of Buddy McGirt, says he was more than willing to hit the road. "I was happy. I mean, ever since 'The Contender,' I haven't had a chance to get back to Los Angeles. I met a lot of good people when I was on 'The Contender' and I wanted to get back to Los Angeles as much as I could."
Others admit to being just a tad starstruck over the surroundings.
"Wow, were going to see the lads in the Wild Card, all the famous boxers," was the initial reaction of lightweight hopeful Callum Johnson. "I've been lucky enough to meet Freddie Roach, Shane Mosley, Paulie Malignaggi. We've seen some of the stars walking around L.A. and things like that. Just that side of things - oh my God - and then to come in the gym and watch them boys train and be in their presence. I looked up to Shane Mosley as a kid, watching him fight and I'm training on the bag and he's standing on the side of me. It's surreal and I'm enjoying it."
But this wasn't about reuniting with past associates or taking photos with future Hall-of-Famers but bettering themselves as boxers and getting a look at a higher caliber of fighter. If there's one thing the Wild Card can provide is quality sparring from flyweight to heavy. There aren't a lot of easy days at this gym.
"You come out of your comfort zone and it's not like everyone in this gym is out to prove a point; they all want to be the best. So you're training and sparring against top fighters. There's more quality fighters in this gym and totally different styles that a lot of us haven't come up against," said Quigg, who has the look of a future world champion at 122 pounds and beyond. And he notes that he's far from being the only foreigner to walk through these doors. "I fought an Argentinean, a Venezuelan; they're totally different styles. So coming over here, you're sparring, gaining experience and you can always stand in good stead." Quigg, who faces Rendall Munroe again in November, didn't have to be asked twice to return. "I was buzzing, me" he said, "I've been out here twice before and it's done me a world of good and coming out again is only going to help me even more."
So what's the contrast between fighters in the States and those in England?
According to Johnson, "The boxers are very different. Obviously, there's different styles all over the world and coming to America, the fighters are very explosive, very fast hands. To see how they train here and how they go about the work, it's good to see and it's been a good experience so far for me and I'm really enjoying it."
Right now, these young prizefighters are like exchange students studying abroad.
"Yeah, that's what I'm thinking," agreed Cardle (who calls the Wild Card "the most famous gym in the world."), "because I'm learning different things every day. I'm going in with different boxers every day. I'm learning with the likes of Ray Beltran. It's a great experience for me." Smith added, "It's always great coming in, sparring fresh opponents. You literally got to fight to survive in there. So it's good hard sparring."
There's no doubt about it; you can get a bit complacent sparring the same boxers over a certain period of time. And what do they say about iron sharpening iron? Sparring can only be as beneficial as the quality of boxers you're in with. Quigg doesn't disagree with this theory, "If you stay home, you can get stale a bit. It's the same surroundings and you've got to test your limits. You've got to get out of your comfort zone, go out and test how good you are, go and fight the best, go and spar the best. It's how you get on; this is what makes boxing the best sport in the world, I think."
This is every bit the opportunity for the trainer to learn a few things.

"I don't pretend to know everything but one thing I'm willing to do is watch and learn and listen," said Gallagher, who will be busy in the upcoming days, weeks and months with his fighters. "And the same with my fighters and all I try to do is become the best coach I can be so that enables my fighters to be the best they can be, being in this type of environment."
According to Keith Kizer of the NSAC, all the fighters (except for Julio Cesar Chavez Jr.) passed their drug tests for their respective bouts last weekend in Las Vegas...The replay of last week's bout between Sergio Martinez and Chavez Jr. will air on HBO tonight at 9:30 p.m. ET/PT, followed by "The Fight Game with Jim Lampley" at 10:35 p.m. (which has lowered its standards to a point where I will be a guest on this edition)...According to HBO PPV, the Martinez-Chavez bout procured around 475,000 buys which, if not a grand slam, is at least a three-run homer...Here's a link to what was an entertaining segment on ESPN's "First Take," where Manny Pacquiao and Juan Manuel Marquez paid a visit to Bristol: http://www.youtube.com/watch?v=9g14oXymO9s&feature=youtu.be. I'm surprised Skip Bayless didn't ask either about Tim Tebow...The November 16th edition of "ShoBox" will feature Omar Henry...The NSAC announced that the September 8th bout at the Hard Rock Casino in Las Vegas between Lucas Matthysse and Olusegun Ajose sold 377 tickets with 1336 unsold and 810 comps for a total gate of $65,675...Did you see the latest episode of "Real Sports" on HBO? Geez, when did 'Niners fans go all Raider Nation?...Can the 'Canes keep it close versus GaTech?...The game I'm most looking forward to in college football is Clemson vs. FSU...I can be reached at k9kim@yahoo.com and I tweet at www.twitter.com/stevemaxboxing. We also have a Facebook fan page at www.facebook.com/MaxBoxing, where you can discuss our content with Maxboxing readers as well as chime in via our fully interactive article comments sections.