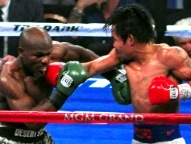 (Photo © German Villasenor, MaxBoxing)


Manny 'Pacman' Pacquiao (56-5-2, 38 KOs) showed Timothy Bradley (31-1, 12 KOS) that his fighting fire is still burning by winning a clear 12 round unanimous decision Saturday night at the MGM Grand Garden Arena in Las Vegas, Nevada. The bout was aired live on HBO Per-Per-View.

The scores were 116-112, 116-112, and 118-110.

Doghouse Boxing had Pacquiao winning 117-111.

Pacquiao got off first in the opening stanza. Fighting out of the southpaw stance, Pacquiao landed a long left followed by a right. Bradley clipped the Filipino icon with a right hook. Neither fighter was able to land many clean shots in the first three minutes. Pacquiao did connect with a right at the bell that won him the round.

In round two, Bradley came out with more aggression. A right landed to the midsection of Pacquiao. The eight-time champion landed a combination to the head of Bradley. A left hand buckled Bradley's legs.

Pacquiao, 35, landed a combination in the first few seconds of round three. A left also connected. Bradley pushed Pacquiao into the ropes. He dug to the head and body. Pacquiao kept up the offensive to win the round handily.

Bradley tried to rally in round four. He moved forward throwing punches. Pacquiao blocked most of them and continued to box. Bradley staggered Pacquiao with a right hand. Pacquiao battled back, but Bradley did enough to win the round.

In round five, Bradley pressured Pacquiao. He winged shots to the body. Pacquiao found a home for his left. His consistency was bothering Bradley.

Bradley's trainer Joel Diaz screamed at his charge before round six began. Pacquiao circled and looked to counter. He moved in and fired combinations. Bradley ducked most of the shots but didn't punch back. Pacquiao flurried at the end of the stanza.

Bradley, 30, went to work in round seven. He jabbed and worked to the body. Pacquiao knocked Bradley back with a left hook. He maneuvered Bradley into the ropes and landed a salvo of punches. Bradley had obviously watched Juan Manuel Marquez's knocked of Pacquiao. He was trying to sucker Pacquiao, but the challenger wasn't interested in repeating history.

In round eight, Pacquiao picked his spots. His jab was effective. Bradley moved more. He used his own jab for the first time since round four. Pacquiao peppered Bradley with punches to win the round.

Pacquiao ate a hard left in round nine. His own left bounced off the noggin of Bradley. He continued to beat Bradley to the punch. The defending champion kept trying to time Pacquaio, but like a batter in a slump, he whiffed.

Bradley came out hard in round 10. Pacquiao rolled with the blows and stuck to his game plan. He stung Bradley with his jab. A hard left strafed Bradley. A combination knockout the champion backwards. Bradley had to sense he was trailing on the scorecards entering round 11. He tried to land something, but Pacquiao tattooed him.

Round 12 was all Pacquiao. He fired combinations that landed. The super tough Bradley countered back. Pacquiao walked forward and timed Bradley. His volume of shots were consistent - while Bradley was still trying to land a home run blow.

The win gave Pacquiao the WBO welterweight title.