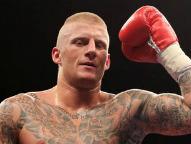 Photo © Wende


Reality TV plays a big part in modern society. Over the past few years, this has been prevalent to boxing with the likes of Evander Holyfield, Sugar Ray Leonard and Floyd Mayweather Jr. appearing on America's "Dancing with the Stars." In Britain, Joe Calzaghe, Chris Eubank and, most recently, David Haye have taken part in a variety of TV shows. In Mexico, Jorge Arce was a contestant in his country's version of "Big Brother." While these shows may not appeal to the average boxing fan, they reach wide demographics in a number of countries, making anyone who appears in them an instant household name. This can certainly be relayed to rising Danish middleweight Patrick Nielsen, who was on his country's version of "Dancing with the Stars," Denmark's most popular TV show, finishing a very impressive second. Due to his stint on national TV, the heavily-tattooed 21-year-old is very popular and widely lorded as the next Mikkel Kessler. The future appears bright for the young southpaw, who sports a 17-0 ledger with eight wins inside the distance. He headlines on Saturday in Esbjerg at the state-of-the-art Blue Water Dokken, where a raucous crowd of as many as 3,000 is expected when he meets former "Prizefighter" winner Patrick Mendy in the third defence of his WBA Inter-Continental middleweight title. He's currently ranked number four by the WBA.


Anson Wainwright - You return to action on

9 February

. Can you tell us about this fight and what your hopes are for 2013?



Patrick Nielsen - I want to start the New Year in style and kick it off with a victory. I want to entertain my fans and give them a good win. I am looking forward to a very exciting 2013. I have a lot to prove and I will start with a strong performance and a win over Mendy. He won the "Prizefighter" tournament in the U.K. and he's a talented fighter but I am better and I will win.

AW - In your last fight, you travelled to Finland and outpointed Jamel Bakhi. Can you tell us about that fight and your performance?

PN - It was a tough opponent. I had only very little time to prepare because I was in Mexico for the shooting of the popular Danish TV show "Paradise Hotel". But I defeated Bahki and I am happy about the win.

AW - Who are the key members of your team, your manager, trainer and promoter? Also where do you regularly train?

PN - My trainer is Karsten Roewer; my manager is Simon Lundt Hansen and my promoter is Team Sauerland - Kalle, Nisse and Wilfried Sauerland. I train at Karsten Roewer's gym in Berlin-Marzahn.

AW - Tell us about your youth growing up in Copenhagen, Denmark.

PN - I am from Albertslund, a suburb of Copenhagen. It's a rough area that has made me tough. I always trained a lot with my brother, Micki, who is a cruiserweight and also fights for Team Sauerland.

AW - How did you become interested in boxing?

PN - I started boxing when I was 10 years old. I became interested when Micki and my dad went to a training session. I thought, "Why not try it too?" so I started to box as well. It was great for me. I always had a lot of energy and this was a good way to channel it.

AW - What was your amateur career like? What titles/tournaments did you win?

PN - I can't really say I fought anyone of note because I was very young and all the guys I went up against are not famous yet. They are still fighting [as amateurs]! I turned pro at the age of 18, very early.

AW - You're currently the WBA Inter-Continental champion ranked at number four by the WBA. The current champion is Gennady Golovkin and the International titleholder is Martin Murray. They both have fights lined up but are you targeting these guys in the second half of 2013 or do you

feel, as you're still young, you still need experience before fighting at that level?

PN - At the very top level, I would say I need a little more experience but at some point, of course, I would love to challenge all the big names. Right now, I just want to keep getting better and better and focus on one opponent at a time. For the time being, all I am thinking about it Patrick Mendy.

AW - What are your thoughts on the other current champions, the WBC's Sergio Martinez, the IBF's Daniel Geale and the WBO's Peter Quillin?
PN - I only focus on myself. All I can say is that everybody who holds a belt deserves to hold it. It's very hard to become champion.

AW - You're following in the footsteps of Mikkel Kessler, one of if not the best Danish fighters of all time. Can you tell us about having him to look up to and about how well the two of you know each other?

PN - We know each other well. We have trained together. Of course I looked up to Mikkel when I grew up. He is a big role model. I feel a bit like I am walking in his footsteps.

AW - Away from boxing, tell us about yourself as a person and your life. Also,

what do you enjoy doing with your time away from boxing?

PN - I love walking my dog, Zeus. When I am back in Denmark - right now, I train in Berlin - I walk him every day with a friend of mine. We do real long walks, like an hour each day. It's very relaxing. I love to spend time with my friends and my family.

AW - Who was your boxing hero growing up and who do you enjoy watching today?

PN - It was Mikkel Kessler, of course. And then there was Brian Nielsen. When I was a kid, I saw his fight against Mike Tyson. "Super Brian" is a big star in Denmark and I wanted to be like him. Then I wanted to be like Kessler but now I want to have my own style.

AW - In closing, do you have a message for the boxing world?

PN - Thank you for your support. I will bring you some entertaining fights in 2013.
Please visit our Facebook fan page at www.facebook.com/MaxBoxing, where you can discuss our content with Maxboxing readers as well as chime in via our fully interactive article comments sections.