New Dad Viloria focused on sleep, another world title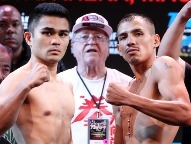 (Photo © Chris Farina / Top Rank)


New parenthood is a miraculous experience in any man's life, but also a poignant time of patient love and sacrifice. Recent father Brian Viloria has had to forgo elements of his personal life for his professional one as he pursues his goal of becoming a four-time world champion. That 'The Hawaiian Punch' cut such a rested and relaxed figure at the final 'Champions of Gold' press conference at the Venetian Casino is a tribute to the selfless love and support of his wife Erica.

Two month old Tyler is not even a strawweight yet, but is the latest champion to roll off the Viloria production line. While the ageless Hawaiian has been preparing for his 10-round bout with livewire Mexican Jose Alfredo Zuniga, Erica Viloria has assumed extra childcare duties with their newborn son, allowing the former WBA Super/WBO flyweight and WBC/IBF light-flyweight world champion the time (and sleeping hours!) to focus on his career.

"It's a teamwork thing between my wife and I and she's taken a lot of the force," said Viloria, who trains at Freddie Roach's celebrated Wild Card Gym in Los Angeles. "Having me rest as much as I can before my training sessions, she's taken a lot of the burden off me, waking up early in the mornings to feed our child. Erica is a big part of my career. She keeps me focused all the time, regardless of us just having a baby. She's been the anchor for me and, without her, I don't think I would be in the right state of mind now."

Young Tyler was named after the scene-stealing character in Viloria's favourite movie 'Fight Club' although the former world champion will not be inviting Zuniga to 'hit me as hard as you can' one of Brad Pitt's memorable quotes from the motion picture. "I love the movie and how the main character is also his alter-ego," said Viloria, 33 (pictured left). "I watch the movie over and over so we named our child after it! My wife and I also loved the name Tyler anyway so he was named after Tyler Durden, Brad Pitt's character."

It is testament to 2000 US Olympian Viloria's abilities that he has become a three-time world champion in two weight classes stacked with talent and remained an elite level professional for his entire 13-year career. Victory over Zuniga in their 10-round flyweight attraction should nudge the charismatic Hawaiian, 33-4-0-2 (19), towards another world title crack. Zuniga's 11-5-1 (5) record is highly deceptive and the contest promises to be a compelling one. The Mexican (pictured right) has mixed in high class having outpointed contender Ganigan Lopez in his debut, dropped a 12-round decision to WBC strawweight king Oswaldo Novoa and lost a disputed majority decision in his last bout against WBA interim light-flyweight champion Alberto Rossel. But Viloria's world championship pedigree and experience should prove the difference.

"I always feel like I'm the best fighter in my division," said Viloria, a former world amateur light-flyweight champion in 1999 who compiled a sensational 230-8 record defeating Nonito Donaire among others. "I have the class to prove it, whether it's a world title match or tune-up fight. I'm trying to get myself lined up for another world title shot and hopefully a rematch against (WBA/WBO champion Juan Franciso) Estrada in the near future. But I have to get past Zuniga on Saturday first so this is a very important fight.

"His record does not show how good a fighter he is," added Viloria. "We know how tough he is – Zuniga has given veterans a very hard time to the point where he should have won some of those matches. We're looking at him as a very dangerous opponent. We've prepared very well for this fight and, on Saturday, we'll show who the world champion is."

The Hawaiian's career has gone full circle with the fighter now back at the Wild Card Gym where he trained in his younger days. The three-time world champion's extensive professional experience has proved invaluable in the progression of gym-mate and Chinese boxing icon Zou Shiming (who headlines the 'Champions of Gold' event in Macao) with the two fighters engaging in regular spars.

"It has been a great experience," reflected Viloria. "Freddie asked me to teach Zou a few things being (an established) pro fighter. Being a little bit of a teacher for Zou has also taught me. I have to go back to the basics so it's opened my eyes, too. It's a two-way thing. He teaches me great things and gives me great insight on what I need to do."

A Viloria-Zou fight remains an intriguing possibility down the line and the former world champion would not discount a lucrative clash between the two friends. "This is the toughest sport where there are no friends in the ring," he said. "If the money is right, I am open to that thought. I've fought friends before - Giovanni Segura (who Viloria stopped in eight rounds in December 2011) and he put up a great fight. I think the best friends are the ones who make the magnificent fights."

The Zou Shiming vs Luis De La Rosa and Gilberto Ramirez vs Junior Talipeau bouts on 'Champions Of Gold' will be broadcast via same-day delay on HBO2 at 5pm ET/PT in the US on Saturday.

WBA Super and WBO super-bantamweight king Gullermo Rigondeaux's defence against Thai contender Sod Looknongyantoy on 'Champions of Gold' will be broadcast same day delay as the Solo Boxeo Tecate main event on UniMás at 11pm ET/PT.

All three bouts plus the latest comeback fight of three-time world champion Brian Viloria will be broadcast live by BoxNation in the UK at 2pm BST.

Please visit our Facebook fan page at www.facebook.com/MaxBoxing, where you can discuss our content with Maxboxing readers as well as chime in via our fully interactive article comments sections.



Subscribe to feed