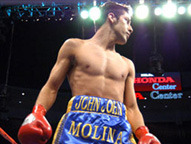 (Photo © German Villasenor)


Because of its one-on-one nature, there is no more unforgiving sport than boxing. Win and the fans will love you for at least a week. Lose and no one lets you live it down for the rest of your career. All you can ever hope to do is re-enter the roped arena and do your best to make the crowd forget what happened last time for at least a few moments. Few fighters understand that better than John Molina, Jr, 24-2 with 19 knockouts, as he prepares to face Dannie Williams, 22-2 with 18 knockouts, in this week's ESPN2 Friday Night Fights main event.

When we last saw him, Molina was on the biggest stage of his career facing former lightweight titleholder Antonio DeMarco in a fight that was going to lead to bigger and better things. Molina, a big right-handed puncher who came to the sport late, was a heavy underdog but confident that his size (5'10 ½") at 135 pounds would overwhelm DeMarco eventually.

It was not to be.

Less than a minute into the first round, DeMarco landed a long left hand and Molina's legs buckled. He moved back to the corner as DeMarco swarmed. Rather than taking a knee to let his head clear, Molina crouched, seemingly defenseless under the onslaught of punches and referee Jack Reiss, a quality third man, called a halt to the bout when Molina did not respond with a punch at just 44 seconds of the first round. To be fair to Molina, the stoppage, at least to this writer's eyes, felt premature. To be fair to the ref, Molina did not throw a punch back and perhaps should have taken a knee to clear his head. Molina agreed with that assessment but chalked it up to a learning experience.

"I didn't agree with the stoppage," Molina told Maxboxing.com earlier this week. "I knew DeMarco would be a strong guy once he got going but I can't really dwell on it too much because I have to get up and go forward. It left a bad taste in my mouth. It really upset me. It was kind of like the stage was set for me and then it collapsed underneath me. I had to let it go. I felt like the fight shouldn't have been stopped."

Molina had been in tough situations twice before and either rallied late in a losing effort or come from behind to win. In his first loss, a ten round decision awarded to Martin Honorio, Molina overcame terrible flu symptoms to rally late in a losing effort, displaying heart and toughness.

In a memorable win over contender Hank Lundy, Molina was down on the cards when he dropped a right hand on Lundy, knocking him down in the eighth and changing the complexion of the fight. Molina cleaned up late and stopped Lundy in the eleventh. A puncher like that always feels he has a chance to come from behind.

"Not to compare our skill level but that was like stopping Juan Manuel Marquez in the first round of the first Pacquiao fight," surmised Molina. "Or stopping Corrales when he was dropped by Castillo in their first fight. I think that it was a poor stoppage. It could have been a lack of experience on my part. I should have taken a knee as opposed to kneeling down and assuming that Jack Reiss would give me an 8 count because I was on the ropes."

The loss was huge for Molina, moving him from potential further HBO dates back to ESPN. While he is still on TV and that's rare for any fighter coming off such a loss, the pay and prestige is much different between the networks.

"To me it was a big financial setback and obviously a setback for my career because of a [potential fight with WBC lightweight titleholder Adrien Broner]," said Molina. "They were already offering $750,000 for that fight so it was a big financial setback. I wasn't looking past DeMarco but that fight was on the horizon."

Molina does not believe that will be the case for very long, however.

"Of course now we go back to ESPN against Dannie Williams who is a dangerous puncher but who has fought limited opposition. I think it's set for me to make a statement on a national TV spot for the NABF title,' he said. "[A win] is going to catapult me back into the mix of things; maybe Miguel Vasquez or Ricky Burns next. Probably one or two fights at 135 and then we'll move to 140, I believe."

One of the smartest fighters this writer has observed when it comes to sponsorships, Molina is not exactly hurting financially. He has endorsements from Lucas Oil and Tom Attensio's "Grips" clothing line. He credits members of his team like Rick Seidner for helping guide him towards financial security outside the ring. All of this is very important for Molina not just as a fighter looking to his years beyond the ring but because he is a newly married husband and father.

From turning 30 to becoming a husband and father, Molina sounded like a more mature version of himself over the phone. Still quick with a quip, he sounded grounded and serious about his life and future in a way I'd never heard in all the time we have interviewed together. Adversity has that effect.

"This past year was the hardest of my life," said Molina. "My daughter was born and five days later, my mother-in-law passed away. It was the hardest thing I have ever experienced as a man. To have to support my wife after losing my mother-in-law, whom I love very much . . . it was a very stressful time. With my daughter being born, it was a domino of emotions that I didn't know that a man could go through all in one week."

To make matters more complicated, following his loss to DeMarco, Molina split once again with former trainer Joe Goossen and employed the services of Robert Garcia in Oxnard, CA.

"The switch is not a reflection on Joe," insisted Molina. "The fight with DeMarco was not a reflection on Joe. He is a great trainer. I think he is in the top five in California as far as trainers go. It was more that we needed to shake things up. Robert Garcia is a guy that fits our style very well. I just felt like that was the way to go. We work well together. Sparring has been phenomenal. We have people like "Pelos" [Javier] Garcia here. Mikey Garcia, Marcos Maidana, and a couple guys coming up that [gave me great sparring work]."

The change meant spending most of October to now in Oxnard, CA away from his family in Covina, CA, a two hour drive (two and half with traffic) during one of the hardest parts of their lives. His only break came in November when his daughter was born and his mother-in-law passed away. All told, he sacrificed nearly three months away from his family.

"The hardest part was staying out there and being away from my little girl and my wife," he said.

In Robert Garcia, Molina is getting a calm, cool, collected and experienced voice in his camp and corner. A consensus "Trainer of the Year" in 2012, Garcia took Brandon Rios, Marcos Maidana, and Nonito Donaire (for whom he works more as the lead voice in the corner than as in-camp trainer) among others to the proverbial Promised Land in memorable bouts. An aggressive former world champion who has now been on the biggest stage as a trainer, Garcia sounds like a perfect fit for Molina.

"Robert implemented a few things into my style that is going to make me that much more confident," said Molina. "When he talks, when he says the game plan, you kind of have a lot more confidence in your ability given the fact that he has been on the big stage more than anyone in recent years. And he has come up with a higher ratio in the win column. He's been in the big fights and I think he knows what to expect."

If boxing fans' memory serves, in 2012, Molina was very vocal about a potential fight with then-lightweight titleholder Brandon Rios. So was it odd to walk into Rios' home gym and begin training alongside him?

"We haven't sparred Brandon yet," said Molina. "We'll probably spar for the rematch with Alvarado. They actually welcomed me with open arms over there [at the Robert Garcia Boxing Academy]. I thought it was going to be awkward at first, which it was walking into the gym. But everyone is there to be a better fighter. There are a lot of world class fighters there. And you know me. I make friends with everyone really quick."

With his team of nutritionist Michael Galvez, strength coach Cecilio Flores and head trainer Garcia, Molina feels confident he can get his big frame to 135 pounds effectively and do what he has to on Friday night.

"There are some changes but I want to reveal them Friday night," said Molina. "But all they were was upgrading what I already possessed. If you look at Robert's work with Maidana and Rios, I think those are similar to my style in the aggression department and that enabled Robert to work with it."

In Williams, Molina is facing a fast-handed fighter with power. Though quicker, Williams is defensively challenged, often pulling straight back out of exchanges with his chin high. He also has a tendency to keep his hands low, especially when bringing his hands back from a punch. All of this has been observed by Molina and company.

"Oh of course I saw a lot of holes," said Molina. "You say [Williams'] power is real. I think he's got some good pop. But he's never fought someone as big as me. I think when he sees me at the weigh-in, point blank it's going to mess with his head. He's going to have a rude awakening to be honest with you. Don't get me wrong. I can't take him lightly. He does have 18 whacks out of 25 fights. I don't care who it is, it takes something to knock someone out."

With both men possessing two losses on the biggest stages of their careers, this is something of a crossroads bout. Depending on how the fight plays out, one guy moves forward and the other stays right where he is or regresses. Molina points to common opponents as his edge as well as Williams' loss to light-punching Eloy Perez. While Williams lost to Hank Lundy despite dropping him in the first round, Molina dropped and stopped Lundy.

"He's got something to prove. I've got something to prove," acknowledged Molina. "We've got some common opponents. Eloy Perez beat him. I don't think Eloy Perez is a great puncher or has a great chin. If you look back at the Lundy fight, [Williams] buzzed him but he didn't shake up Lundy the way I shook up Lundy. I don't think he has the strength or the quality of opposition I do. I don't think he has been through what I have been through."

Molina disagrees that this is a crossroads fight where the loser goes home for good but did agree that a lot rides on his success Friday night. After a year like 2012, starting 2013 with a bang is essential.

"[This] is not a crossroads fight so to speak but it has a lot of heavy implications for where I am going to go after this fight," said Molina. "I take that very serious. And my wife and mother-in-law were best friends, joined at the hip. Dealing with (giving birth) and then losing her, I take my hat off to [my wife]. And me training for three months up in Oxnard while she took care of the baby? Obviously we had help but the fact that I was not there with her four or five days out of the week, it was hard. So I really have something to prove. And I will on Friday."

After a pause, Molina added, "I think it is going to be a great night of boxing. Unfortunately, boxing is a 'What have you done for me lately' business so I have a lot to prove in that respect."

You can email Gabriel at maxgmontoya@gmail.com, follow him on Twitter at www.twitter.com/gabriel_montoya and catch him every Monday on "The Next Round" with Steve Kim. You can also tune in to hear him and co-host David Duenez live on the BlogTalk radio show Leave-It-In-The-Ring.com, Thursdays at 5-8 p.m., PST.
Please visit our Facebook fan page at www.facebook.com/MaxBoxing, where you can discuss our content with Maxboxing readers as well as chime in via our fully interactive article comments sections.