Modern-Day Manny, All Old-School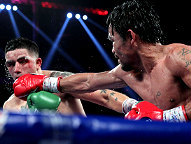 (Photo © Chris Farina / Top Rank)


With Manny "Pac-Man" Pacquiao's recent dominant 12-round decision win over tough, Oxnard, California-based Brandon "Bam Bam" Rios at the Cotai Arena, Venetian Resort in Macao, China, he showed the boxing world he has indeed returned. With the win, he erased any concerns among his fans as to how he would respond coming off a dominant knockout loss at the hands of Mexican legend Juan Manuel Marquez last December. While Pacquiao showed a measured restraint at times, he didn't avoid engaging. Although, once he had his rhythm down, he played it smarter, albeit somewhat safer, than some fight fans might have liked. Now the Philippines' favorite son will relax before sitting down with promoter Bob Arum of Top Rank Promotions and trainer Freddie Roach to map out a work schedule for 2014.

While many fight fans wondered how Pacquiao would react coming off a devastating KO loss, it was not a concern that appeared to faze the multiple world champion in the least. In that sense, Manny, one of the most popular boxers of his generation and a national hero in his home country, is very "old-school" in his approach to the game. In many pre-fight interviews, when asked about how he was approaching the Rios fight (coming off the Marquez loss), he simply responded, "[Knockout losses are a] part of boxing and it happens." There were no excuses, no deep rationale, no second-guessing and, in the ring, no real change to his offensive, counter-punching style. Just the reality that sometimes in the hurt business, you get hurt. It happens. Deal with it and move on.

While Manny, who many believe will be president of the Philippines one day, may wake up in a mansion on satin sheets atop the fight game, this is a long, long way from where he started. He came up the hard way, the old way, no gifts, no free passes and sometimes on that journey, you get knocked down. However, fighters with that old-school mentality, something rarely taught, seldom expect the journey to be anything but tough and it is what makes them better fighters down the line. The "Pac-Man" has been in so many high-profile, pay-per-view blockbuster bouts for so long, fans forget where and how he started. And it was this very start that has made Manny who he is today. While many were concerned about his ring return against a bigger, stronger banger in Rios, to Pacquiao, it was simply another fight. Why? Because despite all the fame and money, Manny is a fighter at heart and that is how real fighter's think. Once he hit the pay-per-view stage, his team clearly mapped out a scheduled business plan because that was its job. For Manny, he just wanted to fight the best out there because that was his job.

Manny turned pro as a skinny, 16-year-old flyweight in 1995. He ran off 11 straight wins but was knocked out in three rounds in his 12th bout by Rustico Torrecampo in Manila. He then went on to record 15 straight wins including picking up the Oriental and Pacific Boxing Federation (OPBF) flyweight title in June of 1997. In December of 1998, he would win the World Boxing Council (WBC) flyweight title. In the third defense of the title, he would be knocked out in three rounds by Medgoen Singsurat in Thailand in September of 1999. No longer able to make the flyweight limit, Manny moved up to capture the WBC International super bantamweight title in December of 1999. He would defend the title five times until June of 2001 when he captured the International Boxing Federation (IBF) super bantamweight title, stopping Lehlo Ledwaba in six rounds in Las Vegas. He would defend the title four times.

After a revealing stoppage of Mexican great, Marco Antonio Barrera in November of 2003, the following May, Pacquiao challenged Juan Manuel Marquez for the IBF featherweight and World Boxing Association (WBA) "super world" featherweight titles. They fought to a draw in what would be the start of a great series of fights between the all-action warriors. Two fights later, Pacquiao fought Mexican great Erik Morales in March of 2005, challenging him for the vacant WBC International and vacant International Boxing Association (IBA) super featherweight titles. Though he lost over 12 rounds to Morales, he captured the WBC International super featherweight title in his next fight, beating Hector Velazquez in September. Pacquiao would defend the title five times (including two wins over old foe Morales and a rematch win over Barrera) taking him into the fall of 2007.

In his next bout in March of 2008, Pacquiao picked up the WBC super featherweight title, beating old foe Marquez. This was the start of an incredible three-and-a-half-year, multiple title-winning, undefeated run that included wins over David Diaz, Oscar De la Hoya, Ricky Hatton, Miguel Cotto, Joshua Clottey, Antonio Margarito, Shane Mosley and old nemesis Marquez.

While "Pac-Man" suffered back-to-back defeats last year in a controversial decision to Timothy Bradley, and a clean sixth round knockout to longtime rival Marquez, his recent win over tough foe Rios proved he is back better than ever. However, if you ask Manny, he never left. He just got up and kept going, doing what fighters do: fight. With talk of a mega-bout with Floyd Mayweather happening and Manny looking to avenge defeats to Marquez and Bradley, it looks like we still have some marquee Manny to enjoy yet.

A look over Pacquiao's 55-5-2 (38) record shows many peaks dotted with a few valleys. But win, lose or draw, the Hall-of-Fame-bound champion is an old-school fighter at heart who wants to fight the best of his time at their best. For fight fans, you can't ask for a whole lot more.
Please visit our Facebook fan page at www.facebook.com/MaxBoxing, where you can discuss our content with Maxboxing readers as well as chime in via our fully interactive article comments sections.



Subscribe to feed