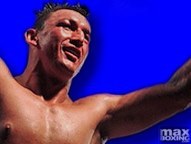 --


Canadian light heavyweight Ralph "Junior" Moar, 10-3 (2), is excited to enter the ring on Friday for his bout in Mexico. Moar, who is 8-1 in his last nine outings, is giving his passport a workout, already having travelled from Canada to train in California, and wants to put some of his training with former heavyweight and new coach Courage Tshabalala into play. His new trainer certainly knows the way around a boxing ring, having fought some of the heavyweight division's strongest contenders throughout the '90s including former World Boxing Council (WBC) heavyweight champion Oleg Maskaev. Junior hooked up with Tshabalala, who trains the entire Los Angeles-based Sheer Sports Management team of boxers, shortly after his arrival in Los Angeles. Junior has enjoyed working alongside other Tshabalala fighters including Irish amateur star Jason Quigley, undefeated super middleweight Ronald Akeem Ellis and rising prospects Edwin Sandoval and Golden Boy Promotions' young gem Julian Ramirez.

Winnipeg, Canada-born and raised Moar, now a married father and residing in Vancouver, British Columbia, is thrilled about his new surroundings and the opportunities afforded him to improve around a strong team. Maxboxing caught up with Junior, a former national amateur champion in his native country, as he prepared for another training day in anticipation of his upcoming six-round bout in Mazatlan, Mexico on Friday.
"It's been great", he said. "I'm getting in some good work and learning new things all the time under Courage. He's really working me and is a great coach. It's been great training out here. It's the best move I ever made coming out here." Asked about when his next northern gig would be scheduled, he said, "I'd like to get back to a fight in Canada soon. I love fighting there, especially in Winnipeg as I have lots of family and friends there. Right now, I am enjoying the great training I'm getting out here and seeing what my next moves are."
As for how long he plans to continue, the 35-year-old, who runs a very successful line of children's furniture stores across Canada with wife Robyn, said, "We'll see. I feel good right now, so as long as I feel healthy and good and I'm improving and I don't mind getting hit now and again, I'll continue," he said with a laugh. "I'm re-energized and focused. I'm 35 but I feel like a 30-year-old in the gym. I feel great. I am going to work my way back down to the middleweight division; that is where my best weight is. Sheer would like me to get some more wins under my belt and then we'll take a shot at something. I am focused and passionate right now. I've been in boxing a long, long time - my whole life - since I was a little kid," he said. "I still feel like there are things I want to - and can do - in boxing before I leave the game."
Please visit our Facebook fan page at www.facebook.com/MaxBoxing, where you can discuss our content with Maxboxing readers as well as chime in via our fully interactive article comments sections.