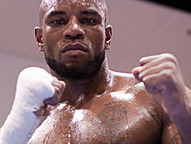 (Photo © Tri Nguyen)


Heavyweight Seth Mitchell- who faces Derrick Brown this Friday night at the Fantasy Springs Casino in Indio, California- admits that when he graduated from Gwynn Park High School in Brandywine, Maryland, his dream wasn't to become Larry Holmes or Lennox Lewis. Back in 2000, Mitchell was a standout linebacker who was named a Prep Star and SuperPrep All-American and good enough to earn a scholarship to play football at Michigan State University.

His goal was to become the next guy that women want, men wanted to be like and animals learned how to talk to so they could hang out with him (http://www.youtube.com/watch?v=bnLN6DuHXPQ).

"The intensity that he played with, the ferociousness; I idolized Ray Lewis. To this day,
when I hear him getting his players ready to go, it gives me goose bumps," Mitchell told Maxboxing earlier this week."

At that stage of his life, he had never even stepped into a boxing gym. He admits that- at best- he was a casual observer of the sport.

"I really didn't know anything about boxing. I wouldn't say that I wasn't a boxing fan but I only watched the big, big fights," said Mitchell. "Prime example, my first time seeing Floyd Mayweather fight was when he fought [Arturo] Gatti [in 2005]. My first time seeing [Felix] Trinidad fight was when he fought William Joppy [in 2001]. So I just watched the big fights like that. I was always a Mike Tyson fan, though. When he lost to Buster Douglas, I was in the second or third grade."

Like most other future D-1 football players who head off to college, his goal was to eventually play in the NFL. But from the very beginning, his career was beset by physical ailments. He was forced to redshirt in 2001 with a sprained right knee. It wouldn't be the first major injury he would suffer as a Spartan. For all this talk of the dangers of boxing, football is perhaps every bit as perilous. Studies have shown that men who play professional football have shorter life spans. And now more than ever, the effects of post-concussion syndrome are becoming more and more prevalent as the size and speed of the players increases.

Football is not a contact sport; it's a collision sport. And as Sugar Ray Leonard once pointed out, when a blitzing linebacker comes towards a quarterback, he isn't there to greet him with a handshake.

Mitchell says, "Anytime you have 200-plus pound linemen and football players in general running into each other and banging into each other, there is always room for injury. Those collisions can be nasty. At the same time, depending on your position, you might go a whole game and not have a collision, like if you're a cover corner. You may not have a lot of contact. In boxing, 100-percent of the time, you're going to get hit."

After productive seasons in his sophomore and junior campaigns, because of his bad knees, he made the decision to tell coach John L. Smith that his days on the gridiron were over prior to the 2005 season. It was a decision that left him content.

"I felt that I did everything in my possibility to continue my football career," said Mitchell, who left MSU with a degree in criminal justice. "So I talked to the people that are close to me and I talked to my Lord and savior Jesus Christ and with that being said, I was literally able to just go into the office and tell my coach that I'm done and being at peace with myself because I tried. I did everything in my will and my power and I just felt it was time to walk away. I had my degree; I didn't consider myself quitting or anything like that because the people that know me know what I went through. They were happy for me.

"It wasn't hard for me at all. But I did think I was ready to enter the corporate world. I was circulating résumés until I saw Tom Zbikowski fight on TV at Madison Square Garden."

Zbikowski, the former Notre Dame standout safety and current member of the Baltimore Ravens, was a Golden Gloves boxer growing up in Chicago and Bob Arum gave him a slot on the Miguel Cotto-Paulie Malignaggi pay-per-view show in June of 2006 before his senior year. That night, he made quick work of Robert Bell, stopping him in the first.

"That's when I was like, 'Wow,' I was like, 'OK, let me give this a shot.'" recalled Mitchell, who soon told his future wife of his plans and then conferred with his high school coach and mentor, Maurice Banks. His message was direct and simple: "Coach, I'm serious about this."

By that fall, he started running long distances to condition himself for his new sport and by that next January, he made his way into the boxing gym. Mitchell is just one of a multitude of former football players who, in recent years, has made the transition into the square circle. As of now, with a mark of 18-0-1 with 12 knockouts, he is certainly the most advanced. When asked to compare the two sports, he explains, "It's definitely as dangerous as boxing but I don't think it's as tough as boxing- on a mental aspect. You have to be mentally tough to box and there's a lot of people who are considered animals on the football field but boxing is a whole different beast. You have to be much more mentally tough just to compete and to excel at the boxing game."

Both sports are grueling- but in different ways. And because of that, Mitchell had to transform himself physically.

"Once you get in shape, you're not that sore," he says, of the physical toll boxing takes on him. "Thank God I haven't taken a lot of punishment in boxing thus far and that will continue. But I just think that once you train your body and you prepare, it's just like anything else. If you go out there and run a mile and you haven't been training to run a mile, your body is going to feel terrible the next day. You're going to be exhausted but after you do it for a couple of weeks, your body gets used to it. I remember when I first decided to box, I came in and did a workout, doing the lunges, the dead-lifts and things like that and hitting the heavy bag. I went home and I couldn't hardly walk up the steps the next morning.

"But as your body gets used to it, it's just like muscle repetition and you get used to it and you move on past the soreness."

He played in the 240s, which is right around his fighting weight. But now, there is much more focus on cardiovascular fitness and his weight training is geared more toward lighter poundage with more reps. He says, "I still weigh the same but my body looks totally different."

Mitchell, after a short amateur run, made his pro debut in January of 2008 (a four-round decision over Mike Miller) and he's been brought along appropriately by his management and Golden Boy Promotions. In his last bout in late July, he faced his sternest test and passed with flying colors as he dispatched veteran Derek Bryant in one.

Mitchell can feel and see his own improvement.

"Aw, man, it's like night and day," he says. "Like, it's crazy; I had only ten amateur fights and I watch my eighth, ninth and tenth amateur fights and I want to throw my first amateur fights away because I look so much better. Now, I look at all my amateur fights and I'm like. 'Wow, what the hell was I doing?'"

Mitchell is 28, which, for a heavyweight is still pretty young. Time is still on his side but soon enough, he will be moved up the boxing food chain. Mitchell says he will let his brain trust make those decisions for him but he states, "When my number's called, I'll be ready."

BIG BROTHER SPARTAN

Like every other Spartan alum, Mitchell is overjoyed by the fact that Michigan State has defeated archrival Michigan thrice. No longer are they the Wolverines' "little brother."

"Absolutely," he said, laughing, "Mike Hart, he made that comment but that's three in a row. So 'little brother' has grown up."

DECEMBER

Some interesting news regarding some Golden Boy cards in December. After Andreas Kotelnik and Kaizer Mabuza couldn't come to an agreement to face Victor Ortiz on December 11th, Golden Boy Promotions' matchmaker Eric Gomez told Maxboxing on Thursday afternoon that Lamont Peterson and his camp had verbally agreed to the fight and would soon be signing on the dotted line to face Ortiz. I think this is a 50-50 fight.

With the main event of Amir Khan-Marcos Maidana and now this match-up, HBO has themselves a very good looking 140-pound doubleheader that night.

The other big news that came out on Thursday was that the WBC light heavyweight title tilt between Jean Pascal and Bernard Hopkins would move off pay-per-view and be aired on regular Showtime on December 18th. Hey, it beats paying for this fight, doesn't it?

Now, here's the thing; when this bout was going to be on pay-per-view, there were plans to air the Erik Morales fight (which might be against Jorge Barrios) in Mexico on that broadcast. Now that it's on Showtime, it looks more and more like this fight will be aired on another outlet.

FANTASY SPRINGS

If I recall correctly, the last time I attended a fight at the Fantasy Springs Casino in Indio for a fight card was in June of 2000, the day before Shane Mosley and Oscar De La Hoya got it on for the first time at the Staples Center. How time flies.

But I'm excited about this show (which will be televised by Telefutura); there is a competitive main event between junior lightweights Eloy Perez and Dominic Salcido and prospects Randy Caballero (who I really like) and the rebounding Charles Huerta, in addition to heavyweight hopefuls like Mitchell and Deontay Wilder. But the fight that really intrigues me is the one between lightweight Frankie Gomez and Ramon Montano. Gomez is considered one of Golden Boy's most prized possessions but I found it interesting that they are throwing him in with the seasoned Montano after just six bouts.

But in talking to Gomez, the matchmaker, they feel comfortable in taking this fight. They believe that Montano isn't much of a puncher (just two stoppages in 27 pro outings) and he's been on the shelf for well over a year. What they really want from this fight is quality rounds, which Montano always seems to provide. I just wish this was scheduled for eight rounds and not just six.

But the best part of this show is that it will be nice and warm in Indio, which means I can wear my preferred shorts and sandals to this card.

FRIDAY FLURRIES

Wow, so veteran publicist Bill Caplan has moved on from Top Rank to Golden Boy Promotions?! The nuclear war continues. This is like seeing Wade Boggs in Yankee pinstripes. But it's always good to have Caplan around..."The Trey" AKA ESPN3.com has boxing this weekend. On Friday night at 10:15 ET, they have the IBF super middleweight title fight between Lucian Bute and Jesse Brinkley and then on Saturday at 4:50 PM, ET, they have the WBC heavyweight title bout between Vitali Klitschko and Shannon Briggs..."ShoBox" will have a super middleweight tripleheader on Nov. 5th that will feature Daya Davis, Marcus Johnson and Edwin Rodriguez...Welterweight Alex Perez has been signed by Lou DiBella...Speaking of which, DiBella tells me that Randall Bailey will face Said Ouali in an IBF welterweight eliminator and Argenis Mendez will take on Cassius Baloyi in an IBF junior lightweight eliminator in the upcoming months...Bill O'Rellly did the impossible; he made "The View" somewhat watchable...With Top Rank hiring reporter Ines Sainz for daily updates on the Pacquiao-Margarito fight, I'm sure the New York Jets will now buy the pay-per-view broadcast and be watching very intently at their team hotel on the night of November 13th...I can be reached at k9kim@yahoo.com and I tweet at www.twitter.com/stevemaxboxing. We also have a Facebook fan page at www.facebook.com/MaxBoxing.