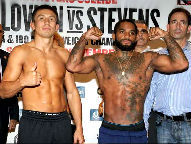 (L-C-R: GGG, Stevens, Loeffler - Photo © Tom Casino / K2)


If Gennady Golovkin can subdue Curtis Stevens tonight at the Theater of Madison Square Garden, by all accounts, it will have been a successful 2013 and all the stated goals he and K2 Promotions made coming into this year will have been checked off.

But Tom Loeffler, Managing Director of K2, said with a laugh, "We didn't get everything accomplished. We wanted [Julio] Cesar Chavez Jr.; we wanted Sergio Martinez; we wanted Danny Geale but since they weren't available, we opted for the best available fighters that were willing to get into the ring with Gennady."
So far this year, Golovkin has mowed down Gabriel Rosado, Nobuhiro Ishida and Matthew Macklin.

"

Clearly, Macklin was a milestone where a lot of the guys that weren't familiar with Gennady's career or were doubtful of Gennady's career but when he beat Macklin, who was clearly considered one of the top middleweights - at the time - who knocked down Martinez and I think he was pretty much in everyone's top five list," said Loeffler. Golovkin halted Macklin back in late June with a devastating left hook to the body.
"

When Gennady was able to stop Macklin in three rounds, that's what really opened up the eyes of a lot of disbelievers. So that created a lot of momentum. Fighting four times in 2013, especially two times in the Garden, is a big accomplishment and this will be the fourth time on HBO [since September of 2012]," continued Loeffler, who has mapped out a plan that has consistently kept "GGG" in the spotlight. "While we didn't get the big names we were looking for, we did execute the game plan in keeping Gennady busy and fighting the biggest names available and Gennady right now is considered the best middleweight in the world and one of the most exciting fighters in the sport."
But the question is, in 2014, can they get one of the marquee names in there with Golovkin? Can they make the leap from the Theater to the big room of the Garden?

Loeffler says, "We're sure hoping to. With the support of HBO the purses for Gennady's opponents - they've gone up dramatically - Matthew Macklin would not have stepped in the ring unless he had gotten paid a significant amount of money. Curtis Stevens was calling out Gennady before his fight with Saul Roman. We thought that fight would be easy to make but it wound up coming down to financial compensation and once we agreed to that, we were able to make the fight. So HBO's clearly backing Gennady. They have a huge billboard on Times Square. They did a 'Gennady Golovkin's Greatest Hits' for this show; they have an interview with Gennady.

"

So we're having a lot of support, both on the marketing side and on the financial side. So with that package, we're confident we're going to get a big name in the ring for him in 2014."
But you get the sense that perhaps Golovkin will have to move either up or down in weight to land a truly significant bout. He and his trainer, Abel Sanchez have stated they are willing and able to fight at 154 or 168 pounds for the right price and the right fight.
"(Gennady's) willing to go up or down if there's a compelling fight," Loeffler confirmed."We feel he's the best middleweight out there, right now. There's still a lot for him to accomplish in the middleweight division. So unless there's a compelling reason for him to go down or to go up, he's going to stay at 160 and dominate the 160-pound division. But there's a lot of big names at 154 and a lot of big names at 168 and if the right scenario comes up, then that's something Gennady and Abel have made clear, that they would go to either division."
And if something doesn't materialize on that front, there is a chance that like 2013, they might once again have to work in volume to bolster Golovkin's marketability. As of this moment, he might still represent too much risk for not enough reward.

Loeffler states that fight as oftening next year as they did in 2013 is a realistic option, "Absolutely, [Gennady] wants to stay busy. When you get into bigger promotions that need longer lead times, then it'll be difficult to have him fight four or five times. If Gennady comes out victorious and as impressive as we think against Curtis Stevens on November 2nd, we think he'll be leading or is a leading candidate for 'Fighter of the Year' in 2013. Certainly he's the breakout star and it really depends on the scheduling. There's a lot of offers from international venues like Monte Carlo where he fought in March against Ishida.

"They desperately want him to come back and they're willing to play a lot of money to come back there and it's a great complement to what HBO's doing over here in the States."

Here's the latest edition of "The Next Round" with Gabe Montoya and Yours Truly: