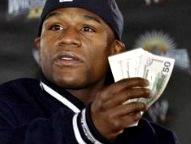 --


In March of 2010, in the midst of promoting his fight against Shane Mosley, Floyd Mayweather gave an interview to Scott Simon of National Public Radio. It was a far departure from the combative, profligate persona he had previously adopted in his other pre-fight media appearances.

The two men spoke little about Mosley and not once was the name "Manny Pacquiao" mentioned. When Simon broached the subject of drug testing, Mayweather spoke introspectively.
"There's life after boxing," he said. "You could make a lot of money but if your brain is not what it should be, you're not going to be able to count [it]." Mayweather said he hoped to fight a few more times and then retire in good health. When Simon brought up Muhammad Ali as a cautionary example of an intelligent fighter who extended his career too long and is suffering as a result, Mayweather quickly interjected, noting Ali used the rope-a-dope technique and absorbed undue punishment as a result - something Mayweather would never do.

In the second round of the ensuing fight, Mosley landed a cross that buckled Mayweather's knees and forced him to cling to Mosley's arms as he regained his bearings. It was perhaps the hardest Mayweather had ever been hit but he reverted to his customary brilliance with astounding immediacy and Mosley barely touched him for the remaining 10-plus rounds. The performance was almost enough to erase the fleeting and somewhat surreal image of Mayweather as a vulnerable fighter.
The impression left by Mayweather's most recent fight, his 12-round battle with Miguel Cotto, is more durable. At 35 years of age, Mayweather still displayed the uncanny ability to avoid punches with shrewd upper-body movement but his legs were noticeably slower than in previous fights. At one point in the sixth round, he was unable to elude the lion's share of several sequential Cotto jabs, one of which left his nose bloody for the remainder of the fight. He spent significant time leaning against the ropes.
Mayweather's transcendence as a fighter remains undeniable but for the first time, his eventual physical decline is tangible. Even the most gifted defensive boxers rarely a) confront physical decline, b) choose to continue fighting and then c) proceed to get hit in the head less often than they did when they were in their primes. Combine this reality with Mayweather's prescient aspiration for a healthy future in his interview with Simon and suddenly his decision to sign a lucrative six-fight contract with Showtime/CBS (beginning with his May 4th

bout with Robert Guerrero) takes on a degree of pathos.
It is certainly conceivable that Mayweather could win six more fights, even against top opposition, and walk away unhurt. But if he truly fights six times in the next 30 months, as his contract appears to dictate, then it also will become increasingly easy to envision a future version of Mayweather losing a fight or staggering backward from the force of repeated blows - or even lying on his back and staring at a stunned audience through the bottom rope of the ring in the MGM Grand.
Because of Mayweather's defensive prowess, these possibilities are less likely to occur for him than almost any other fighter confronting Father Time. However, because it is Floyd Mayweather who will now be taking his turn as the subject of this undying theme of boxiana - because this preeminent and long-unhittable talent and this larger-than-life persona is the one who is turning 36 on Sunday and starting to lose some of his agility - these hypotheticals have enormous weight.
Some boxing enthusiasts would view such outcomes as comeuppance for the brashness and disrespect he has demonstrated at times. Others will surely be excited by the idea that he may continue to prove his detractors wrong and, still, others will just be happy to watch such a rare fighter perform. Very few among the aforementioned factions will turn their attention away as each new Mayweather fight is announced, regardless of whether or not they approve of the opponent. And on each occasion, Mayweather will surely earn astounding amounts of the currency that he has come to personify.
Or perhaps Mayweather will not fight six more times. Maybe he will fight two or three more fights, abandon his contract, become the uncommon fighter to retire with an unblemished record and a healthy brain and leave the boxing minds to convene over how complete or incomplete his legacy is in the following years and decades.
If Mayweather's interview with Simon is to be trusted as candid - an assumption that many would undoubtedly debate - then all of the aforementioned considerations are secondary in his happiness."I want to…be able to raise my kids and spend time with my family in a way where I have a very clear head," he said. He wanted to make money and he wanted to be able to enjoy it when he is old and at 33, he believed he could have both wishes.

As he approaches 36, his belief evidently has not yet changed. But the longer Mayweather continues to fight, the less he will be able to control his fate to any greater extent than his observers will be able to predict it.
By the time Muhammad Ali turned 36, he had already lost much more of his elusiveness and suffered exponentially more head trauma than Mayweather has to date. Ali had faced serious repercussions from "The Thrilla in Manila" and had taken dozens of powerful flush right hands from Earnie Shavers. He proceeded to lose his heavyweight title to Leon Spinks and earn an ugly victory in his rematch. In between each fight, Ali willingly subjected himself to damage by letting sparring partners wail on him at will, a grisly method of building up punch resistance to compensate for his deteriorating reflexes.
Several months after his rematch with Spinks, Ali retired for the first time. "There's nothing left for me to gain by fighting," is what he said in his official announcement. Ali could not have foreseen the $8 million paycheck he would later receive to return to fight Larry Holmes and suffer one of the most infamous beatings of the modern era. And like most fighters who have reached the highest echelon of the sport - even the most insightful among them - he was not fully conscious of all he could lose.
Please visit our Facebook fan page at www.facebook.com/MaxBoxing, where you can discuss our content with Maxboxing readers as well as chime in via our fully interactive article comments sections.