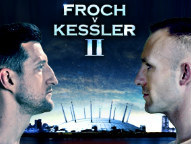 --


In any rematch of a close fight, the central question is "Who can adjust and improve from the first fight?" For the past three months of training camp, Carl "The Cobra" Froch and Mikkel Kessler, each preparing for his first career rematch this Saturday at the O2 Arena in London, have attempted to find those answers. Ultimately, however, the outcome may simply come down to desire and a meshing of styles.
At Wednesday's final press conference, the men's opposing styles could not be more evident. Though each fighter is a gentleman, Froch appears more roughhewn, a naturally awkward, tough-as-nails fighter who can wear the finer things but could never hide the warrior within. On the other hand, Kessler, even in the sweatsuit he wore to the press conference with his short but impassioned "I will prove I can better this man on his soil" speech could wear Armani and you'd never know he was a boxing champion covered in tattoos and nicknamed the "Viking Warrior." But with all that, there was an electricity coming from Froch on this day. He fairly vibrated as stepped to the podium, marveling at announcer Michael Buffer.
"So many great fights I've seen in the U.S.. Now it's my turn," said Froch to the assembled media.

The first fight, held in Kessler's native Denmark, was tight but one Kessler appeared to win using his straighter punches to score to the head and body. However, Froch landed significant blows throughout including a steady left jab and hard right hands, a series of which appeared to knock Kessler down in the fifth round yet was ruled a slip. As the fight wore on, what Kessler lacked in his attempts to fully solve Froch's off-rhythm movements, he made up for in energetic, offensive output.
Froch's nickname, "The Cobra," could either be inspired by his snaky, left lead hand that hangs in the air, dangling in circles until it strikes as a jab or a pounding lead or the overall manner in which he fights. He stands like a fencer with his lead shoulder pointed directly at his opponent with that lead swirling out there like Doctor Octopus' tentacles. His upper body shifts and moves and his feet can square up like a trap. As his opponent advances, Froch snaps his shoulders and lands a punch from either side with his deceptively long 75" reach and is back into his on-guard position. Froch's guard seems open and it is, to possibilities as opposed to danger. His style is all his own and as such, very hard to prepare for.
In the fight, Froch stayed with the jab, hammering, bothering and pecking away at Kessler, who deftly slipped the jab and placed a right straight to in the ribs underneath it in each instance. By the middle rounds, Froch's jab disappeared for longer stretches and he backpedaled, looking to land his right hand. As the fight wore on and the inches Kessler was making Froch miss by became fewer. Shot after shot later, the Dane began wearing out. But up until the ninth, the boxing match, though, at times, a real fight, was Kessler's to win. With Froch's awkward style, the idea is to stick to the multiple jab and right hands. Work up and down from the head to the body and mix it up. And as Froch could just about be anywhere, aiming for the chest is key. Kessler was successful doing just that.
On the back end, the aggressive boxing match became a Carl Froch fight and time again, he landed the right hand. The more he landed, the more Kessler's face and consciousness fell apart. But like always, Kessler fought back despite a large gash over his eye. The 12th was particularly rough as the clock wound down and Froch's violence ramped up. However, in the final moments, Kessler backed up Froch and landed telling blows. In the end, the judges all scored the bout for Kessler. In 27 fights, Carl Froch suffered his first loss. It has haunted him ever since.
"Since the first fight with Mikkel Kessler, I've been thinking about the fight and sort of dwelling on losing my title in it," said Froch, at times gripping the podium so tightly, he moved it. "I know I won my title back in my very next fight in style against Arthur Abraham. A boxing master class against Arthur Abraham and became the WBC champion again but I didn't beat Mikkel Kessler because I didn't fight Mikkel Kessler. I can't say that I've been thinking about it for the last three years and I'm up at night unable to sleep for three years because I have. I've had some good nights' sleep. I've had some bad nights' sleep. I've been thinking about it. It's been in the back of my mind and now the opportunity to set the record straight has come."
Despite winning his unanimous decision and advancing in the "Super Six," Kessler would not fight again until June the following year, taking nine months prior to training to heal an eye injury sustained in his loss to Andre Ward. Many wondered if Kessler left his best in the ring that night despite beating Mehdi Bouadla. But to this writer, it seems part of a design to extend the career of a legitimate draw in Europe.
This is the fifth fight with Jimmy Montoya at the helm in Kessler's corner. Montoya has been involved in some capacity with Kessler for years but took over as head trainer for the first Froch fight. Since then, they have been on a three-fight stoppage streak in which Kessler has nearly won every round.
Kessler is more of a classic boxer. As such, his style should last long. Also, in fighting out the orthodox position, he uses effective footwork to bounce in and out of position. His best work is at long range. Kessler tends to point the back foot toward his opponent before jabbing, pushing off it while exploding with the jab. He can also explode at angles this way as seen in his recent knockout of Allan Green off a tight explosive left hook while drifting left off a jab. At age 34, with a good, solid rest and three equally solid wins (including a WBA title bout win in December over Brian Magee), Kessler and Montoya appear ready for the challenge.
Since the first fight, Kessler has fought 13 rounds in three fights, going 3-0 with as many stoppages. Froch, age 35, has fought 44 rounds against Abraham (UD 12), Glen Johnson (UD 12), Ward (L UD 12), Lucian Bute (brutal TKO 5) and Yusaf Mack (KO 3). In Froch's point of view, his level of competition is a class above.
"[Froch] said, 'You know Mikkel hasn't got enough fights. In three fights, he's only fought 10 rounds' but it's actually 13. He said, 'I have 40. I have them in the bank.' Well, you get hit a lot more in 40 rounds than you get hit in 13," said Montoya. "The difference between the two fighters is Mikkel can put you away with one punch and I don't think Froch can. But nothing taken away from Froch, Froch is a good fighter. He's a gentleman."
Overall, the two men share losses to Ward and Kessler's was arguably a tighter fight. That fight, held in Ward's hometown of Oakland and a 2007 points loss to Joe Calzaghe are Kessler's only blemishes. Neither loss is anything to be ashamed of. Ward ultimately won the "Super Six" and Calzaghe is one of the greatest super middles of all time. In terms of competition, they are fairly equal. Not so, says Froch's trainer Rob McCracken.
"One thing I will say is that there is nothing like fighting and there is nothing like fighting at the top level," he said when it was his turn at the podium. "It sharpens you up. It makes you the better fighter than the fighter who fights two or three levels below. This is what's happened in the last three or four years: Carl has fought in the premier league. Mikkel's fought in Division One. Mikkel's a great fighter. Carl's a great fighter. That's why the crowd's here Saturday. You never know what's going to happen but we're very confident. When you look at who Froch has fought, he's fought Bute, Andre Ward and Arthur Abraham and a couple more fighters in the last three or four years and Mikkel, he hasn't really fought anybody. So that will be in evidence Saturday night. Carl is in great shape. He never loses at home. You won't have that. It's going to be a great night."
As Froch spoke, you could see how badly he wants revenge.
"For the last [14 weeks], I haven't taken my foot off the gas. Since November, Christmas and New Year, I was out on my bike; I was driving. I've been circuit training. But in the last three months, in the back of my mind has been Mikkel Kessler and revenge and the rematch and getting myself back to the position where I can say, 'You know what? That night that happened in Denmark shouldn't have happened.' For me to be given this opportunity in this fabulous venue, the O2 Arena, 18,000 people…sell the place in three to four hours. Sky Sports Box Office, the best platform for boxing in the world as far as I'm concerned…it doesn't get any bigger than this. For me to be involved in a fight of this magnitude on this scale against a fighter of the caliber of Mikkel Kessler in a rematch that means so much to me, I could almost explode. The hairs on the back of neck are standing up. I feel…my voice is going. I feel shaky and nervous and apprehensive and tense - but I'm also confident and strong."
Froch said he felt so fit, he had a 10-round gym fight with rough-and-tumble light heavyweight contender Tony Bellew.
"I actually had a 10-round fight with Tony Bellew the other day. We shut the gym, locked the doors," said a beaming Froch. "There was myself, my trainer Rob McCracken, Tony Bellew and his trainer. We had a 10-rounder. Obviously, big gloves and headgear. I feel I already boxed. I feel so sharp and strong and fit; I will show you all on the 25th

of May and how well the camp's gone and how driven I've been from the first fight."
To hear Kessler speak of multiple game plans and to watch his subtle evolution under Montoya, there is a sense that change is coming. Hearing Froch, who rebounded from his losses to Kessler and Ward with dominating performances, he will just be "The Cobra" only more so. At 30-2 with 22 knockouts and multiple world titles, it's worked so far. The two losses, however, suggest that boxers like Ward and Kessler, at home or not, give Froch trouble. Often, it's his indomitable will and toughness that get the Nottingham bad boy out of trouble. Witness his dramatic 2009 knockout of Jermain Taylor in a fight he was losing with just 14 seconds remaining in the final round.
Like with everything in life, we can plan and adjust and hope but what's going to happen will happen. And there's nothing we can do about it. Adjustments be damned, Froch is going after what he feels is his and Kessler will try to change his mind. For boxing fans, this is what it's all about. Carl Froch agrees.
"I said to Rob as we sat down, 'This is why I got involved in boxing. This is why I turned professional.' I wasn't going to turn professional and I wouldn't have if not for this man, Rob McCracken. He sort of talked me into it. But since I turned professional, I boxed in [regional and world] title fights, none as big as this. To me, this is the pinnacle of my career. I am just so excited. I'm not overwhelmed. I am excited. I cannot wait to get in the ring on Saturday night and do a job against this man here," said Froch. "I owe him one. I owe Mikkel Kessler one. It's time for me to put the record straight. I'm looking forward to it. Enjoy it. And I am going to leave everything as I am sure Mikkel Kessler is. I am going to leave absolutely everything, heart, soul, guts, blood, tears, if necessary, in the ring. Just sit back and enjoy the ride."
You can email Gabriel at maxgmontoya@gmail.com, follow him on Twitter at www.twitter.com/gabriel_montoya and catch him every Monday on "The Next Round" with Steve Kim. You can also tune in to hear him and co-host David Duenez live on the BlogTalk radio show

Leave-It-In-The-Ring.com

, Thursdays at 5-8 p.m., PST.
Please visit our Facebook fan page at www.facebook.com/MaxBoxing, where you can discuss our content with Maxboxing readers as well as chime in via our fully interactive article comments sections.