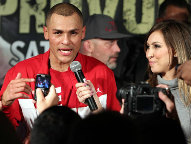 (Photo © Chris Farina / Top Rank)


On Friday afternoon, WBO junior welterweight champion "Mile High" Mike Alvarado, on his second attempt, weighed under the 140-pound limit at 139.8, insuring his fight tonight the 1STBANK Center in Broomfield, Colorado. His opponent, Ruslan Provodnikov, 22-2, (15) a strong-willed boxer-puncher out of Beryozovo, Russia, weighed the same on the first try. The bout is Alvarado's first defense of a title he won by remaining disciplined against the man who beat him first, Brandon Rios, some seven months prior to their March 30, 2013 rematch. The question will remain until the final bell: in front of his screaming hometown fans as a champion for the first time, will Alvarado maintain that discipline against the relentless Provodnikov or will he succumb to his instincts and brawl?
Mike Alvarado came to the sport as a late teen who'd been a champion wrestler in high school. No question he is a top-level athlete. An average person can't switch to this combat sport so late and then attain a title belt from someone like Rios, an experienced fighter with a solid amateur background. No question, under trainer Henry Delgado, Alvarado has learned well on the job, amassing a 34-1 (23) record with a rugged style featuring a deadly right hand and a left that shouldn't be ignored.

Some will point to the Rios rematch in which Alvarado became a disciplined boxer-puncher. In their first encounter, the media and fan expectation was that it would be an instant "Fight of the Year" candidate. Held at the former Home Depot Center - now the StubHub Center - venue of choice for hardnosed battles such as Israel Vazquez vs. Rafael Marquez, Antonio Margarito vs. Paul Williams and this year's Tim Bradley- Ruslan Provodnikov battle, Rios-Alvarado was poised to at least join that brand of company.
At times, it exceeded expectations.
The bout was pure savagery. Rios is a fighter who flat-out enjoys the give and take of combat. And Alvarado's nature appears to be similar. This fight was a veritable feast of fists by the time it ended but for a moment before it ascended into fistic Heaven, Alvarado tried to box.
At 5'9" with a 69.5" reach, Alvarado is tall enough to fight from high ground at 140. With a comparably-sized Rios in front of him, who fights compact, the key to winning was moving, punching and living off the jab. But Alvarado eschewed that plan, going toe-to-toe and testing Rios' mettle. Alvarado would be stopped along the ropes on his feet in the seventh.
Months later in an interview on

leaveitintheringradio.com

, Alvarado would ponder the idea that giving the crowd everything they wanted, succumbing to the bloodlust inherent in all of us who love this sport, may not have been wise.
In the rematch, two weeks after WBO welterweight titleholder Timothy Bradley made the clear choice to leave the boxing in the locker room and brawl with Ruslan Provodnikov (then a mere "ESPN-level" fighter to "experts"), Alvarado remembered that discretion is the better part of valor. Using a long, piston jab and using lighter than previously seen footwork, Alvarado boxed Rios to a decisive points win. Walking him into punches, Alvarado became the first man to hurt Rios. By elevating his game, Alvarado elevated his status in the sport.
In boxing, learning is best done quickly. If you get hit twice by a right hand, you'd better make sure there isn't a third time. Trapped in the corner for the first round? Figure it out or there may not be a third. Mike Alvarado appears to be a quick study. For Alvarado, at least to these eyes, striking the right boxer-puncher balance came not in the rematch with Rios but against Breidis Prescott four fights back.
Alvarado was in all kinds of trouble in the November 12, 2011 fight. Down on the cards and bleeding badly from a cut over his eye, "Mile High" Mike needed something to happen. Instead of waiting, he got busy making it happen and letting loose offense in spots, overwhelming Prescott with combinations to the head and body with just enough movement. By the 10th, it was all Alvarado as his mixture of boxing-punching led to a stoppage win; the most significant of Alvarado's career up to that point. Athleticism and power paved the way for depth of character to be displayed and Alvarado blossomed in the biggest fight of his ten. From that moment, he was no longer considered a mere prospect/project.
Given the cagey Mauricio Herrera for his next outing, Alvarado was more confident and relaxed as a fighter, as if he'd unlocked something within his style. Boxing, like any skill, takes a long time to master. Like all crafts, it takes years of mastering the rules in order to venture into the realm of art, where they can be broken. This is style.
Against Prescott, Alvarado broke through. Versus Herrera, Alvarado further explored that pathway. In that first fight, faced with big-time media scrutiny of a kind he had never experienced before, Alvarado forgot what he had just learned and paid for it. When he remembered five months later, winning wasn't easy but it certainly was made easier.
Almost a year to the day he lost for the first time, Mike Alvarado returns home a champion defending that title for the first time. A year wiser from his first loss. A year older. At age 33, he is young but old in this game with no shortage of ring wars under his belt. To beat Provodnikov, he will have to be like Tim Bradley was last weekend in outboxing Juan Manuel Marquez: the sum of his battles. Remembering why he has won rather than giving into instinct will be tantamount to winning.
Please visit our Facebook fan page at www.facebook.com/MaxBoxing, where you can discuss our content with Maxboxing readers as well as chime in via our fully interactive article comments sections.