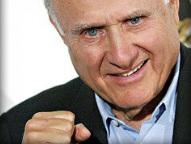 --


There is a certain bit of irony that after a long and distinguished career with

HBO

(that came to an end last December), ringside commentator and provocateur

Larry Merchant

will be calling this weekend's bouts in the exotic locale of Macao (where the likes of Brian Viloria, Rocky Martinez, Diego Magdaleno and Zou Shiming will be in action) for...HBO2.
Geez, they just can't get rid of this guy.
"Just proves you can run but you can't hide," Merchant said with a laugh, a couple of weeks ago before departing to Asia. "I mean, the stars just aligned that way. It came as a surprise to me but I'm excited about the whole thing."
This isn't the only ironic aspect of this whole affair. If you recall way back in 1997, it was Bob Arum who basically got Merchant suspended from the network for one week after the promoter and Oscar De la Hoya objected to comments made by Merchant regarding the Mariachi music accompanying the "Golden Boy's" entrance versus Pernell Whitaker. It was Top Rank that hired Merchant for this broadcast. "Y' know, if it were measured by which promoters or managers or fighters at one time or another didn't love everything I said, I'd never find any work," said Merchant, chuckling. "But I mean, Bob says what's on his mind and you move onward." He added that this past issue never came up. "I haven't even thought about it for years," he said while mentioning, "There have been a few other run-ins I've had along the way."

Todd duBoef, president of Top Rank, who was instrumental in bringing Larry aboard, told Maxboxing, "Larry's the legend and I think when we wanted to introduce the product to Asia and especially to the Chinese, we knew that having those people who are synonymous with the brand of boxing be associated with this. So therefore, Larry was our first stop."
And yeah, they're gonna give Merchant a free mic. He won't be forced to pull any punches.
"Larry is Larry and if I told Larry to do something - he wouldn't do it anyways," said duBoef, laughing at the mere thought. "So what's the purpose of even expressing yourself like that? You just gotta let Larry do his thing and you know that he's going to express himself; like it or not. He is a freedom-of-speech guy and he's going to give his opinion and we'll live with it. If he doesn't like that product he sees and that hurts us, it's 'Buyer beware.' We hired him and that's our situation. We know he offers an incredible amount of credibility to the show and class. It's great for everyone in China and the U.S. to see him and it's an honor to have him call the fight."
Merchant says, "I wouldn't know how to do it otherwise. That was an extension of when I was doing other television and what I was doing as a columnist. I couldn't change if you tried to make me change. I wouldn't know how to do it. To me, we're not just in the boxing business but the boxing-entertainment business and people are tuning into a fight to see the fight. But it's also a night out and if they were sitting in the audience, they'd be gabbing with each other or hearing somebody say something and turning around and responding and my job - I've always thought - is something that goes back to my days in print journalism. It's to report and to occasionally surprise people and to always entertain them while they're doing it."
The last card Merchant called was

on December 15th

in Houston, when Nonito Donaire stopped Jorge Arce early on. As his departure from the network was announced, he made it clear; this was not a retirement and this association with Top Rank had been brewing for awhile. "A few years ago, Top Rank asked me if I was interested in doing some international shows of events that were being telecast in the U.S. I don't know if many fans even know that when they're watching a fight from HBO or Showtime or some other places, that the promoters actually have their own international feed for many countries and they have separate staffs, announcers and producers to do that," Merchant pointed out.
Regardless, Merchant still has plenty of piss and vinegar left in the tank and equally has a thirst to cover prizefights.
"I was reminded of how much I really like to do this when I went to the gym the other day to hang out with some of the fighters on the show, Viloria and Shiming, and to seek out stories about them and about the event and that's what I really like - or even love - to do," said Merchant, 82 years young, "to find the stories and the narratives of the event and the fighters and to tell those stories to the fan."
For this broadcast, he's being reunited with his old on-air sparring partner, George Foreman, another irony not lost on Merchant. It's no secret that they didn't always see eye-to-eye during telecasts. "I've been wondering if we're going to have a worldwide act. Y' know, Bernard Hopkins once said to me after an interview in the ring, 'We ought to take this show on the road.' So George and I are taking it on the road and over the ocean. So yeah, I'm looking forward to it and I'm also looking forward to working with Tim Ryan, who was actually the host and blow-by-blow guy on the first fight I ever did on television for NBC, which was in Paris - that's in France, not in Texas - and so it's old folks going back home (duBoef says that Foreman, whose second act as a heavyweight champion was under the Top Rank banner, is the perfect foil for Merchant. He joked, "If [Larry] starts getting out of line, George is not beyond reproach. We can tell him to keep it clean! He's going to get Larry in a headlock!").
But expect to see Merchant ringside for more fights in the future. Hey, it just wouldn't be the same without him.
"As long as I'm able, as long as I love it - and it looks like I'm not going to stop loving it - and as long as there are opportunities, hopefully, I can add some value to these international broadcasts," he said. "Over the years, I have heard from people abroad who have seen the shows when they're on delay, whether they carry the interviews after some international broadcasts or something like that. So it's a kick for me. It keeps me off the streets and out of the house. As long as I can keep digging and finding the stories and being curious about the equations of a fight, the emotions of a fight, then to me, it's one of the best ways to tell a story.

"And of course, what happens in the ring is the best part of it."
A tripleheader on Showtime featuring a trio of Golden Boy/Al Haymon clients will take place on either July 20th or 27th with a main event of Andre Berto vs. Jesus Soto-Karass with Keith Thurman vs. Diego Chavez and Gary Russell Jr. against Tom Bob Anderson (TBA) in support.
Soto-Karass was originally slated to appear on the June 8th card at the Home Depot Center but when an opponent was needed for Berto's return, the tough Mexican brawler was given an offer he couldn't refuse. In Chavez, Thurman could be getting his sternest test as a professional. Now, the problem is (once again), can you get a live opponent for the ultra-talented Russell?
Golden Boy CEO Richard Schaefer says he is mulling over various locales from Florida to Southern California and the availability of venues will ultimately determine the date of this card.
Just think about this: there is reportedly 1.3 billion people in China, which means there are hundreds of millions of homes with televisions. So if just a relatively small fraction of those sets are tuned into this card in Macao this weekend (and you figure with Shiming being a national hero with his gold medals, that's a strong possibility), you could have a card literally watched by tens of millions of people.
If that were to be the case, the television audience in China could surpass the total amount of viewers that HBO, Showtime, ESPN2, FoxSports, UniMas and Telemundo get the whole year.
For those who may have missed it, here's the HBO tribute to Merchant, aired back on Dec. 15th: https://www.youtube.com/watch?v=tOcC8FGAzMQ...HBO2 goes on the air Saturday afternoon at 2 p.m., ET/PT...I thought Showtime's "30 Days in May" was interesting. Liked some of it and other times, it dragged a bit...The media day for Saul Alvarez on Thursday afternoon in Santa Monica was about as well-attended as most pay-per-view cards. It was an impressive turnout. This event is going to be huge at the Alamodome, where they will have right around 35,000 in the house...So Auburn might have paid players during its 2010 national title run? Hey, it takes resources to win championships...Can anyone believe a word NCAA head Mark Emmert says anymore?..."60 Minutes Sports" on Showtime is solid as a rock...I can be reached at k9kim@yahoo.com and I tweet at www.twitter.com/stevemaxboxing. We also have a Facebook fan page at www.facebook.com/MaxBoxing, where you can discuss our content with Maxboxing readers as well as chime in via our fully interactive article comments sections.