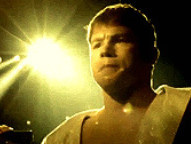 Canelo


Tuesday, August 27th was the media day for Saul "Canelo" Alvarez at his training camp in Big Bear. A bus that would leave at nine in the morning from Lot 7 across the street from the Staples Center was available for any media members who chose to attend this gathering. Media days are a staple of any big promotion that require a saturation of coverage, which you'll certainly be subjected to throughout this upcoming week as we draw closer to this Saturday night's big pay-per-view event featuring Alvarez against Floyd Mayweather from the MGM Grand in Las Vegas.

For us, media days are a necessary evil when it comes to promotions of this size and scope. The bottom line is it will most likely be your one and only chance to ever interact or get face time with one of the combatants. It's not like you can just drop in at the gym to see, say, a Leo Santa Cruz and conduct a real, comprehensive interview. When it comes to stars like Alvarez and Mayweather, access is hard to come by.

If doing a candid, intimate interview is like dining at a fine restaurant, then this procedure is akin to going to a fast food joint.

There used to be a time when boxers would gladly welcome boxing scribes and fans into their inner sanctum as they prepared for fights. Most notably, Muhammad Ali had no qualms about letting anyone stick around and take a look around as he got ready to face his next foe. And there truly was an open-door policy and you were free to take pictures and film sparring. Nowadays, things are on lockdown as if they were in Fort Knox. Getting a reservation at Spago's or the hottest nightclub in town is perhaps easier than gaining entry to the gyms where marquee fighters train.

Media days themselves have also drastically changed. There was a time when boxers had no problems actually going through a real workout or sparring session in a public setting. Now, what you are basically witnessing is a glorified series of calisthenics from the featured performer, who then gives you a series of clichéd answers that you'll see in basically every story leading up to the fight.

This particular media day stood out for the mere fact that the bus taking us up to the mountain resort actually stalled a couple times. The first time it stalled was about 20 minutes into the trip and then there was a delay of around a half-hour as we were just going up the hill. Thankfully, publicists Bill Caplan and Marylyn Aceves, our chaperones from Golden Boy Promotions, had stocked up on bagels, donuts, water and orange juice. Most of the passengers ended up getting off the bus to get some fresh air and stretch their legs during this unscheduled delay. A new bus was called for but somehow, the driver was able to coax the vehicle to re-start and get to our destination without any further delay, saving us from having to hitchhike to our destination (on our way back to Los Angeles, another bus was awaiting us as he got down from the winding mountain round).

We arrived around noon, just in time for the spread that was laid out for us, (what else?) a Mexican buffet (of which I had second helpings) given we were there to see Alvarez. "Canelo" had set up shop for this training camp at the facility of Shane Mosley, who, like other stars of the past generation - led by Oscar De la Hoya and then Fernando Vargas - made Big Bear their boxing home. There's a lot of talk about how this destination is great for altitude training but many believe it's really about the privacy and solitude it provides a prizefighter. Alvarez is only using the gym (a converted garage) but staying at his own home.

For a young guy, Alvarez has a very high level of self-awareness and poise. He handles himself well in these situations and as he is almost submerged by the press, he dutifully answers every question thrown at him (with Golden Boy matchmaker Eric Gomez translating for him).

- Was he really ready for Mayweather at this point in his career? "I'm ready for this. Even though I might be young, I have a lot of experience and I'm ready for this. That's the reason why I asked for the fight. That's why I was looking for the fight. I want this fight - I'm ready."

- His mindset and mood: "I feel good. I feel ready to fight. I feel happy. Right around this time is when I can't wait to get up in the ring, so I'm feeling very good about myself. I've been training hard and I'm ready to go."

- On the fight: "It's going to be a tough, difficult fight. I know that and we've been working towards that. But I have advantages; I have a lot of advantages. But I've been concentrating on the things that have been difficult. We've been working on that very hard."

- His development as a fighter prior to this match-up: "I've always said that I've never fought at my potential at 100 percent. My rivals haven't been able to bring that out of me but I think for some reason that Floyd's going to bring it out of me and I'm going to fight to my full potential and they'll see that."

- The issue of making 152 pounds: "I'm fine; I am going to be fine with the weight. In fact, I'm ahead of the gameplan actually. I'm ahead of the curve. I'm going to be fine with the weight. It's not big things. I'm working very, very hard."

- Has he watched Mayweather's bout with Miguel Cotto? "I've studied the Cotto fight. I saw that Cotto did a lot of good things; he stuck to his gameplan. When he got into position, he was able to score on Floyd, so I've been picking up some of those things."

- Does he have to win the early rounds versus Mayweather? "All of them. It's important to win all the rounds."

As Alvarez said all this, we media folks were tightly packed around him. It was like fighting for position in the paint against Dwight Howard and because you don't want to get into anyone's camera shot or block their own microphones, you find yourself contorting your body in such a manner that you feel like you're doing a form of yoga (I think what I was doing was "Crouching Scribe") and with dozens of bodies so closely cramped together in small quarters in August, you find yourself breaking a good sweat.

After fulfilling his media obligations, he then began the process of getting ready for his workout. On this day, "Canelo" did some shadow boxing, where he was surrounded on the perimeter of the ring by a phalanx of writers, photographers, publicists and cameramen who worked for various publications and networks. You can often gauge just how big an event is by how many people attend these events. Well, based on this turnout, "The One" is huge. If you didn't set up shop early, you weren't getting a ringside vantage point to see Alvarez break his sweat. I'm pretty sure if the fire marshal showed up, he would have put a stop to the proceedings had he dropped by.

What's interesting is that you don't see or get anything particularly groundbreaking during these sessions. It's where we are herded up and made to eat out of the same trough, all in the name of coverage. That's the way boxing is largely covered nowadays. There is a certain loss of intimacy and real incisive coverage. There is a cookie-cutter mentality that goes into covering the sport, unfortunately. And the quotes you get, well, about a day or two later, you'll invariably get a press release with all those very same quotes that will be utilized by everyone unable to make the trip. So yeah, it's basically like a conference call but without the investment of a whole day (and a bus breaking down). So why do we go?

Well, that's a good question.

The benefit of going to these gatherings is that it's not always so much about who is being featured. Mosley dropped by and he was more than willing to share his thoughts on facing both Alvarez and Mayweather (so yes, looking for that angle to be beaten to death in the upcoming days and yes, I'll be participating in that). And there were other people from Golden Boy that were available to talk (on and off-the-record) and can give you some insight and information. And we are in the information business.

Woody Allen once said that 80 percent of success is just showing up.

I guess that even applies to media days.

FLURRIES

Rafael Marquez is another example that just because you can box doesn't mean you should...Seth Mitchell is a better athlete but it was Chris Arreola who is the more seasoned fighter...So tell me (I haven't seen it yet); doesn't anyone out there think Ricky Burns beat Ray Beltran?...Tomasz Adamek will face Vyacheslav Glazkov on NBC on November 16th? OK, so where does that leave Bryant Jennings?...How bout dem 'Canes? They somehow found a way to beat the Gators. This is a defining win for Al Golden and this program..."Boardwalk Empire" is back and that's a good thing...I can be reached at k9kim@yahoo.com and I tweet at www.twitter.com/stevemaxboxing. We also have a Facebook fan page at www.facebook.com/MaxBoxing, where you can discuss our content with Maxboxing readers as well as chime in via our fully interactive article comments sections.