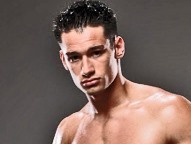 -


Trevor McCumby, an undefeated prospect out of the Chicago area, moved to 14-0 with 11 of his wins inside the distance with his recent early February victory in Hawaiian Gardens, California. The now-emerging 175-pound prospect has slowly and quietly gone about improving and adjusting to the pro game after turning to the professional ranks in the fall of 2010. Despite being signed with Bob Arum's Top Rank Promotions and being managed by Cameron Duncan, who has guided some of the game's best, McCumby has mostly flown under the radar among the "hot prospects" in boxing. However, with wins piling up and his reputation as a talented boxer, who also possesses some serious pop in his punches, he won't be under wraps for much longer. While it is early days yet for the Yorkville, Illinois-born light heavyweight, he has stated recently that he is eager to show boxing fans that he is "the one to watch out for" among the light heavyweight class of up-and-comers.

The good-looking kid, who would just as easily look at home on the cover of GQ as he would The Ring magazine, is certainly going to be a name to watch in the very near future if the first couple years of his burgeoning career are any indication. But don't let the Hollywood looks fool ya; they can be deceiving. This guy can punch with either hand, has speed and is a mean finisher in the ring when he needs to be.
McCumby started boxing as a seven-year-old and eventually amassed an impressive 138-11 record as an amateur. Turning pro at 18 years of age, he has adjusted very well to the punch-for-pay game from the unpaid ranks in which he won the U.S. Under-19 National Championship in 2010. After his debut win later in 2010, he only fought twice in 2011. However, Duncan, who has handled dozens of world champions, knows he has a young prospect who is still learning and knows at exactly what pace to move him.
Adjusting to the pro game takes a little time and McCumby wants to develop properly in the gym so he can highlight his considerable and still-developing skill set each time he steps into the ring. He got busier in 2012, scoring six wins through the year with five coming via the KO route. Then last year, he scored four straight wins, stopping two victims in the first round. After a successful debut in 2014, the 6'0" McCumby is excited about what lies ahead. He is also very confident in the people he has building his career and making the right moves as he develops. In a recent interview, he said he's "so proud to be with my team, with Cameron Dunkin, with Top Rank."
While he knows he has a long way to go, having one of boxing's elite managers raving about him certainly confirms that he has some strong people who believe in him in his corner. McCumby lives and trains out of Glendale, Arizona but connects with Oxnard, California trainer Robert Garcia (who himself boasts a stable of world champions) to handle the final training touches before a fight. McCumby says he is "always learning. I'm always working on new things and getting better." And he knows if he stays focused and works with his team, good things are coming in the not-too-distant future. As the hard-working prospect recently said, "I'm doing the best I can. I'll say it now; I will be a world champion."
Please visit our Facebook fan page at www.facebook.com/MaxBoxing, where you can discuss our content with Maxboxing readers as well as chime in via our fully interactive article comments sections.