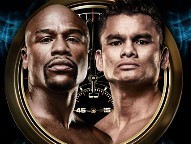 -


Marcos "El Chino" Maidana, 35-3 (31), and Floyd "Money" Mayweather, 45-0 (26) will tangle on May 3rd at the MGM Grand in Las Vegas, Nevada for pay-per-view king Mayweather's The Ring magazine and World Boxing Council (WBC) world welterweight titles. It will be a clash of contrasting styles if there ever were, both in and out of the ring. In the squared circle, Floyd is a slick, countering boxer-puncher who patiently waits to break down his opponents. "Money" looks to hit and not get hit and in 45 previous matches, the formula has certainly worked.
Marcos Maidana is a straight-ahead, in-your-face brawler with a simple-but-effective, shoot-first/aim-second style. While he isn't the prettiest fighter stylistically to ever step between the ropes, his aggressive offense and rugged, no-quit formula has served him well over 38 fights. Outside the ring, the personas they present also couldn't be more opposite. Mayweather is all flash and cash, jewelry, sports cars and a lifestyle that makes Robin Leach proud. While in contrast, Maidana is a quiet, country boy who prefers a serene, rural life of hunting and fishing. When the two warriors step into the ring, the evening's festivities will be anything but quiet and serene.

Mayweather is sitting as an 8-1 betting favorite. But don't try telling that to a motivated and focused Maidana, who believes he can pull off the upset and leave Vegas with a victory.
Santa Fe, Argentina-born Maidana turned pro in 2004 and by the fall of 2008, had run up an impressive 25-0 record. He challenged Andriy Kotelnik for the WBA light welterweight title but came up short in a 12-round, split decision loss. In his very next fight, he upset favored Victor Ortiz and captured the vacant WBA interim light welterweight title. Maidana defended the title three times before losing to Amir Khan in December of 2010. He returned in the spring of 2011 to beat Mexican legend Erik Morales, again picking up the vacant WBA interim light welterweight title. He then defended the title (now considered a "full," non-interim title) with a fourth round stoppage win over Petr Petrov in September in Argentina.
Maidana opened 2012 with a 10-round decision loss to Devon Alexander but finished off the year with a September win over Jesus Soto Karass and a December win over Angel Martinez. He then kicked off 2013 with a sixth round stoppage win over tough Josesito Lopez in Carson, California. But it was his second win of the year that probably earned "Chino" a ticket to the big dance. Maidana closed out the year with a December unanimous decision win over Adrien Broner. Based on styles, Maidana was supposed to get outslicked by the favored Broner. But in the end, Maidana exposed "The Problem" as being a lot more sizzle than steak. The Argentine simply steamrolled his way to a rough, rugged win, dropping Broner twice in the process. The victory put him on Mayweather's radar and now he will get a shot at boxing's biggest star.
Marcos looks like the perfect, B-side foil for Floyd, tough, doggedly determined but ultimately beatable. However, his résumé boasts some solid wins over the game's best and he is showing improvement in his hand speed and combination punching under Oxnard-based trainer Robert Garcia. As Mayweather inches toward what appears to be his goal of 50-0, "El Chino" should prove to be another worthy challenge that is supposed to come up short - not unlike 45 others have before him. However, in a recent national conference call, Maidana seemed unfazed by the magnitude of the event, the role most expect him to play and his upcoming opponent. The quietly confident Maidana said, "I want to just train and beat Mayweather. I am a champion and I am ready to fight for my title. Most importantly, I am preparing to beat Mayweather."
Something tells me this fight is going to be fun.
Please visit our Facebook fan page at www.facebook.com/MaxBoxing, where you can discuss our content with Maxboxing readers as well as chime in via our fully interactive article comments sections.