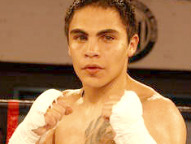 (Photo © Ramon Cairo)


The super bantamweight division is currently brimming with talent and one dark horse at 122 could be Maximiliano Marquez. A week and change from celebrating his 26th birthday, "El 10" hails from Santa Fe, Argentina, the same region that brought us the legendary Carlos Monzon and former long-reigning light welterweight champion Juan Coggi and ex-welterweight champion Carlos Baldomir.

Boxing hasn't always been Marquez's first love. Like most Argentinean boys growing up, he dreamed of donning the sky blue and white and playing for his country. However, in this instance, soccer politics curtailed his dreams before turning to boxing and following in his father's footsteps.

After a solid amateur career highlighted by representing his country at the 2007 World Championships (losing in the first round to England's Joe Murray), Marquez turned pro in 2008.

Since then, he's moved to 16-1-1 with seven stoppages, avenging his sole loss to similarly named Maximiliano Mendez in March of last year. Last time out, he scored a career-best win snapping Luis Cusolito's unbeaten record, getting off the canvas in the third round to drop Cusolito in the fifth and force the stoppage. Since then, he's been on the injured list with a bad right hand though he believes his return to be imminent.

The possibility exists that in the coming months, Marquez may join his countrymen and teammates Marcos Maidana and Jesus Cuellar in America for a training camp.

Anson Wainwright - In your last fight back in December, you stopped Luis Cusolito in five rounds. Heading into the bout, he was 14-0 with 13 knockouts. Can you tell us about the fight?

Maximiliano Marquez - My advisor, Sebastian Contursi, told me that it was time for me to take a new level of opposition. And Cusolito was one of the hottest prospects of my division in Argentina. On the other side, the fight was gonna take place under Marcos "El Chino" Maidana's fight before thousands of people, so we accepted the offer right away. And it was a very tough, competitive fight since the opening bell. I was hurt and down in the third round. But I was so determined and convinced that with my boxing skills, there was no way he could beat me. And in the next two rounds, I was able to outbox him and eventually knock him out in the fifth.

AW - You've not fought since, so could you tell us about your plans for 2013 and when we can expect to see you next?

MM - Well, unfortunately after that fight, I got injured on my right hand, so it took a while for me to recover but know I'm ready to go again. There are plans to fight at the end of June and hopefully, keep fighting as often as I can. Of course, we are looking at the best but first I need to get some more experience.

AW - Who are the key members of your team?

MM - Lucho Marquez is my trainer; Juan Carlos Dacci is my physical coach and Marcelo Leiva is one of his assistants while Sebastian Contursi is my advisor.

AW - Tell us about your training.

MM - I normally train in my city, named Avellaneda in the province of Santa Fe, not far from where Marcos Maidana was born. It's a very humble boxing gym. I do the physical part of training in the mornings like running and doing some exercises with weights. Depending on the weather, we do it outdoors or indoors. And then in the afternoon, I do the boxing training. To be honest, for now, I feel comfortable training at home with my family close to me but I would definitely want to try American soil in the next few months.

AW - Could you tell us about your early years in Santa Fe and the path you took into boxing?

MM - My father was a professional fighter, so I grew up watching him fight in my town when my mother used to bring me there. My dad was my hero at the time when I realized the way people used to treat him. And I started practicing boxing with him but just for fun. Then I really wanted to be a professional soccer player and was playing in the minor leagues of a club called Central Córdoba of Rosario. But the politics of soccer, just like it happens in boxing as well, led me to make the decision of retiring from soccer and I went back with boxing. I was happier with boxing because I had some natural skills and, specially, I didn't have to depend that much on other people as in boxing, if you are good and train properly, you can prove yourself unlike soccer, where you depend on many clubs' official decisions that that eventually become obstacles in your career. So I remained in boxing.

AW - You came through the prolific Argentinean amateur scene. Could you tell us about those days, what titles and tournaments you won and your final record?

MM - I made my amateur debut at 16 when I won an Argentinean tournament with only a few fights on my shoulders. Then I was called up by the national team and represented my country during about three years. I competed in Pre-Pan American and Odesur [Games] Tournaments and the in the World Championships in Chicago but unfortunately, I could not make it to the Olympics. I ended up with a record of 85 wins and four losses and I was never beaten by a fellow Argentinean.

AW – Currently, not as many of the bigger-named Argentinean amateurs are going pro. From your experience, why do you think this is the case?

MM - I guess there is not the proper support for amateurs in Argentina, not only economy-wise but they do not provide social contention. Most of us boxers do not have the proper tools to manage with many obstacles in life and eventually, many boxers are carried away [from the sport]. Sometimes when you feel that the federations do not care about you, that they do not have any serious projects for you, you want to quit and do something else.

AW - In early 2011, you lost for the first and only time against Maximiliano Mendez. A little over a year later you gained your revenge. Can you tell us about the first fight, what went wrong and what you were able to correct in the rematch?

MM - To be honest, that fight was held in Buenos Aires and I did not want to take it because I had not trained properly in my town and my trainer at the time lived in Buenos Aires. So I took the bus from my town with the idea of telling my trainer that I didn't want to train with him any longer. But I was fooled enough to let him convince me that in only 10 days I would be able to beat Mendez. I didn't have the balls to tell my trainer my real intentions and paid a huge price for it as I lost my first fight there. Then I started to have my dad again as my trainer and I clearly beat Mendez [the second time] when I had the proper training and nutrition conditions.

AW - Growing up, what fighters did you look up to and what influence did they have on you?

MM - The first real fighter that influenced me is my father, of course. Then one day, I was watching a documentary on TV where former world champion Gustavo Ballas from Argentina was telling his life experience and explained how he managed to overcome a serious drug addiction. I was impressed and decided to watch his fights and I loved his boxing style. There are other fighters like Floyd Mayweather, whom I admire his ring generalship. And I also admire Maidana's punch and the way Lucas Matthysse attacks his foe's body.

AW - In closing, do you have a message for the super bantamweight division?

MM - I'm a humble person, so it's not that I'd like to send a message to my colleagues but I can certainly say that my goal is to beat anyone in Argentina in my next fights and then want to try [fighting] in the U.S. against great boxers like Guillermo Rigondeaux for instance. Hopefully, you'll hear from me in a few months.
Please visit our Facebook fan page at www.facebook.com/MaxBoxing, where you can discuss our content with Maxboxing readers as well as chime in via our fully interactive article comments sections.