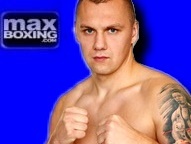 H1_Krtsztof-Glowacki-Max_Boxing-1.jpg


Last August at the Prudential Center in Newark, New Jersey, Marco Huck was on the cusp of defending his cruiserweight title for a record fourteenth
consecutive time. And for 10 rounds, all three ringside judges had Huck leading gutsy Krzystof Glowacki by a combined seven points.
Glowacki, though undefeated, wasn't expected to give Huck much of a challenge. Things looked bleak for the Polish upstart when in Round six, a wide left hook brutally floored him.
The fight was, for all intents and purposes, history. Rarely do fighters rise after collapsing on their backs, but Glowacki had already proven, earlier in the bout, that his heart was bigger than his ability. Somehow,
he willed himself up at the count of nine. Huck tried to put the
challenger away, but failed.
Amazingly, Glowacki was the aggressor in the next round. He forced Huck into the ropes and opened up. He had hurt Huck in Rounds one and three. Could he do it again?

Huck was back in
control in the next few rounds. Glowacki appeared to be running out of gas. His face was a lumpy mess, but still he soldiered
on—looking for an opening. Both fighters exchanged hard blows in Round 10,
with Huck getting the better of the mix.
Huck was six minutes away from setting a new record. He looked relaxed in his corner before the start of Round 11.
The pair met in the center of the ring with
Huck
doing well un
til he made two critical mistakes--he dropped his hands, and pulled away from a punch.
Glowacki's overhand left crashed off Huck's chin.
A follow-up right sent the soon to be ex-champion to the canvas for the first time in his 11-year career. Hurt badly, he somehow beat the count.
A few seconds later, as
Huck languished on the ropes, Glowacki connected with a variety of nasty punches. Two vicious left hooks
forced Huck
to crumble into the middle strand.
Referee David Fields jumped in and waved off the contest.
The time was 2:39 of Round 11.
No one would ever question the courage of the new champion, least of all Huck, who looked shocked.