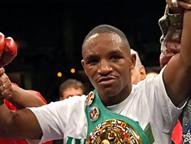 (Photo © German Villasenor)


Lightning struck twice

on Saturday

as Matthew Macklin lost a hometown decision to middleweight titlist Felix Sturm in

Germany

and

Missouri

joined the party by gifting home state favorite

Devon

Alexander a split decision over Lucas Matthysse in a ten-round HBO-televised fight.
The action started at a high pace for both men as they jabbed, moved and sized each other up all at once. Matthysse got in a nice right to the body of Alexander who jabbed and returned fire with a solid left hand. Both men seemed just inches off from the target as they adjusted to each other's style and speed. However, Matthysse seemed to land some nice quality body shots in the opener.
The second was another high-paced round and Alexander's jab was solid throughout while Matthysse used his like a rangefinder, continuing to dig to Alexander's body. Late in the round, Matthysse landed a solid right hand with Alexander's back to the ropes but Devon answered right back with two lefts of his own, landing solidly.

Matthysse kept the pressure on in the third. He shot that right to the body of the southpaw, Alexander. who began to clinch in this round. Alexander used his jab but no longer shot through the target, only meeting it with little power in perhaps an attempt to gain more speed while sacrificing power.
Matthysse got off to a huge start in the fourth when he landed a straight right hand that clipped Alexander on the chin and dropped him hard to the canvas. When he rose, Matthysse followed up with a hard left hook. Alexander stood in the pocket while retreating in spots while Matthysse tried to close things early to no avail.
Alexander got on his bicycle in the fifth, boxing from the outside and using his quick feet and hands. Matthysse tried to land that one big shot too much and followed around, getting potshot in the process. Late in the round, Matthysse got in a left hook that seemed to hurt Alexander, who tied up as a result.
Alexander fought and boxed in equal measure in the sixth while Matthysse played the power game. He got in a nice uppercut early while Alexander seemed to win the round based on solid lefts, volume, and quickness.
Needing to answer, Matthysse dominated the seventh, landing everything but the kitchen sink. Alexander seemed hurt and dazed as he bounced around and ate leather from the Argentine banger. Uppercuts, right hands and left hooks rained down on Alexander, whose corner admonished him in between rounds. This was close to a 10-8 round without a knockdown as it gets.
Alexander rebounded with volume in the eighth but ate some serious shots along the ropes from Matthysse, who killed that body with lefts and rights. Matthysse looked ready to finish throughout, throwing that right with nasty intentions. Alexander rallied late with some nice left hands and an uppercut but it was all Matthysse for the most part.
Alexander boxed smart and hard in the ninth, bouncing on his toes and staying on the outside. Matthysse struggled tracking down the moving target, walking to Alexander and missing with shots while taking hard lefts and jabs throughout. Alexander showed his class by using combinations throughout to win the round.
In the final round, Matthysse closed strong, using that right hand to back off Alexander who landed a solid left in the round but not much else. Alexander used his jab but seemed to bounce around and move, never drawing a line in the sand to stop Matthysse for coming forward. Matthysse was never able to land that homerun punch again but he got in a series of right hands as well as a left hook that seemed to seal the final round for him.
The fight felt like a clear win for Matthysse who landed the harder shots throughout while Alexander landed the more pitty-pat variety of punches. But the home state judges in the

Family Arena

in

St. Charles

had the fight 96-93 and 95-94, Alexander, and 96-93 Matthysse.
In support, IBF light heavyweight titleholder Tavoris Cloud, 23-0 (19) and Yusaf Mack, 29-4-2 (17), put on a solid showing over eight rounds.
The first round saw both men finding their rhythm and deciding the geography. Mack wanted a boxing match while the workmanlike Cloud wanted a fight. Cloud pressed but picked his spots; Mack moved and boxed behind his jab in a close, non-decisive round.
Cloud seemed to be finding his rhythm in the second or at least picking up some steam. He worked his jab, trying to get his combos going. Jabbing to the chest and head, Cloud worked inside and got some good exchanges going. Mack stayed right in front of Cloud, despite what his corner told him to do.
In the third, Mack took the fight to center ring and boxed well enough to encourage Cloud's corner to admonish him. Mack used his speed to peck away at Cloud and keep him resetting to punch.
Cloud pressured more, per his corner's instructions in the fourth, getting Mack to the corner and ropes and getting in some solid work. Late in the round, Mack lay on the ropes and Cloud took advantage to the body and worked in an uppercut. For his part, Mack got in a nice left hook at one point but overall, it was a Cloud round.
Cloud really began to take over in the fifth, breaking down Mack to the body and working upstairs to follow. Cloud kept things in close, no matter where they were in the ring. Late in the round, Cloud got to the body hard in succession and landed some compact lefts and rights to the head to close. Mack seemed out of answers.
The sixth was another Cloud round as Mack moved around the edges of the ring. Cloud seemed to get more and more to Mack but couldn't land that one good shot or that hard combo that would hurt him. Rust may be a factor will Cloud who is simply not an active enough fighter particularly for his style. Late in the round, Mack went southpaw and landed a couple good lefts but it had zero effect.
Cloud seemed to be breaking down Mack by the eighth. Mack was in survival mode, moving this way or that and not really drawing a line in the sand. Late in the round, Cloud moved Mack to the corner and went for broke. With his body off-balance and sideways, Mack was vulnerable to a hard left hook by Cloud which rocked his world. Cloud jumped on Mack, who shelled up in the corner and ate shot after shot. Cloud broke through the guard as Mack moved to his right to escape the corner, landing a hard body shot that sent Mack down equally hard to the canvas. While he rose, Mack was in no condition to continue, hazily staring at referee Sam Williams, who asked him to walk forward, though he was reluctant to respond. Having seen enough, the ref waved it off at

2:57

of the eighth.
In the opener, a WBC title eliminator, heavyweight Bermane Stiverne, 21-1-1 (20), knocked Ray

Austin

, 28-6-4 (18), silly with a right hook to the side of the dome that had Austin flat on his back. Austin got up but was in no condition to fight on. The time was 43 seconds into round ten. Stiverne is now the mandatory challenger to Vitali Klitschko.