Matthysse ices Dallas, Jr in one with a single punch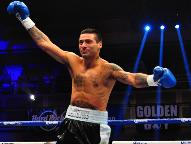 (Photo © German Villasenor)


Junior welterweight sensation Lucas Matthysse improved to 33-2 with 31 knockouts by taking out Mike Dallas, Jr, 19-3-1, 8 knockouts, with a single right hand that had him out cold before he hit the canvas. The time was 2:26 of the first round.

Dallas appeared nervous and a bit tight in the early portion of the round, moving and mapping out his territory using his speed. Matthysse stayed relentless as usual working his way in and looking to drop the hammer.
Coming into the bout, Dallas hoped to improve on his win streak under trainer Virgil Hunter. His game had appeared to mature under Hunter's tutelage and by all accounts he had an excellent camp heading into this bout.

Matthysse, loser of two very close decisions to Devon Alexander and Zab Judah, but on a recent roll, was looking to cement his position as the most dangerous fighter at 140 pounds.

But at 2:26 of the round, Matthysse moved closer to staking that claim as he punched his power right hand through the jaw of Dallas as they crowded in close. Dallas' light immediately went out and he fell face first to the canvas. Wisely, referee Robert Byrd fight immediately waved the fight off.

Afterwards, Matthysse said he would like to face 140 pound champion Danny Garcia as well as any top fighters in the division.

The question is: Do they want to face him?

In the co-feature, Jesus Soto Karass, 27-8-3, 17 KOs, took Selcuk Aydin, 23-2 with 17 KOs, to the woodshed over ten rounds, winning by majority decision scores of 97-93 twice, and 95-95. The fight was nowhere near that close. Aydin likely had his best round in the first, fighting patiently and boxing under the tutelage of his new trainer, Adam Booth.

But Soto Karass had to have it tonight.

Fighting with the urgency of a fighter who had won only three of his last seven, Soto Karass' career was on the line as a high level TV fighter tonight and it showed. He dug to the body consistently early on and used a patient attack behind a double jab to keep Aydin second guessing all night.

By the time Aydin began to feel urgency, dancing on the outside and missing with his looping right hand, it was too late. Even as Soto Karass faded a little down the stretch, his overall work in taming and frustrating Aydin had paid off. Left hooks, right hands and the ever present jab and body work were big pieces of the puzzle for Soto Karass. But what won him the fight was poise. He never allowed the fight to turn into a brawl that would favor Aydin. Instead he stayed busy and consistent on the way to a well-deserved win.

Junior middleweight prospect Jernall Charlo improved to 20-0 with 10 knockouts with a poised win that showed what Charlo can do in the later rounds with an eight round stoppage over Harry Yorgey, 25-2-1, 12 knockouts. Charlo was impressive if a bit one gear. Lacking in a consistent body attack and not exactly cutting off the ring as well as he could have at times, Charlo allowed a fight that appeared to be over early following two second round knockdowns, go into the deeper rounds.

But the rounds were needed as Charlo stalked Yorgey and dropped him with a brutal right hand. Yorgey was wobbly even on a knee as had referee Kenny Bayless studied him closely before waving it off at 1:09 of the eighth.

You can email Gabriel at maxgmontoya@gmail.com, follow him on Twitter at www.twitter.com/gabriel_montoya and catch him every Monday on "The Next Round" with Steve Kim. You can also tune in to hear him and co-host David Duenez live on the BlogTalk radio show Leave-It-In-The-Ring.com, Thursdays at 5-8 p.m., PST.



Subscribe to feed