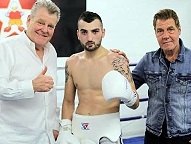 L-R: Dan Goossen - Vanes (CTR) - Joe Goossen


Tonight from the Morongo Casino Resort and Spa, Vanes Martirosyan headlines this week's edition of ESPN2's "Friday Night Fights" when he faces Mario Lozano. After 35 professional contests under his belt, this will be the first that won't take place under the Top Rank Promotions banner. After his loss to Demetrius Andrade back in November, he was given a release by the company. Martirosyan then inked a deal with Dan Goossen to promote his career moving forward.
For Martirosyan, this represents a new chapter, a chance to right previous wrongs and missteps.
"It feels awesome because Top Rank was kinda holding me back because I couldn't fight this guy and that guy because of the issues they had with other promoters. I feel good now. I can now fight any fighters I want," he said, referencing their "Cold War" with Golden Boy Promotions. Also, Martirosyan hooked up with Dan's, brother, Joe to guide him in the corner."I have a trainer that's dedicated to me 100 percent. Freddie [Roach] is a great trainer as you know but he's great when he's with you and most of the time, he wasn't with me because he was with other fighters. So for the first time in my career, I feel like a professional that has a promoter where it's all about me and a trainer that's all about me."

In many respects, he's right. At Top Rank and the Wild Card Boxing Club - which have vast stables of world-class talent - Martirosyan was often lost in the shuffle and forgotten. In his new settings, he becomes more of a priority. Dan Goossen explained to Maxboxing, "That's one of the thought processes we've had for 30 years. Taking nothing away from any promoter with a lot of fighters, it's tough to tend to them individually. We've always been more of a promotional company that likes to set our sight on five, six, seven, eight guys who really had the potential to become world champions - and good ones. And I think that bodes well overall for the fighter and our company."

Despite an impressive looking mark of 33-1-1 (21), there is the sense that Martirosyan for the most part has underachieved during his career, which began back in 2005 after representing the United States in the 2004 Olympic Games. And guess what? He doesn't disagree.
"I think I've underachieved. There's a lot I could've done that I haven't done and I'm disappointed in myself, especially in my last fight. I went in there not being 100 percent and if I went in there 100 percent and lost, I would take it like a man. But I don't think I prepared to my potential in that fight and that's what hurt the most," he says. It was at this point when Top Rank decided to part ways with him. "When I came back, I was depressed for a long time thinking about it. It hurt the most thinking you could've done a lot better and you didn't. We came back and made some changes and professional boxing is very serious and I feel like all these years, I've been doing just enough to get the victory."
But winning hasn't been enough for Martirosyan. Oftentimes, he has come victorious but not in the type of impressive fashion necessary for careers to move forward. Back in June of 2010, as he made his HBO debut against Joe Greene at Yankee Stadium, he won easily but it was the type of fight that actually jettisoned him off the network till he faced Erislandy Lara in November of 2012 (a fight resulting in a technical draw). In three appearances on HBO, he's had the misfortune of facing three southpaws.
His new promoter says, "It's not only about winning at this stage. He's got to go out there and make a statement. If he's truly bringing it to a new level, he can't be talking about it. He's got to go out there and show it and I believe he's prepared do that that," to which Martirosyan states, "Joe Goossen's bringing it out of me. It's a lot different than the things I've been doing before."
Goossen, who's had Martirosyan in the gym for approximately three weeks, explains of his regimen, "It's a little different than what he had expressed before but he really enjoyed it. He really liked it and I pushed the boundaries a lot of times but he really liked it. He feels at home, he said." One goal Goossen has in mind is to iron out whatever amateur tweaks that are still remaining with Martirosyan with much more of a focus on digging left hooks to the body. "He really took to it like a cat to milk," said the veteran trainer, who says they quickly hit it off.
For as many fights as he's had and for as long as he's been in the pro ranks, Martirosyan is still just 27 years old. His claims of being lost in the Top Rank shuffle are valid but he himself could be a bit difficult to deal with. It was his decision to not face Alfredo Angulo a few years ago on HBO (where James Kirkland stepped into his place and scored an exciting stoppage of "Perro"). Regardless, he admits to being frustrated by the business of boxing.
"A little bit because I worked my whole life to fight the best fighters in the world and when it came down to it, there were times I couldn't make fights with other promotional companies and Top Rank couldn't make it happen because they didn't have something good to go with that promoter. They didn't like that promoter for some reason and because of that, I couldn't fight those guys. I could've been fighting big names a long time ago instead of fighting these tune-up fights. It wasn't my fault, even though they made it seem like, 'Oh, Vanes doesn't want this fight because his eye needs to be healed,' or whatever. That was not true. That was just the stuff they were saying. I wanted to fight; it was to talk me out of it and saying, 'Fight this guy, then we'll give you a world title fight. They carried me on for years saying the same thing over and over," said Martirosyan, explaining his past frustrations.
This is why he signed with Goossen.
"I wanted to work with a promoter that was willing to work with all promotional companies. We could've went with Golden Boy and we spoke to a couple of other promoters. When we saw Dan and how honest he was, the things he was saying, where he wants to take my career, it was really different from any other promoter. He's open to all fighters, all promoters - even Top Rank and Golden Boy - or whoever it is. And that's what I liked about him, that he didn't talk bad about nobody. He was OK with everybody and I loved that about with him.
"We want to do big things together and I'm very happy to be with him."
Here's the latest episode of "The Next Round" with Gabriel Montoya and Yours Truly:
And to download the iTunes app, please visit:
"Friday Night Fights" on ESPN2 begins at 9 p.m., ET...This week's edition of "Solo Boxeo" on UniMas features Jorge Melendez and Felix Verdejo from Puerto Rico...Jared Allen to the Seahawks, huh? Seattle isn't playing around...OK, I'm all flurried out for the week. Have a good weekend, everybody

…I

can be reached at k9kim@yahoo.com and I tweet at www.twitter.com/stevemaxboxing. We also have a Facebook fan page at www.facebook.com/MaxBoxing, where you can discuss our content with Maxboxing readers as well as chime in via our fully interactive article comments sections.