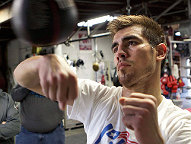 (Photo © Robert Hughes / Top Rank)


When Texas featherweight Robert Marroquin steps into the ring just down the freeway in Thackerville, Oklahoma this weekend, he will be looking to set the record straight. In his last outing in June, he lost a split decision to Nicaraguan tough guy Daniel Diaz in the same ring, in the same city, in a fight Marroquin thought he did enough to win. He was dropped in round one en route to losing a close split decision over 10 rounds. While the loss frustrated him, a win can erase the blemish as a bad night with some tight scoring. A loss, however, would be a genuine setback but the former world title challenger doesn't plan on letting that happen. In a recent interview he said he "thought I did enough to win the first time but I plan to set the record straight in this fight." The Dallas resident has built a strong fan base down the road in Oklahoma and a fight in Thackerville is virtually a "home game" for the 23-3 (16) Marroquin.

After a stellar amateur career that saw Marroquin go 165-15 while capturing a gold medal at the 2006 National Junior Olympics and another silver medal at the 2008 U.S. Olympic team trials, Robert turned pro in January of 2008. By the start of 2011, he was 17-0 (13) and looking red-hot among the 126-pound prospects. He hit a bump in the road when the late Mexican banger Franky Leal squeezed by him in a 10-round split decision in April of 2011. However, Marroquin came back strong through the remainder of 2011 with two more wins. After a June win to kick off 2012, in September, he was awarded a shot at former amateur superstar, World Boxing Association (WBA) featherweight champion Guillermo Rigondeaux in Las Vegas. While not many fans gave Marroquin much of a shot in his world title debut against the vastly experienced and very talented, undefeated champion who possesses a ring savvy and skill set second to none, he did acquit himself well. While he went on to lose a one-sided unanimous decision, Marroquin did go the distance, hung tough and remained competitive throughout.
Last March, he found himself back in the comfy confines of the WinStar Casino in his adopted work station of Thackerville, Oklahoma. In a nice comeback win, Marroquin stopped tough, 33-fight veteran Antonio Escalante in three frames. In his next fight three months later, he was back in Thackerville to continue his winning ways as he hoped to work his way back into title contention. Marroquin was set to go up against David Diaz, 20-5-1 (14). Another win, along with some valuable experience from his title match and Robert would be set to finish off this year in a good place. But Diaz proved a difficult task, dropping Marroquin twice in the opening round, then holding off his surging opponent for the remainder of the fight to earn a split decision. Now before Marroquin works his way back toward another title tilt, he wants to clear up his latest loss. However, Diaz who enters the fight with a good script to draw on from their previous fight, certainly will have other plans. The winner here is Marroquin's strong fan base in Oklahoma, who is seeing an immediate return match that should contain some desperate elements perhaps absent from the first fight. And these elements should turn this fight into a true sleeper hit.
Marroquin realizes he needs to get back on winning track to prove to his promoter, Top Rank Promotions that he indeed has the makings of a world-class fighter. Diaz knows another win raises his value and ability to score other big names and their accompanying paycheques. Simply put, Marroquin and Diaz are two motivated fighters with lots to gain with just the right ingredients for a damn good scrap!
Please visit our Facebook fan page at www.facebook.com/MaxBoxing, where you can discuss our content with Maxboxing readers as well as chime in via our fully interactive article comments sections.